Theragun Mini Vs. Hypervolt Go: Which Mini Massage Gun Is The Best For You?
When it comes to the Theragun Mini versus the Hypervolt Go, it all comes down to whether you prioritize power or portability.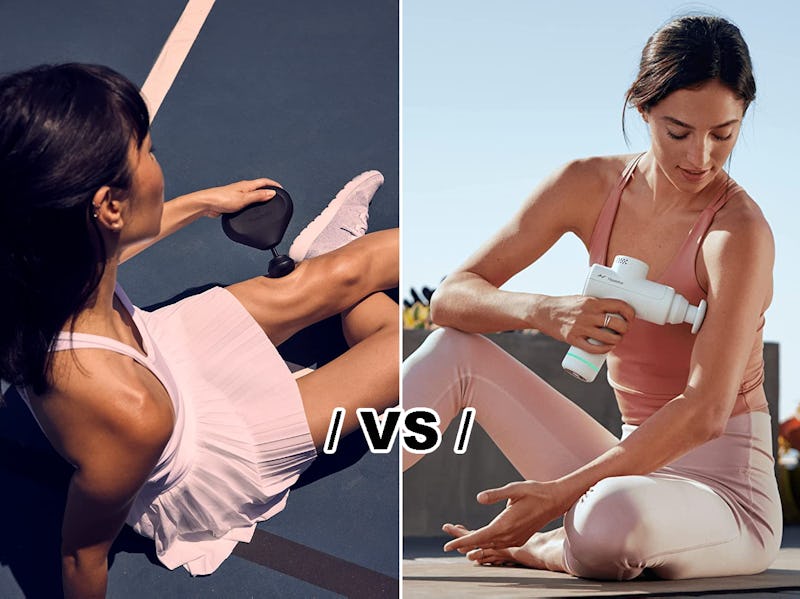 We may receive a portion of sales if you purchase a product through a link in this article.
Portable, massage gun options have come a long way in the past few years, becoming smaller, yet more powerful as the tech advances. In terms of the most travel-friendly massage guns, two options are battling it out for the title of best: Theragun Mini vs Hypervolt Go. (Note that for this article, I'll be comparing the most recent models of these two massagers —the Theragun Mini 2.0 and the Hypervolt Go 2.)
While there was a clear-cut winner here, both are great massager guns, and the best option for you will come down to one question: What's more important for you, portability or power?
Weight
Winner: Theragun Mini 2.0
Whether you're vacationing or heading to the gym, the lighter your massage gun, the easier it is to travel with. The Hyperice Hypervolt Go 2 weighs 1.5 pounds, while the Theragun Mini 2.0 weighs 1 pound (30% lighter than the previous generation). If you're looking for an option that you'll barely notice in your suitcase or gym bag, Theragun Mini is the way to go.
Size
Winner: Theragun Mini 2.0
The Mini 2.0 is also 20% smaller than its predecessor, measuring 4.92 by 1.93 by 5.55 inches. The Hypervolt Go, on the other hand, is 5.5 by 5.5 by 2 inches, making it slightly less convenient to pack. Once again, the Theragun comes out on top.
Included Attachments
Winner: Theragun Mini 2.0
When it came to the initial versions, the original Hypervolt Go had Theragun beat, granted the first generation Theragun Mini only came with one attachment head. With the Mini 2.0, however, you get three foam attachments for a more personalized experience (a dampener, a standard ball, and a thumb) as opposed to the Hypervolt Go 2's two interchangeable attachments (a flat head and bullet head).
Smart Guidance With An App
Winner: Theragun Mini 2.0
Unlike the Go 2, the latest version of the Theragun Mini actually connects to a smartphone app via Bluetooth. The Therabody app allows you to access a library of wellness routines and helps to guide your massage with smart technology. According to reviewers, "it is useful for beginners" because it offers "automated guidance and vibration settings for various uses."
Color Options
Winner: Theragun Mini 2.0
Currently, you can only get the Hypervolt Go 2 in one color: white. The Mini 2.0, on the other hand, comes in your choice of two colors: black and Desert Rose (which is a pinkish-beige color).
1. The Best Mini Massage Gun Best For Portability
Pros:
Lightweight and compact
Connects to an app via Bluetooth for smart guidance
Includes three interchangeable heads
Cons:
The Theragun Mini 2.0 won almost every category associated with portability. Its triangular design is extremely compact and lightweight, and with three speed settings and three interchangeable heads, you can give yourself a thorough, soothing massage wherever you happen to be. However, while most reviewers find the max PPM to be plenty effective, it's not the most powerful portable massager out there.
One reviewer wrote: "Portable and powerful. Good size for travel and for treating aches and pains from a long trip. Complete set - different tips are a nice bonus."
Available colors: Black, Desert Rose | Speed Settings: 1,750 / 2,100 / 2,400 PPMs | Dimensions: 4.92 by 1.93 by 5.55 inches
Massage Power
Winner: Hypervolt Go 2
Both units are percussion massagers, meaning that they use rapid, repetitive pressure to work out your muscles and boost circulation. They also both have powerful brushless motors and offer three different speed settings. However, their percussions per minute (PPMs) differ. The Hypervolt Go offers 2,200, 2,750, and 3,200 PPMs. The Mini 2.0 offers 1,750, 2,100, and 2,400 PPMs. Since the higher the PPMs, the more intense the massage, the Hypervolt Go is the more powerful option.
Battery Life
Winner: Hypervolt Go 2
Both units are rechargeable for convenience, but in terms of battery life, there's a clear winner. The Hypervolt Go 2 has an 18V rechargeable lithium-ion battery that gives up to three hours of use per charge. The Mini 2.0 has a lithium-ion battery with convenient USB–C charging, but with a battery life of 120 minutes (2 hours), it won't last as long as the Hypervolt.
2. The Best Mini Massage Gun Best For Power
Pros:
Powerful, intense PPMs
Long-lasting battery life
Cons:
While it's slightly larger and heavier, the Hyperice Hypervolt Go 2 is still plenty packable — especially considering it's officially TSA-approved for your carry-on according to the brand. It also has the competition beat when it comes to its powerful brushless motor and long-lasting battery life, which delivers a more intense massage for up to an hour longer.
One reviewer wrote: "This is a very good quality massager. It was recommended by my massage therapist because of my very knotty muscles. So far, I'm impressed with everything about this little gadget and my muscles are already feeling better after a week. You won't be disappointed!"
Available colors: White | Speed Settings: 2,200 / 2,750 / 3,200 PPMs | Dimensions: 5.5 by 5.5 by 2 inches
Shape & Design
Winner: Tie
While both massage guns are designed for a similar use, the brands definitely went about it in different ways. The Hypervolt Go has a traditional gun-like shape, while the Theragun Mini has a handheld, triangular design. (The Hypervolt Go also advertises that its design is TSA-approved for carry-on, but countless Theragun Mini users have flown with their massager without any issues.)
Some reviewers find the Hypervolt Go easier to hold due to its defined handle, while others prefer the triangular shape of the Theragun Mini, especially when it comes to massaging hard-to-reach spots. As a result, this category is a matter of personal preference.
Price
Winner: Tie
Both massagers retail for roughly $200, and both can be found on sale regularly, so you can get them for slightly less. Consequently, this category is a wash — but if you were hoping for a bargain, you can find three more affordable alternatives at the bottom of this article.
Conclusion
Overall winner: Theragun Mini 2.0
The Theragun Mini 2.0 came out on top, winning five different categories whereas the Hypervolt Go 2 only won two. (Two categories were a tie.) That said, while the Mini shines in terms of portability and compact design, it's also significantly less powerful than the Go, with a lower PPM and a much shorter battery life. As a result, if you prefer a longer, more intense massage, the Hypervolt Go 2 may still be a better option for you.
More Mini Massage Guns To Consider:
3. The Best Theragun & Hypervolt Alternative Under $100
Pros:
Up to 3,000 PPMs of power
Less than $75
Light and compact for portability
Offers five speed settings and five interchangeable heads
Cons:
Might not be as durable as leading brands
Even though it costs less than $75, reviewers have called this BOB AND BRAD Q2 mini massage gun "similar to the Theragun" and "more compact than the Hypervolt Go." It weighs less than a pound and fits in your pocket, plus it has a powerful brushless motor with five different speed settings. Finally, five included attachment heads target every muscle group, while the included case makes for effortless travel.
One reviewer wrote: "I thought about getting the Theragun mini size but at $200, I decided to look for something more affordable. This works perfectly and I'm completely satisfied."
Available colors: Black, Blue | Speed Settings: 1,800, 2,100, 2,400, 2,700, 3,000 PPMs | Dimensions: 5.7 by 3.3 by 1.8 inches
4. The Best Mini Massager Under $50
Pros:
Under $50
Includes four interchangeable attachments and a case
Six speeds and long battery life
Cons:
Not the most well-made or lightweight as some, according to reviewers
It's not as well-made or as lightweight as the Theragun Mini or Hypervolt Go, but if you're looking for a tiny massager that packs a punch for a great price, this mini massager is it. It costs less than $50 and often has a coupon that you can apply at checkout for even more savings, but it still has six speeds and comes with four interchangeable attachments as well as a carrying case. The battery life supposedly lasts for several hours, while the gun itself weighs 1.8 pounds.
One reviewer wrote: "While nothing is as coveted as the original TheraGun when it comes to percussive massage tools, this one is a great budget-friendly alternative. I cannot BELIEVE how quiet it is."
Available colors: Green, Gray, Black, Red, Pink | Speed Settings: six settings (900 to 4,000 RPMs) | Dimensions: 7.09 by 7.09 by 2.76 inches
5. The Writer's Choice: My Go-To Portable Massager
Pros:
As powerful as the Go 2
Long battery life
Includes four attachments and a case
Cons:
I have the Ekrin Athletics Bantam mini massage gun, and while it's plenty portable at 1.1 pounds, it's also powerful enough that I use it at home, too. It reaches up to 3,200 PPMs at the highest of three settings (comparable to the Go 2), and the USB-C rechargeable battery lasts for up to six hours. Each order also includes four different attachments and a travel case, all for a good amount less than other brands.
One reviewer wrote: "Tried out the Hypervolt Go and Theragun Mini, the Ekrin Bantam is much smaller but still packs a good punch. The size and weight make it easier to use in harder-to-reach places compared to those two. Love that it comes with a legit case and charges with USB-C as well."
Available colors: Black | Speed Settings: 2,000, 2,600, 3,200 PPMs | Dimensions: approximately 6.25 by 6 by 1.75 inches