8 Ways This New Planet-Friendly Brand Is Changing Period Care For The Better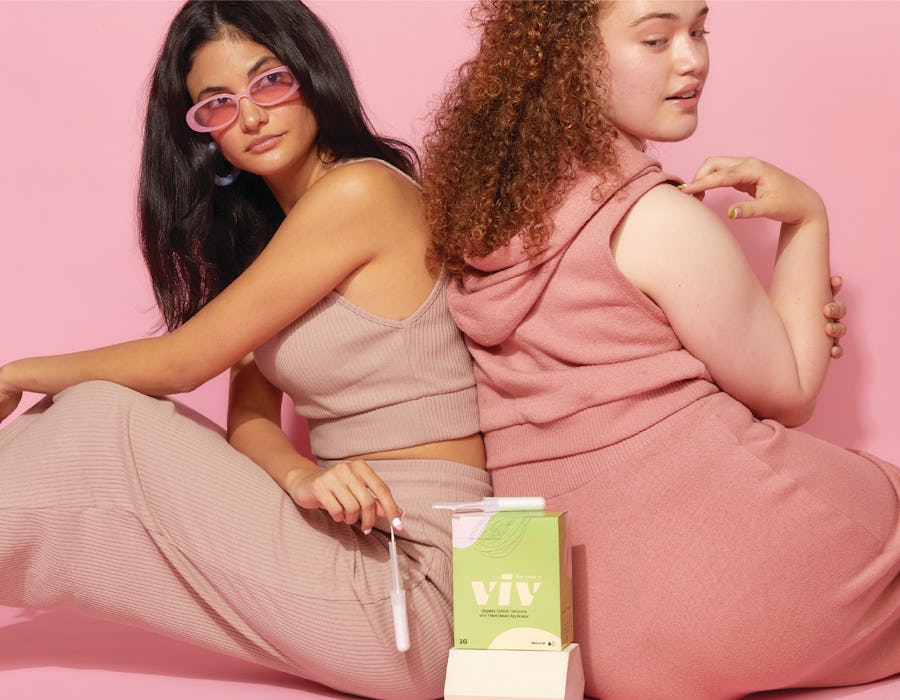 Courtesy of Viv
When it comes to period care, there's a pretty large elephant in the room: the environmental impact. There are a few stats that put this impact into perspective. For starters, Bustle reports that the average menstruator will use more than 11,000 tampons or pads in their lifetime, which has a pretty significant effect on both our personal carbon footprints—and the community effects worldwide. In the United States alone, nearly 12 billion pads and seven billion tampons are disposed of each year. For further context, a single pad has the environmental impact of four plastic bags.
Harvard scientists estimate this leaves a carbon footprint equivalent to 5.3 kilograms—roughly 12 pounds— of CO2. So with stigmas around periods and the environmental impact of period care in mind, Katie Diasti founded Viv for your V, a planet-friendly period care line that is delivered right to your door with options that include winged bamboo pads, bamboo liners, organic cotton tampons, and a menstrual cup. Each product is available with flexible subscription options that take the monthly store run off your to-do list. One-time purchase options are also available if you want to try before you subscribe.
Without further ado, keep reading to learn more about how this woman-founded brand is making ground-breaking changes in the world of period care.
1. Their zero-waste option lasts up to ten years
For some, pads and tampons are a no due to both comfort and environmental reasons. Viv has you covered with a zero-waste option that reviewers say offers both comfort and leak-free protection. In addition, the Viv menstrual cup is made of 100% medical-grade, FDA-approved silicone and designed with a ring for no-hassle removal. Aside from the environmental (and money-saving) benefits, the Viv cup reduces your risk of toxic shock syndrome, bacterial infection and can reduce cramp symptoms. Not to mention, the Viv menstrual cup can be worn for up to 12 hours and lasts ten years with proper care.
2. They're WOC-Owned
This should go without saying by now, but it's incredibly important to support not only female-led brands — but companies run by Women of Color, which Viv is. Founder Katie Diasti is a proud Egyptian-American who recently told Frederick Daso of Founder to Founder: "I noticed how few women were founders of renowned companies [and] as a young woman of color, I wanted to pave the way for more women that look like me to go after their dreams of starting their own company." Fun fact: Diasti actually started Viv when she was a senior in college as part of a class project, and she ended up enjoying it so much that she never stopped.
3. Viv pads and liners are 95% biodegradable
Ever wondered what happens to your liner or pad once you take out the trash? Well, unfortunately, it likely ends up in a landfill where it can take 500-800 years to break down. Yes, you read the right. Luckily environmental consciences can be incorporated into period care.
Viv's biodegradable pads and liner are made with natural organic bamboo fiber, natural corn fiber, wood pulp paper, absorbent polymer, and a plant-based adhesive. Oh, and the wrapper is compostable. We know comfort is vital when looking for a new pad or panty liner, and not only are Viv pads 40% more absorbent than traditional pads they are softer and break down in 150 days as compared to five to eight centuries.
4. Viv tampons are made with 100% organic cotton
Like finding the perfect pad, finding an eco-friendly tampon isn't always straightforward. However, Viv users report that the organic cotton, BPA-free, toxin-free tampons offer both comfort and protection. In addition, unlike traditional tampons, Viv tampons are made with a plant-based applicator and recyclable packaging for its three offerings: regular, super, and a combo pack.
5. Their products are great for beginners
Period care can be overwhelming for new menstruators — especially with endless different products on the market. Knowing this, Viv went out of its way to create beginner-friendly options, like its 100% medical-grade silicone menstrual cup that features a handy ring stem (see above!) for easy insertion and removal. It may seem like a small detail, but it actually makes a serious difference.
6. They're fighting to break the stigma around periods
One of Viv's main missions is to shatter the on-going stigma surrounding periods. They do this via their blog, which features educational articles about everything from menstrual cup myths to the importance of using inclusive period language, as well as through their podcast — Voices by Viv. When it comes down to it, Viv knows that the more we talk about periods, the more we'll normalize them. In addition, the brand is fighting against period poverty by sharing information on local and national policy, as well as through frequent monetary donations.
7. They have their own podcast
You read that right: In addition to their blog, the Gen Z-founded brand also started its own podcast called Voices by Viv as part of its mission to generate more open dialogue around topics such as period stigmas, period equity, and body positivity (to name just a few). They also answer any and every period-related question that you may have been too scared to ask anyone else. Plus, all the hilariously relatable period stories galore. New episodes drop every Sunday!
8. They offer more than just period care products
On top of awesome and easy-to-use sustainable period products, Viv also offers a variety of fun accessories — like this super-cute velvet scrunchie set — and merch, too. For instance, you'll find a beautifully designed tote bag, a cheeky bucket hat, and a cozy AF crewneck sweatshirt that reads "Show Up Imperfectly." Just another easy way to support a sustainable small business.
Ready to switch to a sustainable period care option? Check out Viv's full line at vivforyourv.com.
All photos courtesy of Viv.