This Skin-Boosting Food May Be The Simplest Way To Upgrade Your Wellness Routine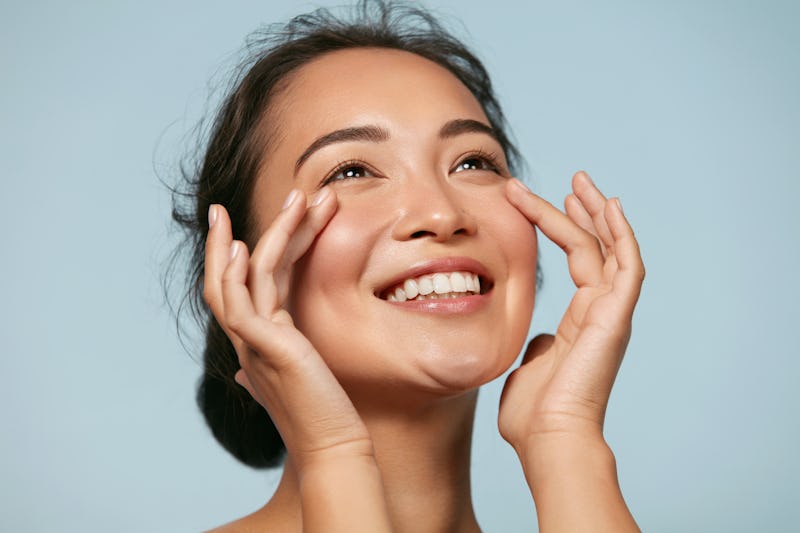 Recently, taking care of myself and prioritizing my wellness took a backseat as I dealt with changes that many of us have been experiencing lately — getting adjusted to a hybrid work schedule, picking up more social activities as we enter yet another new normal, and trying to find a balance within it all. In turn, my health and wellness took a dip as I skipped out on my usual self-care rituals and was running on cereal and processed packaged snacks. And it showed: my energy levels were lower than normal, and my skin was changing too. I noticed lines on my forehead I'd never seen before and an increasingly uneven skin tone. Because I really care about my skin and was mourning my usual luminous, dewy complexion, I decided to see if incorporating fresher, nutrient-dense foods — that I already have in my pantry — into my diet would make a difference.
Fast forward to now: turns out the cliched expression you are what you eat is absolutely true. Not only does my skin look vibrant and healthy again, but I've also got the mood and energy levels to match. To keep my meals interesting, I switch up the fruits, veggies, and lean proteins I eat every day, but there's one thing that I reach for daily, and that's almonds. Their long list of nutrients and 6 grams of plant protein per 1-oz serving have been a contributing factor to improving my overall wellbeing. In fact, recent studies have shown the potential benefits for skin health when almonds are eaten regularly.
When it comes to the wellness factor, they're too good to pass up, which is exactly why I'm breaking down the best beautifying benefits of these nourishing nuts. Ahead, everything you need to know about these amazing snacks for your skin and overall wellbeing.
1. They're Rich In The Antioxidant Vitamin E
Almonds are an excellent source of vitamin E — in fact, just one serving (about 1 ounce) provides 50 percent of your daily value. Think of this antioxidant-rich vitamin as a bodyguard for your skin: It helps protect your cells from the damaging and aging effects of free radicals and oxidative stress caused by pollution, UV rays from the sun, and cigarette smoke.
2. They May Reduce Wrinkles & Dark Spots
There's no magic elixir to erase fine lines, but eating almonds could have an impact: A new study from the University of California, Davis, suggests almonds might benefit aging skin by improving wrinkle severity as well as overall skin pigmentation (unevenness of skin tone). The study found that postmenopausal women who ate 2 ounces of almonds a day had a 16 percent reduction in wrinkle depth and a 20 percent reduction in uneven skin tone.* Future studies would look to include younger participants and darker skin types, but these findings are a promising start.
3. They Protect From Harmful UVB Light
Exposure to the sun's UVB rays leads to burns and skin damage like lines and discoloration, even during cold months. Well, munching on just 1.5 ounces of almonds daily may improve skin's resistance to UVB light, according to a recent promising new study. The female adults who participated in the study and ate almonds daily saw an improvement in UVB resistance.** Further research is needed to investigate the effects of almond consumption for older subjects with photoaged skin and for other skin types, but one thing's for sure: Keeping a side of almonds handy could potentially keep your skin at its best.
4. They Easily Fit in Your Self-Care Routine
Being intentional with your eating is one of the easiest ways to cultivate a self-care routine that nourishes your mind and body. I can attest to how snacking on almonds daily, along with other easy-to-incorporate wellness practices, has positively impacted my overall wellbeing. Because of the 7 essential vitamins and minerals you get with each serving, almonds are the perfect snack to keep you on track and feeling your best all day long.
5. They Keep Blood Sugar Stable
You're probably thinking, what does blood sugar have to do with skin? Here's what: Processed foods cause inflammatory blood sugar spikes that have a negative impact on skin, especially over time. Almonds, as a good source of fiber with 6 grams of plant-based protein per 1 oz serving and 13 grams of "good" unsaturated fat, have the potential to keep blood sugar balanced while keeping skin looking its healthiest. Win-win!
Studies Referenced:
Rybak I, Carrington AE, Dhaliwal S, Hasan A, Wu H, Burney W, Maloh J, Sivamani RK. Prospective Randomized Controlled Trial on the Effects of Almonds on Facial Wrinkles and Pigmentation. Nutrients. 2021; 13(3):785. https://doi.org/10.3390/nu13030785
* The study looked at 49 postmenopausal women who have skin types most susceptible to sunburn and snacked on almonds daily for 24 weeks, compared to participants who snacked on a calorie-matched nut-free snack. It did not examine effects longer than 6 months, so results cannot be generalized to younger, male or higher Fitzpatrick skin types; and snacks were not macronutrient matched.
Li JN, Henning SM, Thames G, Bari O, Tran PT, Tseng C-H, Heber D, Kim J, Li Z. Almond Consumption Increased UVB Resistance in Healthy Asian Women. J Cosmet Dermatol. 2021; 20: 2975– 2980. https://doi.org/10.1111/jocd.13946
** Researchers looked at 29 Asian women ages 18 to 45 years old with skin types most susceptible to sunburn who snacked on almonds daily for 12 weeks, compared to participants who snacked on pretzels daily. The study only included a smaller, younger population and only evaluated UVB exposure. Further research is needed to investigate the effects of almond consumption for older subjects with moderate-to-severe photoaged skin and for other skin types/ethnicities.