The Top Places You're Most Likely To Have An IRL Meet-Cute
Be open to the possibilities.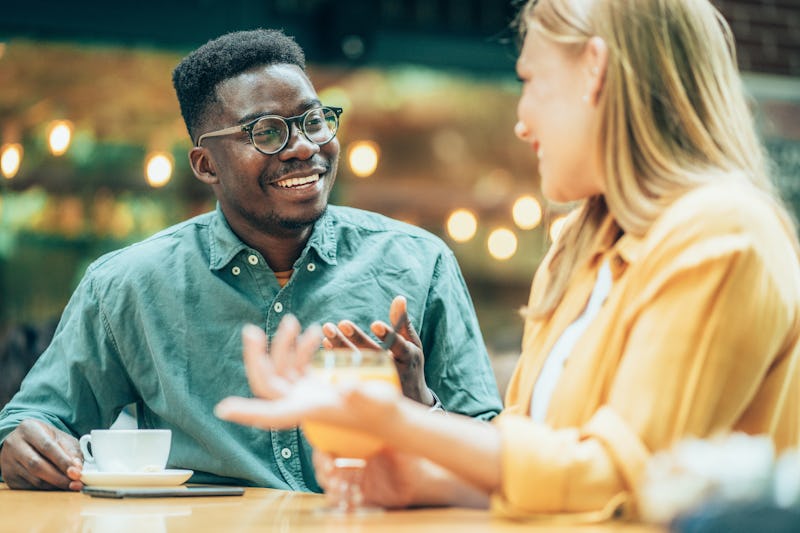 filadendron/E+/Getty Images
When you're single and looking for love, going on a dating app or site can seem like the best option. With so many people online dating today, the possibilities are seemingly endless. But if online dating isn't your thing, you're not alone, because singles are meeting dates in plenty of other ways today.
"There's no reason why you can't be putting it out there in every way you can," Alyssa Dineen, author of The Art of Online Dating and founder of Style My Profile, tells Bustle. "Almost all of my clients are looking offline even if they have a dating profile online. I always encourage my clients to be open to finding love IRL as well."
When you're looking for love offline, Dineen says feeling good about yourself is key. "My number one tip for anyone looking to find love is to wear what makes you feel the best and that energy will project out to the people around you," she says. "Even if you're 'just running to the corner deli,' don't just throw on your old stained sweatshirt. I'm not saying you have to dress up, but dress so you feel good. You never know if that's when you might run into someone!"
Even though online dating may feel like a popular way to meet people, it's certainly not the only way. Here's how singles are meeting people today if they're not online dating.
Sources
Alyssa Dineen, author of The Art of Online Dating and founder of Style My Profile
Dr. Sophia Reed Ph.D., national certified counselor
Evin Rose Lipman, dating and love life coach
Karenna Alexander, matchmaker and dating coach
Brooke Fitzpatrick, matchmaker and dating coach
This article was originally published on