Where The UK's Vaccine Rollout Currently Stands
A third COVID vaccine has been approved and immunisation programmes continue to be rolled out.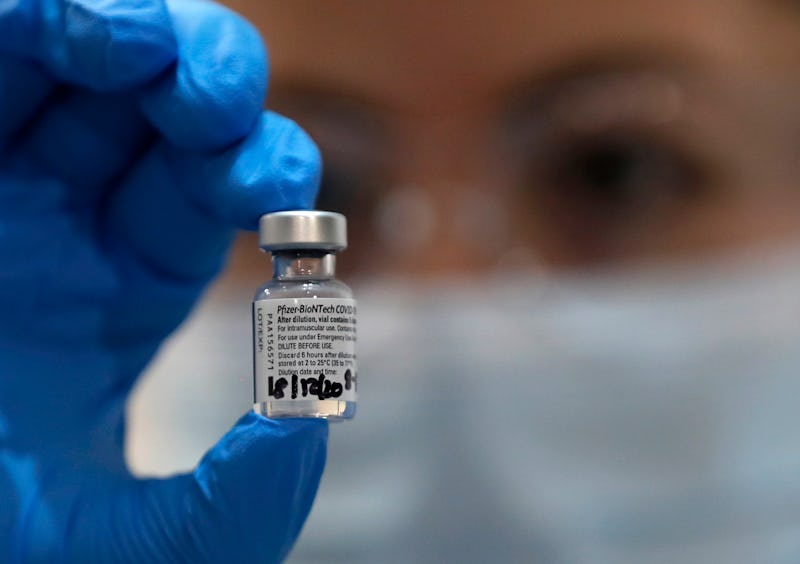 Getty
By now, we are well acquainted – or at least familiar – with the coronavirus vaccines. In name if nothing else. We've seen the likes of Sir Ian McKellen and Prue Leith receive the vaccine. As more COVID vaccines become available in the UK, and the Prime Minister's ambitious plans to immunise every elderly care home resident by the end of the month is called into question, there is a lot to keep track of. Here's what we know so far.
As of March 1, 20 million people in the UK have received at least one dose of a COVID vaccine. Speaking at a Downing Street news conference, the Prime Minister said there would likely be "lumpiness and bumpiness" in the rollout of vaccines. "Of course, there will be difficulties, appointments will be changed, but the army is working hand in glove with the NHS and local councils to set up our vaccine network, and using battle preparation techniques to help us keep up the pace," he said.
As well as GPs, there will be 223 hospital sites and seven "giant vaccination centres", plus an additional 200 community pharmacies at first offering the vaccinations, Johnson said. The PM added that there will be a national booking system for vaccinations and everyone will have a vaccination centre within 10 miles of their home, with a "full vaccination deployment plan" to be published on Monday.
As well as GPs, there will be 223 hospital sites and seven "giant vaccination centres", plus an additional 200 community pharmacies at first offering the vaccinations, Johnson said. The PM added that there will be a national booking system for vaccinations and everyone will have a vaccination centre within 10 miles of their home, with a "full vaccination deployment plan" to be published on Monday.
In positive news, early findings of research carried out by the University of Texas Medical Branch suggests that the Pfizer and BioNTech vaccines protect against two new mutant COVID variants, per Bloomberg. Further studies and peer-reviewing remains outstanding.
In the meantime, here is a reminder of everything we know so far about the coronavirus vaccines.
What is the Oxford/AstraZeneca vaccine?
On Dec. 30, the Oxford/AstraZeneca vaccine was approved for use in the UK and began its rollout on Jan. 4. As Oxford's vaccine can be stored at 2-8 degrees rather than -70 like Pfizer/BioNTech's, it'll become much easier for GP's and care homes to obtain doses. It's also developed in the UK, per the Guardian, resulting in less transport time in distribution across the country.
The vaccine developed at Oxford University was reported to offer 70% protection, per BBC News, with results potentially being as high as 90% by "tweaking the dose" according to researchers. This statistic was based on overall results from phase three of the trial, which involves more than 24,000 volunteers in the UK and Brazil. Trials are still taking place "to gather more data", the Guardian writes, and is still working on getting approval from the Food and Drug Administration in the U.S., which has asked for more data "on the protection the vaccine gives to older people and Black and ethnic minority groups."
What is the Pfizer/BioNTech vaccine?
The UK became the first western country to approve a vaccine against COVID-19 on Dec. 2, and began its mass vaccination programme against coronavirus on Dec. 8 at University Hospital in Coventry. Care home residents, those aged 80 and over, and health and social care staff are being prioritised.
Developed by the U.S. pharmaceutical firms, the Pfizer/BioNTech vaccine has been one of the leading research projects over the last few months. On Nov. 9, it was reported that it could offer 90% protection against COVID-19 and it had been trialled across six countries.
Some have commented on the pace of which the vaccine has been developed. It only took ten months for the vaccine to go from research to approval – a process that usually takes around a decade. However, in a government briefing, regulator Dr June Raine said "no corners have been cut" in approving it.
What about the Moderna vaccine?
Similar to the Pfizer/BioNTech vaccine, the Moderna version produced strong results (94% efficacy) in late-stage clinical trials, per the Guardian. The EU drugs regulator, European Medicines Agency, conditionally approved the Moderna vaccine for use on Jan. 7, and the European commission has ordered 160 million doses for member states.
The Moderna version was approved for use in the UK on Jan. 8, but despite an order of 5 million doses, which later increased to 7 million, the Moderna vaccine will not be available in the UK until the beginning of April due to delays in deliveries caused by Brexit.
According to Moderna's chief medical officer Tal Zaks, the vaccination will protect against coronavirus for at least a year, per CNN. Zaks told the JP Morgan 39th Annual Healthcare conference on Jan. 11 that the company will have to test people to see if adding a third dose might extend protection.
What about the Janssen vaccine?
The next vaccine candidate to be approved is the Janssen vaccine, which is part of the multinational Johnson & Johnson. US regulators approved the vaccine on March 1. The UK has yet to approve the vaccine, but according to the Telegraph (via Reuters), British regulators could start "the approval process this week."
Research has found that the one-shot vaccine "was more than 85% effective at preventing serious illness, and 66% effective overall when moderate cases were included," per BBC News. So far, the Janssen vaccine is the only single-dose version set to be available within a matter of months. Sir John Bell, regius professor at Oxford University and an adviser to the UK's Vaccine Taskforce, told the Telegraph the drug was "highly likely to work" and could prove key to the speedy vaccination of the population. It can be safely stored and transported at standard fridge temperature and Janssen, which is the Belgian-based pharmaceutical branch of global conglomerate Johnson & Johnson, say they have established a good supply chain on many continents, with manufacturing sites in the Netherlands, the US, South Africa and India.
On Nov. 16, Janssen began testing their one-shot vaccine in the UK. Run by NIHR's Southampton Clinical Research Facility, the trial consisted of 6,000 volunteers in the UK and over 25,000 in other countries. Volunteers were given two doses of the vaccine instead of one. This was to see if two doses were stronger than one, and whether it would give recipients "longer lasting immunity" per BBC News.
Like the Pfizer/BioNtech successful vaccines, Janssen's drug targets part of the spike protein in coronavirus. Like the Oxford/AstraZeneca vaccine, Janssen is a genetically modified version of the common cold "to make it harmless and to look more like coronavirus at a molecular level" while aiming to "train the immune system to recognise and fight coronavirus."
The UK has already ordered 30 million doses of the Janssen vaccine, with the option of 22 million more. If approved, it would become the third vaccine to be rolled out at scale in the UK after the Pfizer and AstraZeneca jabs.
Will people have one dose or two doses of the coronavirus vaccine?
The reason both variants of the vaccine are split into two doses comes from a kind of immunisation called "a prime-boost regimen," according to Gary McLean, a professor at the London Metropolitan University. The first jab "primes the immune response and the second shot mobilises the cells again to respond even stronger," he told iNews. McLean stresses that if the second dose isn't administered, "the immunity gained will not be strong enough and will not last long enough — particularly for genetic vaccines such as Pfizer."
Pfizer/BioNTech's vaccine trialled their variant to be administered 21 days apart for the best efficacy, but the UK government has since decided to give the second dose 12 weeks after the first so more people can be vaccinated at a quicker rate. "In the short term, the additional increase of vaccine efficacy from the second dose is likely to be modest," the UK's chief medical officers told BBC News, suggesting that "the great majority of the initial protection from clinical disease is after the first dose of the vaccine." This could potentially result in "more people getting the first jab sooner, even if they have to wait longer for the second jab," BBC's Health correspondent Nick Triggle points out.
A pilot trial is also looking likely to go ahead in January, which will see whether doses of the Oxford/AstraZeneca and Pfizer/BioNTech vaccines could be mixed rather than having two doses of the same one. Per the Guardian, the trial is reportedly set to begin once the Oxford/AstraZeneca vaccine is approved, and the US Moderna vaccine will also be included.
How does a coronavirus vaccine work?
A vaccine in the normal sense of the word works by training the immune system to recognise and combat pathogens, from either viruses or bacteria. To do this, certain molecules from the pathogen are introduced into the body via the vaccine to trigger an immune response.
The Pfizer/BioNtech is known as an RNA vaccine. Per University of Cambridge think tank PHG Foundation, "Unlike a normal vaccine, RNA vaccines work by introducing an mRNA sequence (the molecule which tells cells what to build) which is coded for a disease specific antigen, once produced within the body, the antigen is recognised by the immune system, preparing it to fight the real thing."
In contrast, the Oxford/AstraZeneca vaccine uses a genetically modified virus which can cause the common cold in chimpanzees. As the Evening Standard notes, vaccines such as those for flu, Zika, and Middle East respiratory syndrome (Mers) also use this type of vaccine. Genetic information from the coronavirus's spike protein has been transferred into the vaccine, so when it enters "cells inside the body, it uses this genetic code to induce an immune response, priming the immune system to attack coronavirus if it infects the body."
What other coronavirus vaccines are underway in the UK?
NIHR
In August the government reported that over 100,000 people had volunteered to take part in the UK's COVID-19 vaccine trials, and continue to encourage people to sign up to the National Institute for Health Research's (NIHR) COVID-19 Vaccine Research Registry to volunteer for one of the "large-scale vaccine studies" taking place across the country.
On Monday 9 Nov. the Novavax vaccine (by a U.S. biotech firm) was granted a fast-track designation by the U.S. Food and Drug administration, which should accelerate its development. Phase 3 trials of the Novavax vaccine have been underway in the UK since October, involving up to 10,000 participants aged 18 to 84 years old.
Imperial College London
A round of human trials began in early July at Imperial College London, with 300 people being screened for the trial and first doses being administered to 15 trial volunteers. On July 17, it was announced that Imperial would be moving into their next round of trials.
In October, Imperial agreed to collaborate with Indonesia on vaccine research and education, as well as the development "of a self-amplifying RNA vaccine platform." This future platform would enable Imperial "to create novel vaccines against future pandemics within eight weeks — a step that currently takes months to years," professor Robin Shattock said in a statement published by Imperial.
If the trials "continue to show promising results", Imperial plans on commencing international trials of their vaccine later this year "with potential improvement for the vaccine by mid-2021," Shattock added.
GlaxoSmithKline (GSK) & Sanofi
In September, the Guardian reported that the world's largest vaccine makers GlaxoSmithKline (GSK) and Sanofi were to start testing their protein-based Covid-19 vaccine on humans for the first time. GSK are also developing a potential antibody treatment, which entered its third phase on Oct. 6. The pharmaceutical giants joined forces back in April to combine their existing technology to create a flu vaccine. On July 30, the government announced that an agreement with the two drugs companies would result in 60 million doses of their vaccine being supplied to the UK.
In addition to this national supply, GSK and Sanofi announced on Oct. 29 that they will provide 200 million doses of their vaccine to the Covax scheme, a global inoculation plan backed by the World Health Organisation (WHO). However, trials of the vaccine have since been delayed due to it failing to "produce a strong immune response in older people."
On Feb. 3, GSK announced development of a "next generation" COVID-19 vaccine in collaboration with CureVac. Both companies aim to create a jab with "the potential for a multi-valent approach to address multiple emerging variants in one vaccine," a press statement obtained by Bustle says. Both companies are targeting availability of this vaccine for 2022.
What other countries are working on a coronavirus vaccine?
On Nov. 10, BBC reports said Russia is hoping to combat a second wave with one of several COVID-19 vaccines that has been developed there, Sputnik V. According to late-stage trial results published in The Lancet (via BBC News), the Sputnik V has a 92% protection rate. On Dec. 8, President Vladimir Putin ordered "a mass inoculation campaign", which is now being offered to doctors, teachers, and social workers.
China approved early-stage human tests for two experimental coronavirus vaccines back in April 14. One vaccine, developed by biotech firm CanSino Biologics and the Beijing Institute of Biotechnology, is now firmly in its phase two trial. Meanwhile the development of another vaccine made by Sinovac Biotech has been approved for use in China, per Reuters, and has reportedly "led to a quick immune response".
Chinese pharmaceutical company CanSino Biologies Inc's Ad5-nCOV vaccine candidate will also begin new human trials in Argentina and Chile after trials in Pakistan, Russia, and Mexico, per Reuters.
India recently approved two vaccines, including the Oxford/AstraZeneca jab. However, the approval of the locally produced Covaxin vaccine produced by Bharat Biotech has been met with criticism by health officials who allege that "the proper vaccine approval guidelines have not been followed," per the Financial Times.
More testing is also being conducted in South Africa, Japan and Australia. Further information about the U.S. progress on finding a coronavirus vaccine can be found here.
Contributions from Orla Pentelow, Sophie McEvoy, and Alice Broster.
This article was originally published on