12 Women Share Their Best WFH Work-Life Balance Strategies
#5: Work from bed — with limits.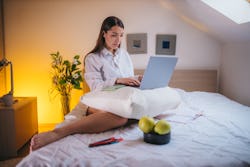 Nenad Stojnev /E+/Getty Images
The start of the new year is prime time to be thinking about your habits: the ones you like, the ones you'd rather shed, or the ones you never kicked into high gear in the first place. One perennially relevant habit is maintaining more work-life balance, particularly if you work from home. A 2020 survey of how the pandemic has affected remote work found that 47% of current remote workers found their work and personal lives were more blended together than previously, and 70% say working remotely caused at least "somewhat significant" changes to their daily routine.
No one *wants* to be working all the time, but it can be difficult to switch off when your workspace is your living room couch, or your coworker is your roommate and they haven't done the dishes they said they would. Keeping up with your work-life balance is also a noted mental health booster, since it helps people manage their stress.
There's no time like the present to refresh habits that are no longer serving you. Finding a bit more work-life balance can help make the WFH life a bit less stressful. Here, 12 women share their strategies to make their workdays go a lot more smoothly.