8 Cute Summer Hairstyles For Swimming In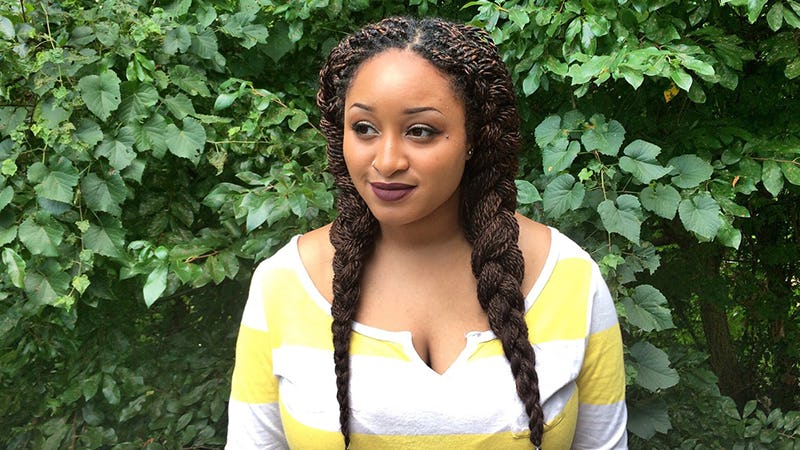 With a handful of cute swimming hairstyles in your repertoire, there's no need to settle for a plain Jane ponytail ever again. You've probably been drooling over summer hair you've seen on Instagram anyway, not even realizing it could actually remain intact while underwater. Why not go all out with your locks the next you're heading to the beach or lounging poolside? You might be thinking it's already an absolute struggle to keep your 'do from frying in the summer heat. However, just as there are plenty of summer hairstyle hacks to keep you frizz-free, there are styles to ensure your hair slays underwater just as much as it does on land.
Whether your tresses are hanging down your shoulders or you're rocking a protective style like Senegalese twists (ahem, yours truly), there's surely a bun, braid, or fun ponytail to spice up your swimming 'do. Before closing your browser because you think any of these styles are time consuming or difficult to achieve, I challenge you to read on carefully. With these eight fabulous styles, all eyes will be on you as you make that first graceful dive (or sloppy cannonball) into the water.
Keep in mind, BTW, that you don't have to have Senegalese twists like me to create any of these styles (rarely do I ever watch hair tutorials featuring hair like mine when I want to try a new 'do!).
1. Inside Out Bubble Ponytail
With a few modifications to the bubble ponytail (made famous by Princess Jasmine) we can take this look to the next level! An inside out bubble ponytail is perfect for putting an edgy spin on that all-too-common pony you're used to wearing to the pool. Start by securing your hair into a high ponytail, then use a clear elastic to section off some of the hair under the first hair tie. Use your fingers to pull apart your hair and make an opening between your first hair tie and the clear elastic. Pull the rest of your hanging ponytail up and inside the hole you've just created, pulling it down and through the opening. You've made an inside out ponytail!
Now, secure a second clear elastic slightly below your first inside out pony and repeat the process by pulling the bottom of your ponytail through the second opening in your hair. You may continue creating more bubbles in your pony with more clear elastics, though I only did two. Opting for a mid-pony to the back instead of a high pony will probably allow you to fit in at least three bubbles.
2. Upside Down Braid Bun
Caution: A little blood may rush to your head when you attempt this next style! Kidding (kind of). To achieve this look, begin by tipping your head upside down and grabbing a sizable bundle of hair at the nape of your neck. Separate this bundle into three strands to start a French braid. Cross the outer right strand over the middle strand. Then, cross the outer left strand over the new middle strand (it should now become the middle strand!). Continue bringing the outer strands over and into the middle of the trio, alternating between the left and right. Each time you bring an outer strand to the middle, you may add more hair from the back sides of your head into the strands you are crossing. Once your braid is far enough up the back of your head, gather all of your remaining hair into a high ponytail. I like to gather all of my hair and twist it around the base of my ponytail holder until I have formed a bun, securing it by putting a larger hair tie over it all. Using bobby pins to keep everything in place works well too.
3. French Braid Pigtails
This style certainly isn't just for little girls, though I am going to recommend a French braid pigtails tutorial by a 10 year old on this 'do. Start by parting your hair down the middle from the top of your head to the nape of your neck. Grab a bundle of hair at the top of either side and separate it into three strands. Create a French braid, following the same three strand process used to create the upside down braid bun. Work your way down from the crown of your head. Keep the braid close to your head by working in loose hair from the scalp into each strand. Finish the braid all the way through once you have gathered all the hair from your scalp. Repeat this process with the other section of hair you parted off in the beginning. Secure the ends with clear elastics. I kept my braids more concentrated towards my ears to frame my face, but you may braid them down the back of your head.
4. Half-Up, Half-Down Double Top Knots
A top knot is the perfect solution for keeping your hair out of your face while having some underwater fun. I decided to go with the Miley Cyrus-esque double top knots for this next look. Start by parting your hair across the back of your head as if you were attempting to do the classic half-up, half-down style. Next, part the top section you separated in the beginning down the middle so that you have bundles of hair on both sides of your head. Secure both bundles into high pigtails using hair ties. Two-strand twist each of these pigtails, fastening them with elastics. Twisting these bundles will create more of that knotted effect once you're finished.
To create the top knot, wrap your twists around the base of your hair tie until you have formed a ball. I secured my top knots with bobby pins, but I have also seen it done by putting a hair tie or elastic over the entire ball. I chose to leave the back of my hair down as I would have had some seriously hugeeee top knots if I used all of my twists to create them. However, it is totally okay to use all of your hair to create the top knots, rather than turning it into a half-up, half-down style.
5. Laced Fishtail Braid
I'll bet all my money that a laced fishtail braid will turn some heads the next time you're headed to the beach. Is it a French braid? Is it a fishtail? Who knows! What I do know is that it isn't as complicated as it seems. However, If you are not very familiar with braiding, you may need some help to achieve this style (I definitely needed my braiding wiz of a mother for her extra hands).
Begin by creating a side part at the top of your head. Start creating a French braid on either side of your part, adding in hair only from the bottom of your braid as you make your way to the center of your head. You want to keep the braid above your ears so that it creates a crown effect around your head. When you have reached the back of your head, you may stop adding in hair from the scalp, and finish the braid a little more with the hair you have. However, you don't have to finish the braid all the way to the end of the bundle. Next, do the same on the other side of your part, creating a french braid around the crown of your head and to the back. When both French braids are complete, you are ready to create the fishtail.
With both of your French braids at the back of your head, cross the left braid over the right as if you were making an "X" with them. Next, take a small bundle of your remaining hair from the right side, cross it over, and add it into the french braid on the left (this braid was previously created on the right side of your head, but moved to the far left when you created your "X"). Take a small bundle of hair from the left side of your hair, cross it over, and add it to the french braid on the right (which had previously been created on the left side). Continue alternating between each side, crossing over, and adding in hair to each of the two French braid bundles. Remember, you should only be dealing with two bundles of hair (one on the right and one on the left) this entire time! As you continue the fishtail until all of your hair is gathered from your scalp, keep the braid tight and close to your head. Complete the look by finishing the fishtail all the way through. Secure the end with a clear elastic to finish. Bam! You've got two braids in one style, perfect for keeping your hair secure while splashing around in the waves.
6. Princess Aurora Twistback
Once again, we'll enjoy a little hair inspiration from a Disney princess. Princess Aurora's twistback hairstyle can be your go to style if you prefer to leave your hair down while swimming. Part your hair down the middle into two bundles, stopping at the crown of your head. Two-strand twist each bundle, fastening the ends with clear elastics. Bring the twists around your head on each side and join them at the back with another elastic. After joining the two bundles, I removed their separate elastics and undid the rest of the twists. I kept my twists closer towards the top of my head and above my ears, but feel free to join your twists lower around your eye level.
7. Braided Bun
I love the braided bun because it looks more intricate than it actually is. Start by putting your hair into a high ponytail. Next, separate your pony into two separate bundles of hair. Braid each of your bundles using the regular three-strand braid technique. By now, I'm sure you're fully aware you'll need to put clear elastics on the ends of these braids to secure them. To create the bun, start wrapping one of your braids around the base of your high pony. Then, wrap the second braid around and in the opposite direction of the first braid. Secure the bun using a few bobby pins and voilà!
8. Messy Side French Braid Bun
OK, so I'm definitely going back on what I just said about breaking away from the messy bun with this final style. Start by taking a small bundle of hair on your preferred side of your head and divide it into three strands. Create a side French braid by adding in bundles of hair to your three strands as you move down and along the side of your head. Remember to keep the braid concentrated on one side! When you make it to about an inch or two from the nape of your neck, you can stop adding in hair from the scalp and continue the braid all the way through with the hair you already have. Now, gather your braid and the rest of the hair you have left into a low, side pony tail, only pulling the pony halfway through your hair tie. Create a messy bun by bobby pinning the rest of your half-done pony to your head and around the base of your hair tie. No need to be strategic with how you pin up your bun — it's supposed to be messy, after all! You may loosen your side braid once you are done to give it more of that messy, "I didn't really try hard" effect.
Now, grab your clear elastics and bobby pins and get to work. It's time to get cracking if you plan on giving everyone else hair envy the next time you're making your way to the pool!
Images: Summer Arlexis