I Recreated Disney Princess Hairstyles IRL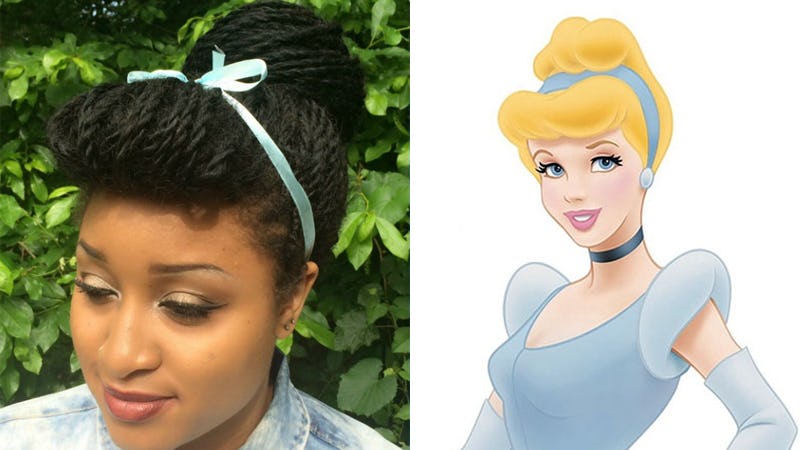 I don't foresee living with seven men or shacking up with a beast in my near (or distant) future, but I can at least come close to it by trying Disney Princess hairstyles. Like most little girls, I wanted to be a Disney princess more than anything and I'm guilty of still fantasizing about it sometimes! I don't have the thick, jet-black tresses that fell to Jasmine's waistline. There's no way I'd try to pull off Merida's fire hydrant red. Don't even get me started on the blonde bombshell that is Cinderella! With their gorgeous hair groomed to perfection, our favorite princesses were certainly working more than just those googly-eyed prince-charmings.
On a normal day, I'd probably think there was no way I could imitate Disney princess hair. I usually don't enjoy styling my own hair, plus none of them were exactly rocking Senegalese twists like me. Then I thought, why not? If Tiana could kiss a slimy frog (gross!) and Ariel could trust a horrid octopus (kudos to Ursula for understanding the power of a little black dress), then Summer Arlexis could give her twists a makeover, Disney princess style! After all, if my girl Poca and the kick-ass Mulan could break a few stereotypes, then so could I.
1. Tiana
In my quest to recreate Disney princess hair, I turned to Tiana first. For me, Princess Tiana's updo was foolproof! Senegalese twists can carry a bit of weight, so I opt for a tight bun on a daily basis to relieve some of the pressure. Sorry to the messy bun MVPs!
I began by putting my hair into the highest ponytail I could make. Once it was tightly into place, I evenly distributed my twists around the base of the ponytail. I tend to envision my body as a lamppost with the twists falling out of my hair tie in a lampshade fashion around my bulb of a head (if that helps give a visual). Next, I wrapped my twists around the ponytail base, twisting and tucking them under one another as I went along. Finally, I secured the bun by placing another srunchie over it all. Senegalese twists are thick enough to form a full bun without any extra padding, but you could always use bobby pins, a sock, or hair donut to form a bun if necessary. It's certainly optional, but I added a crown to get the full effect. What's a princess without her sparkle!
2. Snow White
I knew Snow White would be a bit of a challenge. I don't exactly have the luxury of curling my hair to get Snow's fingerwaves. I barely followed a Snow White hair tutorial, but I'd say my shortcuts brought me as close to this princess' hair as I could get with my current style.
Minimal effort achieved my version of Snow's bob. I created a faux bob by loosely twisting the front strands of my hair to the back. I then secured all of my hair together in a low ponytail. Finally, I tucked the ponytail underneath my hair to give the appearance of a short bob. I didn't have a cute red bow to become a full-fledged Snow White, so I added a rose headband to my 'do. I'm not the biggest fan of short hair, so Snow's 'do was probably my least favorite.
3. Aurora
Princess Aurora is the queen of keeping her 'do in place overnight. Is bedhead even a thing for this girl? This sleeping beauty rocks a mean, voluminous bang of sorts that I definitely could not achieve. Therefore, it was a must that I go with a version of Aurora's hairstyle in the film adaption, Maleficent.
Again, I could not curl my hair, though that would have made my look even better. Instead, I began by parting my twists down the middle. I then separated a few strands from the rest on each side. I two-strand twisted both separated bundles and secured them with clear rubber bands. To finish the look, I used a hair tie to join both twists around the crown of my head into a mid-ponytail at the back. I added the tiara to compensate for my lack of curls.
4. Cinderella
Cinderella is probably the most iconic Disney princess. Plus, I have to give her props for dancing around in heels made of glass all night. I was excited to call Cinderelly's hairstyle my own. Once again, I had to make my own adjustments when following a Cinderella hair tutorial, but I felt more like Wilma Flintstone once all was said and done. Trust me, that wasn't intentional. I wanted to feel like royalty, not like I was rocking the latest in Bedrock-chic!
First, I separated from the rest of my hair a fist-full of twists at the front of my head. I created a high bun with the remaining hair, just as I had done to create Princess Tiana's hairstyle. Next, I made an attempt at Cinderella's bouncy bang. I took the strands I separated in the beginning and folded them back towards the top of my head, securing the bunch with a clear rubber band. I then folded the bunch over once more, bobby pinning my new bang to the top of my head. I finished the look with a light-blue ribbon, giving my self a bow to the front. Ughhh, just call me Wilma, because that's all I see when I look at my end result.
5. Jasmine
Princess Jasmine is one of my all-time faves! I always thought that blue attire and gold accessories looked heavenly against her warm skin tone. She also has the most gorgeous locks— that is if you don't count Rapunzel. My Jasmine hair adaption was simple!
I simply twisted bundles of hair on both sides to the back of my hair and made a low ponytail. I used a second and third hair tie to section off smaller ponytails to form Jasmine's iconic pony. Finally, I wrapped blue ribbons around my hair ties to imitate Jasmine's blue hair bands.
6. Belle
While we were busy mesmerized by how the sweet and innocent Belle fell for an angry beast, her hairstyle was becoming one of the most popular for weddings and proms. You can pretty much say my attempt at her look is a cross between my Tiana and Aurora hairstyles.
I began by separating strands on both sides to prepare to twist back later (if you've been following along, you've probably noticed I was fan of doing this). I then created a small, high bun at the top of my head, in the same way that I formed my Princess Tiana bun. This time however, I left half of my hair out of the bun. Next, I twisted the strands I left out in the beginning towards the back of my head, joining them with a clear elastic. I tied a champagne-colored ribbon around my bun, tucking the ribbon ends underneath so that they were not visible. I then brought my remaining hair all to one side, in true Belle fashion.
7. Elsa
There's much to love about Elsa's hair. Who isn't in awe of a style that involves braid work? The best part of Elsa's 'do is the fact that it looks intricate, but it's achieved with minimal effort. I roughly followed an Elsa hair tutorial, but once I realized she was rocking a French braid, I called my mom for the job! I wasn't kidding before when I said I don't enjoy styling my own hair.
To create Elsa's hairstyle, I put my hair into the classic half up, half down style. I didn't need to loosen my pony for volume as done in the tutorial because my Senegalese twists looked voluminous enough after being brought into a ponytail. The French braiding began next. If you're a braiding pro already, it'll be second nature to you like it was for my mom. Simply start braiding the hair in your high pony first, adding the hair you left out initially into the braid as you move down. Once your braid is finished and secured with a hair tie, you can begin to loosen it for a messier look. Don't worry if braiding isn't your forte! The Elsa tutorial explains it all.
8. Pocahontas
OK, you could technically say my Poca was a cop out. It's not that hard to imitate this Disney warrior, considering she simply left her hair free to flow against the colors of the wind. Although I did absolutely nothing to my hair besides whip it out of the ponytail it was in previously, I just had to include Pocahontas in my Disney princess hair lineup! She was my childhood favorite, as you can see by the pint-sized Pocahontas I was at two-years-old. Unfortunately my Barney of a twin brother did nothing to compliment my Poca. Sigh.
Thanks to the Disney princesses, I'll be styling my Senegalese twists in more ways than one this summer. By the way Disney, no pressure or whatever, but feel free to make a new princess with braids whenever. Us girls with braids and twists want to have a little fairytale fun too!
Images: Summer Arlexis; Princess.Disney.com; Movies.Disney.com; Frozen.Disney.com