If GOP Candidates Were Bachelorette Contestants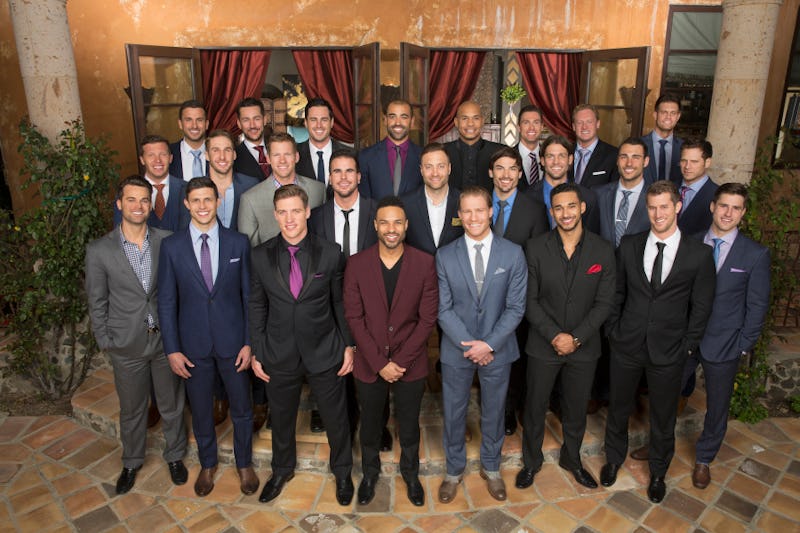 On Monday night, season 11 of The Bachelorette came to its thrilling — or, in Chris Harrison speak, "emotional, dramatic" — conclusion. Bachelorette Kaitlyn Bristowe chose personal trainer Shawn Booth over software sales executive and season latecomer Nick Viall. Kaitlyn's season of The Bachelorette has been hailed as the most controversial in Bachelor history, filled with unscheduled sex, angry exits, and bromances gone wrong. It's not unlike another contest that's currently under way: the 2016 presidential election. Especially when it comes to the unfiltered and often volatile Republican candidates. So naturally, it's time to compare the most controversial GOP candidates to the most controversial men of The Bachelorette, because obviously.
After putting him on an emotional roller coaster that nearly led him to leave the show, Kaitlyn finally confirmed to Shawn once and for all that he was "the one." And with that, Nick was kicked to the curb (for a second time, because he had also been the runner-up in Andi Dorfman's season of The Bachelorette).
But leading up to the final rose has been a season filled with numerous unprecedented twists and scandals, like the show's decision to have the men vote between two prospective Bachelorettes, JJ and Clint's intense bromance turned feud, and multiple contestants angrily leaving the show before the rose ceremony.
Similarly, the Republican primary has been shaping up to be one of the most controversial in history as well, with incidents such as Mike Huckabee's recent comments comparing Obama's Iran deal to the Holocaust, or Donald Trump's every move and statement. But in between the two standout candidates are a slew of politicians who might as well be vying for roses, because they're just like Bachelorette contestants. Take a look for yourself.
Jeb Bush Is Nick
No doubt about it, both are strong contenders — well, Nick was a strong contender, I should say. Bush is widely viewed as the front-runner in the Republican primary, and for a while, Nick was seen as the lead, especially when Kaitlyn forwent the unwritten rules of the show to sleep with him before the Fantasy Suite date. What else do Jeb and Nick have in common? Both of their reputations preceded them before entering the race. Bush comes from a political dynasty that has sent both his father and brother to the White House. Nick was a contestant on season 10 of The Bachelorette. What else? Just like Nick, Jeb could very well be runner-up in the general election/final rose.
Mike Huckabee Is Ian
When Ian coldly called Kaitlyn "surface-level" and accused her of wanting nothing but to "make out with a bunch of dudes on TV," viewers must have felt the same outrage that many Americans did when Mike Huckabee slammed Obama's Iran deal and compared it to the Holocaust. Luckily, because the world is mostly sane, both Ian and Mike received deafening backlash for their comments. While Ian left the show of his own accord, Mike's chances of receiving the Republican nomination are now slim to none.
Rand Paul Is Joe
Both are Kentucky boys with penchants for weird props. While Rand prefers his face on a stick and giant birthday cards, Joe prefers moonshine and giant pigeon masks.
Donald Trump Is Both Ryan M. And JJ
Donald Trump is an amalgam of two of the most controversial contestants: Ryan M. and JJ. You might not remember Ryan M., and that's because he was kicked off the show midway through the first episode for getting belligerently drunk. Between his rude insult of Shawn E.'s carpool, his repeated announcement that he was "horned up," and his unsolicited touching of Kaitlyn's behind, he really was the Donald Trump of the group.
But hints of the ever-entertaining but wholly unelectable Donald were also seen in another contestant: the ever-entertaining, but wholly undateable JJ, whom many viewers considered to be the villain of the season, just as many view Donald to be the villain of the 2016 race. Not to mention how JJ's style screams "real estate tycoon wannabe" and "I just stepped off of a yacht." Also, you kind of totally forget that both JJ and Donald Trump have children. Lastly? Amy Schumer's sarcastic description of JJ could totally be applied to Donald as well: "JJ's a sweetheart. He's just missing, like, charisma, humility, and sense of humor."
Lindsey Graham Is Clint
So if Donald Trump is JJ, then Lindsey Graham is definitely Clint. Donald and Lindsey may not have had the kind of bromance that JJ and Clint shared, but they did have a similarly entertaining feud. After Donald revealed Lindsey's phone number to the public, the South Carolina senator destroyed his phone in a series of creative ways in an elaborate YouTube video.
Chris Christie Is Kupah
Yes, this comparison is a bit flimsy, but that's because a Chris Christie type would never be considered for The Bachelorette in the first place. But if you had to compare the gruff, loud New Jersey governor with any of the contestants, it would have to be Kupah, who delivered a pouty outburst after Kaitlyn sent him home. Maybe Chris Christie will have a similar outburst if he's forced to drop out of the primary.
Ted Cruz Is Tony
I'm making this parallel for no other reason than the fact that both Ted Cruz and Tony the healer make my skin crawl.
Marco Rubio Is Chris "Cupcake"
Because I can totally picture Marco Rubio sobbing hysterically on the edge of a cliff when he (likely) loses the Republican nomination.
Images: ABC/Craig Sjodin (10), ABC/Rick Rowell (1), Getty Images (8)