What The Best Sex Ever Is Really Like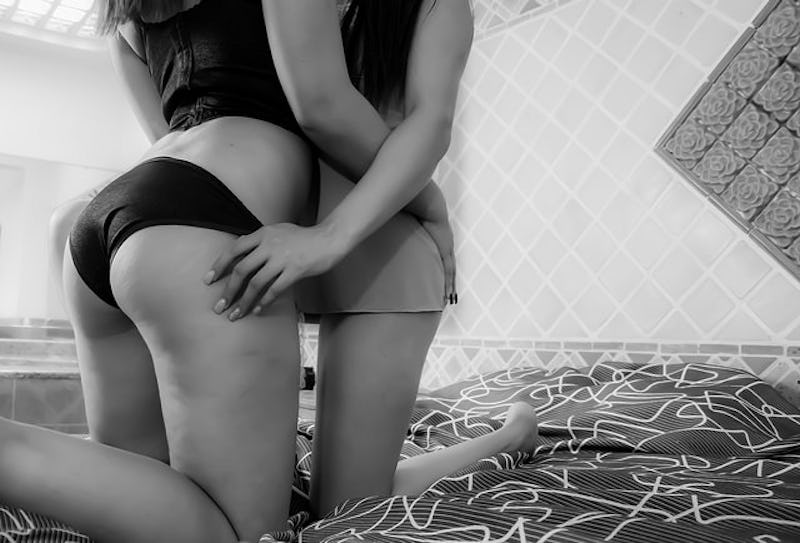 What's the best sex you've ever had? When deciding on the best sexual experience of your life there are, of course, a ton of factors to consider. Obviously things like location come into play. Anywhere you can get down and dirty with a stellar view, or get away with doing the deed in a semi-public place obviously earns some best sex points. Who you're doing it with is obviously a huge part of it. Did you finally get a chance to sleep with that super attractive professor from college? Or maybe it was a one-night stand where inhibitions were lowered thanks to a few cocktails, and you were able to ask for that super dirty thing you've always wanted to try but had always been afraid to demand.
Maybe it was finally crossing something off your sex bucket list — whether it was a position or toy or location that you had really been wanting to experience. Regardless of what things made it memorable, you likely have at least one story that sticks in your mind when you think of the best sex you've ever had.
I asked a few people to tell us theirs, and they didn't disappoint. Read on what these 10 people had to say about the most mind-blowing sex they've ever experienced.
1. Adam, 29
"One time my ex wore this sleeveless net body suit thing and we had really hot, dirty sex."
2. Jon, 28
"My best lay was an older woman in college. I was 19. She was in her 40s. She taught me things that I never knew, like how to touch a woman and make her orgasm, how to delay ejaculation and how to make the moment last. It was a one time thing and once the semester ended I never saw her again. I don't even know her name! But it was a great one time."
3. Lynn, 24
"My very first job did major cuts and I was laid off without warning. At the time, I had this long-term boyfriend and we planned on going away together that weekend to a cabin. I called him, hysterically crying, and he came to pick me up early and start our vacation. That night, we had a really sincere, in-depth conversation by a campfire he made. We also happened to drink a big 'ol bottle of wine and some whiskey (sorry not sorry!). It really made me fall in love with him, how supportive he was with everything. I took off my dress and walked naked into the house. He obviously followed, and if I do say so myself, I gave him the best blow job of his life. He then returned the favor and we had sex all over that house. When I smell campfires, I still think of it!"
4. Leigh, 28
"We were in the kitchen cooking and drinking wine. We started making out, and instead of taking it to the bedroom I shoved him on to the kitchen chair and sat on him. Then we took it to the living room floor, then back to the counter and ended in the bedroom. It was so hot."
5. Max, 24
"My ex came over about a year after we had broken up under the pretense of us trying to be friends again. It ended in a serious 2 hour session of the most intense sex of my life. He was always super passionate but this time he pulled out all the stops — ripped off his shirt and used it to blindfold me while he reminded me what we once had. Whenever I think back on that romp I always have to remind myself that yeah, he has a huge dick, but he also IS a huge dick."
6. Nicole, 27
"I had a huge crush on my co-worker for the better part of a year. I always knew there was something between us, but neither of us could ever act on it. Finally, he told me that he was taking another job. We went back to his place that night, and all of our pent up sexual energy just exploded. It was the most intense, best sex of my life, hands down."
7. Kyle, 22
"I flew in to see my girlfriend and her family after being away in the army for six months. When I saw her all I wanted to do was bang her, and it was so hard to behave in front of her family. I was struggling not to pop a boner the entire time. Eventually, she and I slipped off to the family's barn to 'see the chickens.' Man, did those chickens get a show."
8. Jake, 31
"My buddy's bachelor party fell on the same night before I had to catch an early morning flight for a work trip, so my genius plan was to stay out through the night and go straight to the airport. I met a girl at the bar and we really hit it off, and when I went to catch my flight she asked if she could split the cab with me since she lived right by the airport. Then she climbed onto my lap, telling me she was 'so tired,' and discreetly started unzipping my pants. She did me right there in the cab. It was the hottest thing that has ever happened to me."
9. Janine, 24
"I hate camping, but I went with my boyfriend after much, much pleading on his part. As expected, I loathed every minute of it, and we ended up getting in a fight about it right as it started to downpour. I turned around to get in the tent, but before I could he grabbed me and kissed me while we were getting soaked. He threw me up on a picnic table and we went at it. I'm still not sure if anyone saw us or not, but it was an out of this world experience. I like camping much more now a days."
10. Joe, 28
"My fiancé and I met in high school, and our 10 year reunion was held at our school's gym. We had always talked about having sex in the locker rooms when we were students, but we were always too afraid to go through with it. Now that we were adults, we couldn't get expelled, so we snuck into the boys locker room and did the deed. It was like being in high school all over again."
Want more of Bustle's Sex and Relationships coverage? Check out our new podcast, I Want It That Way, which delves into the difficult and downright dirty parts of a relationship, and find more on our Soundcloud page.
Images: MaloMalverde /Flickr; Giphy