Gambit Who? Channing Tatum Is Already A Superhero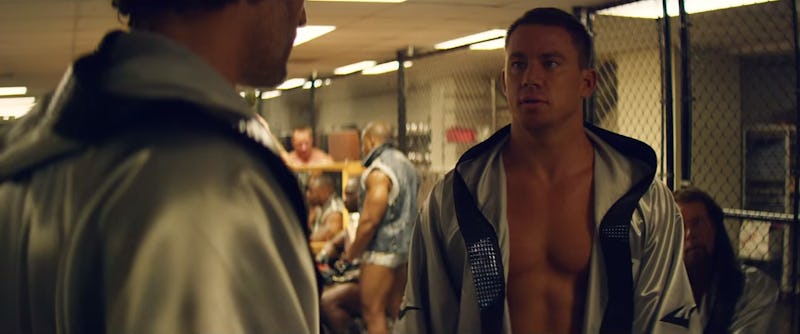 In what might prove to be the greatest turn of villainy yet to face the mutants of the Marvel Comics canon, Channing Tatum is rumored to have exited Gambit, the superhero movie he was both starring in and producing. Yet beyond The Wrap's nebulous insistence that "something is up," I have only my imaginations to explain the potential split. Perhaps my imagination is perhaps better served with another task, though.
See, my immediate inclination here is to fret over the loss of a Tatum-led superhero flick. Sure, it's a blow for Fox, Gambit director Rupert Wyatt, and perhaps even the replacement they wrangle to play the character (stars as beloved as Tatum tend to cast a long shadow). But the viewing public shouldn't feel robbed of the fantastical action-adventure summer blockbuster that the swift, charming Tatum — that inimitable hybrid of everyman and demigod — was born to headline. We've already got one: Magic Mike XXL , the feminist, stripper-filled movie that took theaters by storm earlier this summer.
Since breaking big beyond his Step Up origins, Tatum has taken on romance pictures, screwball comedies, psychological thrillers, disaster movies, dramatic character pieces, and fringe science fiction films. But in Magic Mike XXL, Tatum built the kind of superhero feature so coveted by his brethren of contemporary movie stars. Don't see the connection? Take a closer look.
The Secret Identity
Magic Mike XXL opens with Mike Lane — a pitiful carbon copy of the eponymous superhero — ensconced in civilian mediocrity. Hiding from heroism in the same manner that took hold of Peter Parker midway through Spider-Man 2 or Bruce Wayne at the beginning of The Dark Knight Rises, Mike's biggest fear is submitting to his destiny: becoming the hero he was always meant to be.
Personal Tragedy
Mike's call back to the frontlines isn't simply the consequence of abject boredom. Like any superhero worth his salt, Mike takes some heavy convincing to get in the "greater good" game. Just as Wayne lost his parents, Parker lost Uncle Ben, Clark Kent lost two fathers, and Bruce Banner lost the ability to keep a shirt in tact for more than a week, Mike suffers the tragedy of his breakup with Brooke; said heartbreak is ultimately what draws him into the life of adventure.
Origin Story
What's great about Magic Mike XXL is that it's a whole superhero franchise in one fell swoop. Instead of expending a dull first chapter on Mike's origin story, the missing info is swiftly filled in during a simple mid-movie detour to a male entertainer empire hosted by Jada Pinkett Smith. And as far as back-stories go, the uncomplicated glimpse into the dawn of Mike's stripping days is as economical and enjoyable as superhero fans have seen since Captain America knocked out Hitler those 200 times.
Assembly of the Team
But Magic Mike XXL is not a solo venture, thankfully (as many of the best superhero outings are team exploits). Each member of the Kings of Tampa has not only his own arc, but his own power — Painting! Singing! Froyo! — and his own costume to boot. Their banding together brings all the benefits of team assembly, including dissensions in the ranks, specifically between Mike and Matt Bomer, and individual set pieces (notably, Joe Manganiello's gas station sequence).
The Big Battle
What would a superhero film be without its climactic action sequence? More visually coherent, choreographically impressive, and kinetically inviting than anything in either Avengers: Age of Ultron or Ant-Man is the 20-minute-long stripping convention set piece in Magic Mike XXL. A display of superpowers and goodwill towards men across the board, and by and large more of a treat for the eyes than grappling matches with faceless robots.
For the Greater Good
Beneath it all, Magic Mike XXL fuels every one of its superhero tropes with the spirit that you'd find charging the adventures of Superman, Batman, Spider-Man, Captain America, and the rest of the comic book lot. The work done by these characters, the superhuman endeavored braved by the team, is all in the name of a wholly identifiable good. As Tatum and Donald Glover spell out at various points in the film, their male stripping is done in the name of salvaging a civilian community. From what evil, you ask? Well, imagine a world without male strippers. Isn't that evil enough?
Images: Warner Bros. (7)