'RHOA' Group Vacations, Ranked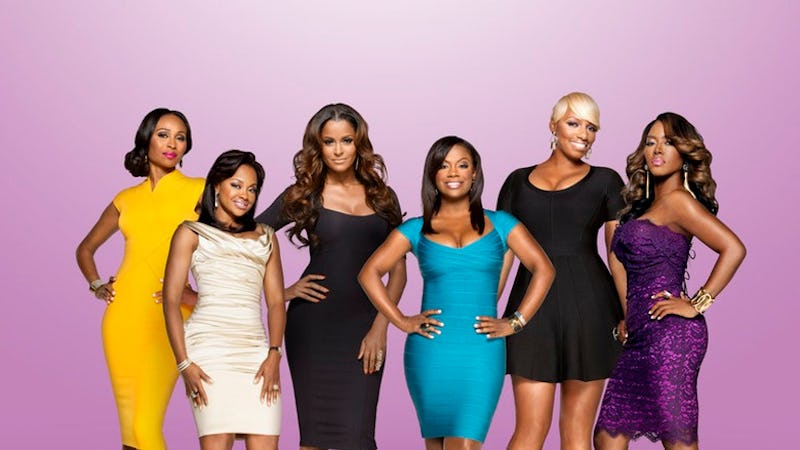 When I say I need a vacation, my mind conjures up visions of sunny skies, beautiful beaches and endless all-inclusive buffets where the alcohol is included. When the Real Housewives of Atlanta go on vacation, they have the exotic locations down pat — but that is where the ladies and the concept of rest and relaxation part ways. They might stuff their oversized Louis Vuitton luggage with ensembles that are perfect for a fun night on the town, but their trips usually end up being anything but.
Perhaps it's because I'm an ordinary, non-reality TV star human, but, after a long overseas flight, I want nothing more than a nap, a snack, and another nap (did I mention drinks already?). But that certainly doesn't apply to these ladies. Clearly, the women of RHOA are a new breed of superhuman whose bodies use the adrenaline produced during knockdown drag-outs to combat the exhaustion of jet lag. Otherwise, how in the world could they step off a 16 hour flight and still muster up the energy to get dressed in their finest duds, have their hair and makeup done impeccably, and nearly kill each other over an elegant dinner?
Maybe the fact that the cast of RHOA didn't have their first group trip until Season 3 explains all the drama on vacations, because it doesn't take long for these testy Georgia peaches to go from sweet to sour. Here's a ranking of all RHOA vacations from least dramatic to utterly disastrous.
8. The Philippines
This was by far the tamest of all RHOA group trips. Shockingly enough, the ladies' unusually calm dinner on their first night abroad was the most dramatic moment, but it probably would've been a lot more explosive if NeNe Leakes didn't skip the trip.
7. South Africa
Yikes. On this particular overseas jaunt, the ladies were divided from the start in the epic saga of "The Talls Versus The Smalls." The separation of cliques by height difference and a dinner invite led to the most unintelligible argument ever between former housewife Shereè Whitfield and Marlo Hampton, NeNe's friend-turned-foe.
6. Hollywood/Vegas
This is basically how Porsha Williams responded to NeNe nagging her about refusing to go to a strip club against her then-husband's wishes. The drama was too much, causing her make an early departure.
5. Savannah
From the bus fight between Kandi and Kenya before they could pull out of the driveway, to Phaedra's argument with an old fling's wife, this trip was one of RHOA's most dramatic to date.
4. Anguilla
Whew! No wonder a then-pregnant Kim Zolciak avoided this vacay like the plague. Kenya was all about the drama. She openly flirted with Phaedra's husband Apollo Nida and argued with Porsha, introducing us to her catchphrase, "Gone With the Wind Fabulous."
3. Puerto Rico
This fight between Claudia Jordan and NeNe was all kinds of epic. Problem was, none of the ladies could enjoy the sun if they wanted to because of all the back and forth shade-throwing.
2. Florida
Honestly, when NeNe joined the other Housewives on Kandi's bus tour, the situation instantly escalated from harmless drama to unbelievable levels of scary.
1. Mexico
Ugh, this was the ultimate vacation from the pits of hell. Kenya fought with Phaedra, shaded Porsha, and met with Apollo alone against Phaedra's wishes. But things reached an all-time dramatic high when the fight between Peter Bailey and Gregg Leakes nearly came to blows. Leave it to NeNe to diffuse the situation by calling Peter a "b*tch."
Sigh. Anyone else ready for a vacation?
Images: Alex Martinez/Bravo; Giphy (7); fiercegifs/Tumblr