NeNe & Phaedra Got Along on the 'RHOA' Trip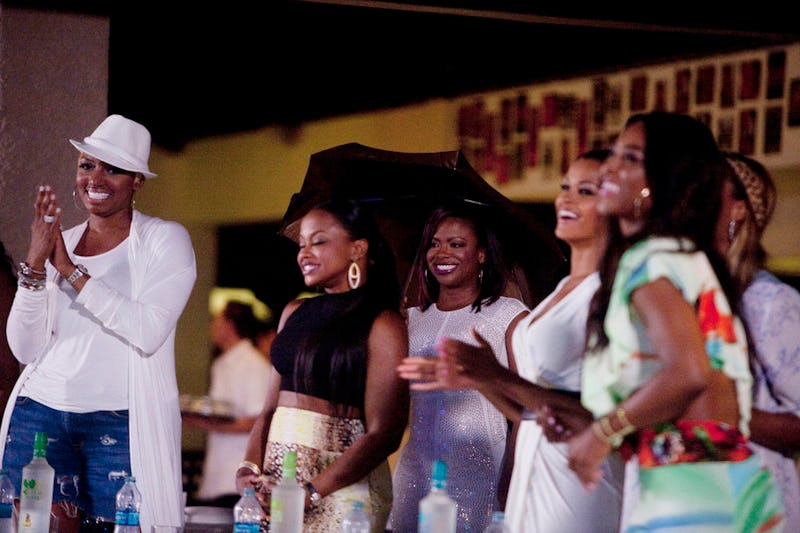 Tonight's episode of The Real Housewives of Atlanta had the misfortune of airing during the first hour of the Golden Globes. That's unfortunate for both RHOA fans, who will have missed and for everyone else, who missed one of the most surprising hours in the show's history. The RHOA cast trip to Puerto Rico already managed to top last year's, and that's not just because there were no husbands invited — NeNe Leakes & Phaedra Parks got along! They teamed up against the two newbies in the cast, Demetria McKinney and Claudia Jordan, and showed why on this show, seniority matters. Will their alliance last? Unlikely. But do I hope it lasts for the rest of this Puerto Rico trip? Abso-flippin-lutely, because it's making for some juicy TV.
And despite all of NeNe's firepower turned against her, Claudia got in some amazing digs — I think NeNe looks great with the blonde hair, but the finger waves are inching closer and closer towards ramen noodles lately. Maybe it's time for a new stylist. Poor Demetria, however, wilted. Everything was downhill after her "eight years" wordplay.
In honor of tonight's awards show pedigree, let's offer up some alternative prizes that these Bravolebrities earned on this fateful night — and it wouldn't be complete without some fans' Tweets, just like the official awards.
Most Unlikely Alliance: Phaedra Parks and NeNe Leakes
Um, did pigs fly tonight? If I look outside, will there be babies snuggling up with mountain lions and cats and dogs hanging out playing Frisbee? Because the unthinkable happened, and that was… NeNe and Phaedra got along. And not just tolerated one another, either — they sat right next to one another all night playing an Atlantean version of Statler and Waldorf.
Everyone's New Favorite: Claudia Jordan
As the weeks go by, my love for Claudia Jordan continues to grow. She was willing to show her terrifying corns to the camera — and worse, to Kenya, who was thrilled to have someone else to make fun of — and willing to throw the most magnificent shade NeNe's way.
Worst Boyfriend: Roger Bobb
Damn, week after week and this guy keeps on giving… hints that his relationship is a disaster. He's left this girl hanging in the wind twice now on national TV! However, it provided a lot of fertile ground for Phaedra to get shady with Demetria. Even a liver transplant doesn't take eight years, girl!
Lifetime Wigchievement Award for Worst Wig Ever:
Enough said.
Image: Laura Magruder/Bravo