R. Riveter's Signature Fall Collection Is Here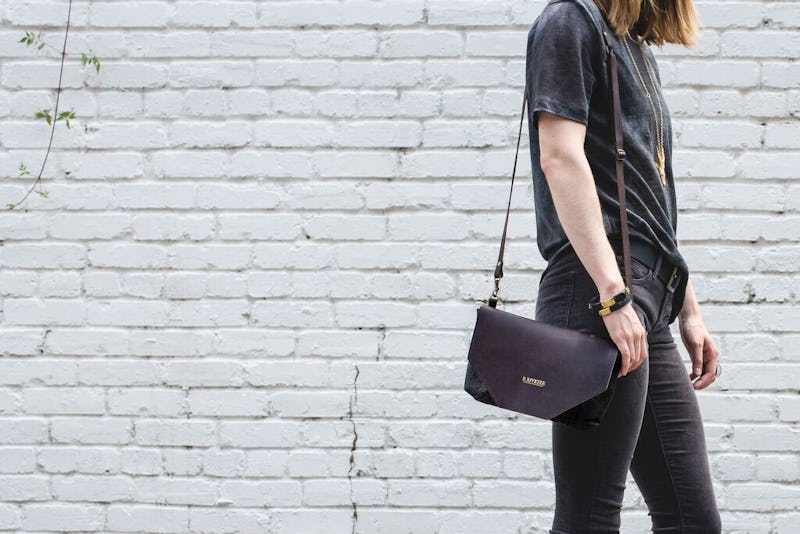 Talk about mission: I'm fashionable. R. Riveter launched its Fall 2015 Signature Collection Thursday, and if there is anything I love more than affordable fashion, its fashion with a cause. The Dahlonega, Georgia-based handbag label was founded by military spouses in 2011, striving to provide mobile and flexible income to families of those serving our country.
R. Riveter is completely run by military spouses, providing them with a variety of career opportunities including areas of design and marketing. Bags are handmade on American soil from 100% American materials, meaning not only are these bags uniquely designed by military personnel, but they are also produced from recycled military materials such as duffle bags, wool blankets, and shelter halves.
What I really admire about this company, besides the employees' unconditional patriotism and authentic American roots, is that it was built on the foundation of women helping women (although, it's important to remember that not all military spouses are women). The name "R. Riveter" was in fact inspired by World War II cultural icon Rosie the Riveter who represented American women during that time who held down the home front by working in factories and shipyards to mass produce war supplies while their men were away. R. Riveter symbolizes the modern woman's economic power, with each handbag named after its creator.
The R. Riveter Signature Fall Collection is now available with prices ranging from $35-$290. Check out an exclusive look at this unique line, choose your favorite and head over to rriveter.com to make your purchase. This is a win-win situation for all involved, because you can invest in a chic handbag that is functional as well as fashionable, and supporting our country at the exact same time.
1. The Crossbody
Patton Crossbody 8.15 || Charcoal Canvas + Brown Leather, $120.00, rriveter.com
A durable, fashionable crossbody can be a project to find, but the R. Riveter's Patton Crossbody in Charcoal Canvas + Brown Leather is perfect for on-the-go convenience. The fact that this bag can be worn with basically anything is just an added bonus.
2. Finch
Finch 8.15 || Charcoal Canvas + Brown Leather, $220.00, rriveter.com
I have such an obsession with messenger bags and R. Riveter's Finch is utter perfection. This is the kind of bag I think every artsy girl should have.
3. Finn
Finn 8.15 || Charcoal Canvas + Brown Leather, $290.00, rriveter.com
The fold-over style of this handbag gives its style a feminine touch.
4. Otto
Otto 8.15 || Charcoal Canvas + Brown Leather, $240.00, rriveter.com
This style is probably my favorite out of the whole collection. I am a fan of its size and the fact that it's feminine with a hint of edge.
5. Alexander
Alexander 8.15 || Charcoal Canvas + Brown Leather, $250.00, rriveter.com
I have a feeling this is going to sell like hot cakes. Very on-trend.
6. Zipper Pouch
Zipper Pouch 8.15 || Green Canvas, $35.00, rriveter.com
Maybe you're not in the market for a new bag but are interested in contributing to a good cause. This Zipper Pouch is adorable and can easily be used as an alternative to a wristlet.
Images: RRiveterbags/Instagram; Courtesy of R. Riveter (6)