Why 'Babe' Was Nominated For Best Picture In 1995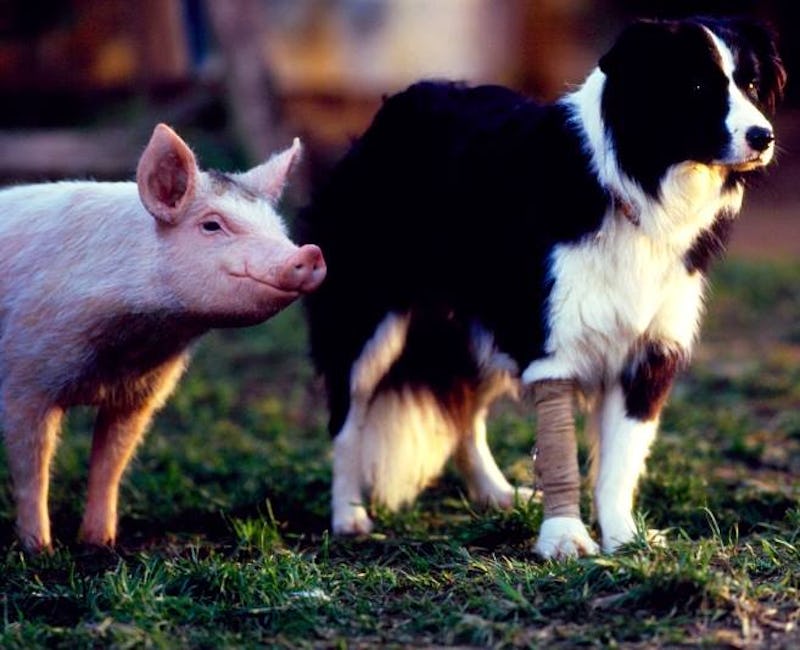 On the surface, the movie Babe is about a talking pig and the farmer who believed that the little guy could be just as good of a sheep-herder as a dog could. But then the film became a phenomenon and was nominated for seven Oscars. Babe was even nominated for Best Picture of 1995, a huge honor in a year that also produced high-quality nominees like Sense and Sensibility, Apollo 13, Il Postino: The Postman, and winner Braveheart. Mind you, this is also back when the Best Picture category was limited to five nods.
Babe is celebrating its 20th anniversary and the movie still remains one of the best live action talking animal movies. But did it really deserve a Best Picture nomination? Well, I suggest giving it a watch and see if escape without your heart being touched by a cute little pig named Babe and his bond with Farmer Hoggett (played by James Cromwell). Babe has a 97 percent "Fresh" rating on Rotten Tomatoes and the American Film Institute listed the film among its 100 "Most Inspiring Films of All-Time" list. "Here's the summer's sleeper for kids and their parents, a terrific picture that takes a lot of risks and makes them all pay off in a charming story about a pig who fancies himself a sheepdog--or sheep-pig," Chicago Tribune film critic Gene Siskel wrote in 1995. "Parents will be charmed; don't be put off by the title."
Here's why Babe deserves to be a Best Picture nominee — even in 2015.
It Has A Simple, But Effective & Moving Story
When you look beyond the talking animals and the cute farm adventures, Babe is a story about aspiring to be something bigger than yourself and achieving it against all odds. And I think that's a story humans can especially relate to — even if it comes in the form of a cute pig who is looking for a home, a purpose, and to be more than bacon on the dinner table. Of course, everything thinks Babe's aspiration to be a "sheep-pig" is crazy. But he does it and proves everyone wrong — anything is indeed possible. And that's a message both kids and adults need to hear.
James Cromwell Is Understated & Awesome
It must be hard for an actor when he needs to bond with a pig for a role, but Cromwell does it and he does it so well. As Farmer Hoggett, he displays both distance and genuine affection for Babe the pig that grows over the course of the movie. I think Hoggett is impressed that Babe wants to be more than just a pig and I think he respects the pig for being just as fiercely protective of the farm's sheep as he would be.
Plus, Cromwell's jig for the pig at the end is so touching and adorable (above).
There's A Very Strong Animal Rights Message
The strong antagonistic undercurrent of the movie for the animals is the fear of getting eaten. And that's why Ferdinand the duck tries to be a rooster/alarm clock (so he'll be seen as useful and won't be eaten). Just the fact that the animals talk and have feelings and goals sends a message loud and clear: All creatures have feelings and should be seen as more than just dinner. They can be our friends, too, as in the case of Hoggett and Babe.
The Movie Has So Much Heart
Babe tugs on all the right heartstrings. Not only is the movie about a cute and endearing pig, but a dog named Rex who is looking for redemption and a dog named Fly, a mother whose puppies are given away. Hoggett is a farmer in a world that is becoming way more modern than him by the second. These are each well-crafted plotlines we can relate to and characters that are just so alive.
Animation & Special Effects Are Well-Respected By The Oscars
Babe isn't animation, but the film definitely derives a lot of influence from it and the movie also has some rad special effects for its time. In 1991, Disney's Beauty & The Beast became the first animated film to be nominated for Best Picture at the Oscars, which I think paved the way for the Babe appreciation a few years later. The Academy created the Best Animated Feature category in 2001, but still a few movies slipped by to be nominated for Best Picture as well (Up and Toy Story 3). There's also an Oscar for Visual Effects that's been awarded in its current form since 1962.
The Academy of Motion Picture Arts and Sciences certainly takes animation and special effects seriously, so it should be no surprise that the Oscars saluted this sweet movie about a talking pig. By the way, Babe won the Oscar for Best Visual Effects for 1995 over the one other nominee, Apollo 13.
Images: Universal Pictures; Giphy (3)