Drake Is Eternally Jimmy Brooks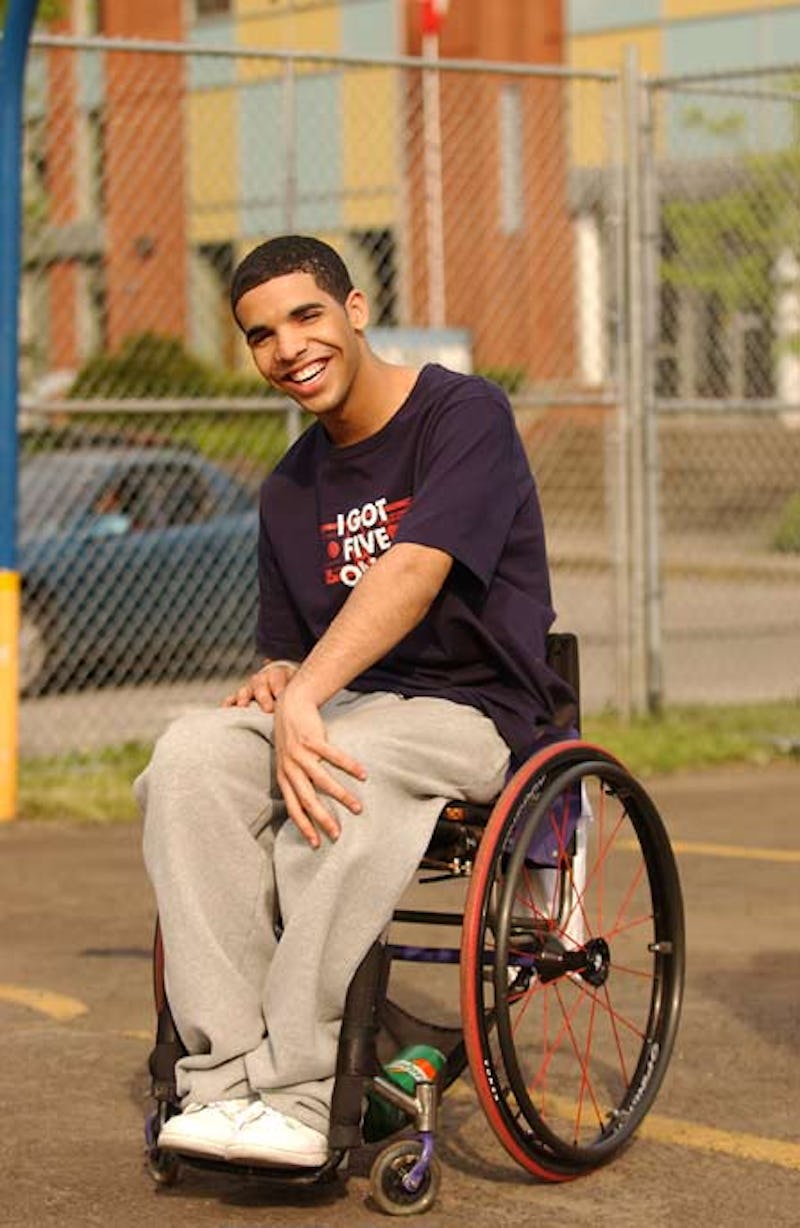 I may not have watched Degrassi in years, but when I do, I always want to watch the Drake era over and over again — the years when I, too, was in high school. To me, those episodes are classic Degrassi, and to me, no matter how successful a career Drake has, he will always be Jimmy Brooks to me, the wheelchair bound basketball star. Aubrey Graham, y'all. And as one chapter of the show closes with the series finale Friday, it wouldn't be right if we didn't take the time to remember some of Drake's best Degrassi moments.
After all, he was clearly the best character on the show. Who else could have bounced back from getting shot like that?! Jimmy always followed his heart, even when it meant disappointing his father, and let's face it — there will never, ever be a pair of TV best friends like Jimmy and Spinner again. Jimmy was an unforgettable part of Degrassi history, and not just because it was the catalyst that kicked off Drake's music career.
Here are some of Drake's best moments on Degrassi. The original incarnation may be giving way to the Netflix version, but I'll never forget my summers in high school, watching Degrassi marathons all day, every day.
When Jimmy Got Shot
Ugh. I will be forever pissed off at Rick for this, especially since the prank wasn't even Jimmy's fault. He tried to explain! This could have all been avoided!
When Jimmy Raps With Ashley
It was at this moment we all knew that, eventually, Aubrey Graham would be a rap superstar.
When Jimmy Snuck Out Of The Hospital
Concerts are way more important than getting the medical treatment you need. Besides, he did have a killer disguise. Is it just me, or was Jimmy seriously always on point with the comebacks?
When Jimmy & Sean Fought
This moment is important based solely on the fact that Drake looks like he's five years old, but that's not the point. The point is that Jimmy and Sean never got along, but they really didn't get along when jealousy over Ashley was involved.
When Jimmy & Spinner Meet Manny & Emma
What an introduction. Also, I forgot how mean Jimmy can be sometimes. But really, in the end, he turned out to be a pretty nice guy.
When Jimmy Had A Breakdown Over Being Paralyzed
It was such a dramatic and emotional moment when Jimmy told Spinner he'd wished that Rick had just "finished the job," but it was real.
Jimmy Brooks, I will never forget you. If you want to come back to the new Netflix series, I wouldn't be upset about it.
Images: The N; vortexxcindy, irootfortheunderdogs/Tumblr