Get To Know 'Bachelor In Paradise' Stud Mikey T.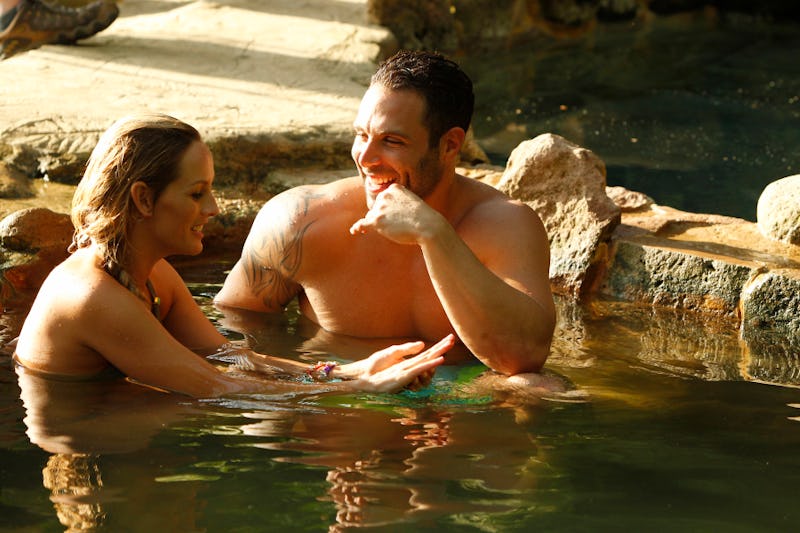 Desiree Hartsock's season of The Bachelorette produced a few great characters — sweet, sweet, Des herself, who eventually married her sweetheart, Chris Siegfried; nearly universally disliked Season 18 Bachelor Juan Pablo; and long-haired, smooth-talking Brooks. They were just a few of the colorful personalities we met on the show. My favorite, though? Bachelor In Paradise Season 2 contestant Mikey Tenerelli, who I'll affectionately refer to as "Mikey T." from here on out. On Des' season, the Chicago-based self-proclaimed plumbing contractor didn't exactly win Desiree's heart. So, what has Mikey T. been up to? Is the former Bachelorette contestant single, or did he find love in Paradise?
Mikey T. was one of those Bachelorette contestants that may have been easy to miss if you weren't looking for him. He was pretty quiet and unassuming, but those guys are the ones that are the diamonds in the rough. Not the big, showy peacocking guys. According to People, Mikey caused a bit of controversy on The Bachelorette, because someone claimed that he and fellow contestant James had a conversation in their limo about making plans to hit the Chicago waters in a boat with a bunch of girls that summer and also about trying to become the next Bachelor, but I don't really buy that. Mikey was just way too nice to do that.
I'm really excited that he's on Bachelor in Paradise (I missed this Italian stallion, what can I say?). His social media is pretty quiet (he's probably single because there are no ladies at all in his pics! Unless he walked off the show with someone and is keeping it quiet), but here's a look at what else he's been doing since he left The Bachelorette mansion.
He Started His Own Business
A plumbing contractor no more, Mikey T. now owns CrossFit Alpha Dog, located in Lombard, Illinois. From the looks of it, Mikey T. is putting his personal training and CrossFit clients through the ringer, testing their limits and making them do their best. Pretty great, huh?
He's Been Hitting The Gym… Hard
Of course, it's always amazing when you can make something you love your work, and it definitely seems like Mikey T. loves to hit the gym. Look at that toned and tanned physique. He definitely practices what he preaches at the gym, and it shows.
He Spent Time With Friends & Family
Hanging with friends at local watering holes, attending family weddings — Mikey T. is a guy who's close to those he loves. He sure seems like he's always there for the people in his life, which is something that any potential suitor on Bachelor in Paradise should be aware of, and it earns him major points!
He's Spreading Inspiration
Whether it's a personal trainer thing or just a product of his positive outlook on life, Mikey T.'s social media is full of affirmations, mantras, and words to make you just plain feel good. Definitely an inspiring dude.
That's what Mikey T. has been up to since The Bachelorette, and I'm happy I get to watch him on my television on Sunday and Monday nights this summer — I can't wait to see what he does next.
Images: ABC/Rick Rowell