Meghan & Jim Edmonds Make Long-Distance Work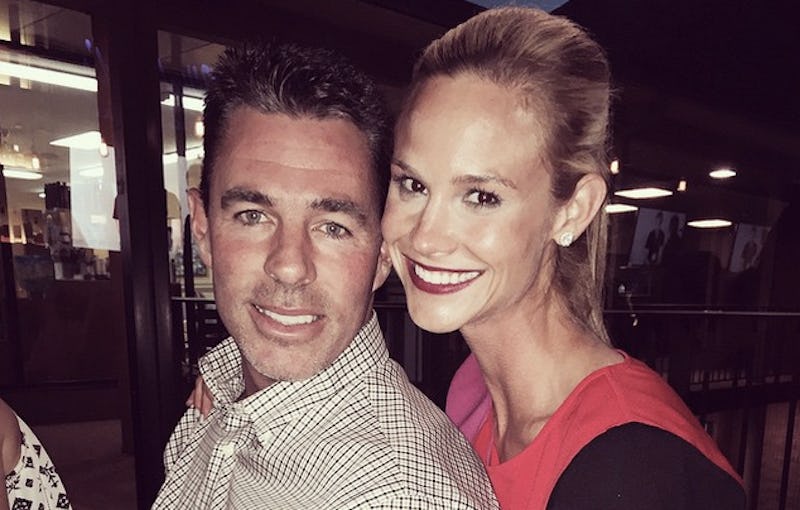 As history has told us, being the new girl on The Real Housewives of Orange County is not easy. With some individual exceptions, the ladies of RHOC are not the most welcoming bunch. When I heard Meghan King Edmonds was joining the RHOC cast, I feared for her. I didn't know much about her other than that she was married to former professional baseball player Jim Edmonds and that she was going to be the youngest member of the cast — two things that alone are enough to seem threatening to the Orange County Housewives.
The women have been pretty harsh towards Meghan both in person and during interviews segments about her marriage to Jim. What's their issue? Well, the couple spends half of their time in St. Louis and half in Orange County. The Housewives seem to think this is a major red flag because the Edmonds' only tied the knot a few months before filming the current season of the show. In all honesty, I have no idea how virtual strangers have the audacity to take issue with the logistics of someone else's marriage, but this is reality television and trash talking is basically it's own character.
Anyway, regardless of what the other women think, long distance relationships are tough, but it looks like Meghan and Jim are making it work. Here are 14 photos of the couple that prove just that.
1. Kissing In St. Louis
Meghan and Jim look like a very happy couple in this PDA-filled photo in their hometown of St. Louis.
2. Hanging With Shannon Beador
At this point in the season of RHOC, I'm pretty shocked to see an Instagram of Meghan and Shannon together since they did not get off to a good start. But here they're all smiles and seem to be getting along.
3. Double Dating With The Dubrows
Meghan and Jim are good friends with the Dubrows and enjoy a double date from time to time. I'm not seeing any trouble in paradise here. Sorry, Vicki.
4. Testing Out Meghan's Products
Jim is a great sport, trying out Meghan's Sweat Cosmetics sunscreen in a public forum like Instagram. How supportive!
5. Laughing During The Sunset
Meghan and Jim were full of laughter while they watched a California sunset. It looks like they are enjoying this whole living-in-multiple-cities life.
6. Watching RHOC Together
When your significant other watches Bravo with you, you know things are serious. Not quite as surprising for Meghan and Jim though, seeing as their lives are actually on the show.
7. Enjoying A Blake Shelton Concert
Meghan and Jim made time for a special date to enjoy a Blake Shelton concert. Even with an unconventional marriage, these two still plan fun dates together.
8. Hanging On The Beach
The couple kept it real and enjoyed a low key walk on the beach after breakfast. They don't need to dress up and go out to spend time together, and they seem very happy.
9. Sightseeing In Hawaii
You know how the old saying goes: "The couple that wears over sized sunglasses together, stays together." These two looked adorable during their Hawaiian honeymoon.
10. Passing Time In The Airport
Living in two different cities, it makes sense for Meghan and Jim to spend a good chunk of time in airports. So how do they pass the time? Snapping some selfies, of course.
11. Dressing Up
These two are definitely a beautiful couple.
12. Celebrating Christmas
Meghan and Jim were full of cheer as they celebrated their first Christmas as a married couple.
13. Kissing On Their Honeymoon
The couple had that newlywed glow while kissing during their honeymoon in Bora Bora.
14. Supporting The Cardinals
Meghan, Jim, and his son Landon supported Jim's old team the Cardinals in St. Louis.
It's unfair to judge a book by its cover or a marriage by its logistics. This season of Real Housewives of Orange County has just started so everyone should give Meghan and Jim's marriage the benefit of the doubt before immediately jumping in to judge. By the looks of it, long distance isn't so bad!
Image: meghankedmonds /Instagram