These Photos Capture Non-Binary Gender Identities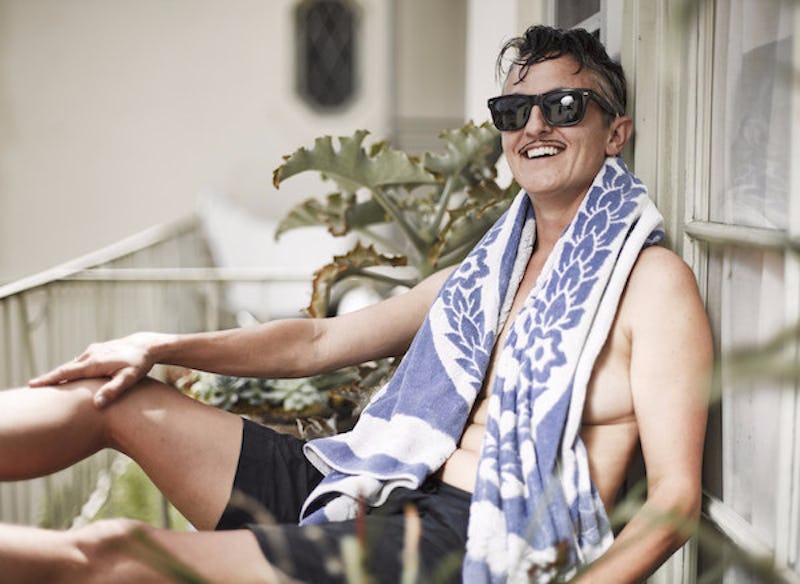 At TransPride in Amsterdam last week, writer Emily Besa and photographer Bernd Ott unleashed their brainchild All the People , a book showcasing different forms of gender expression around the world. The creators traveled to Berlin, Amsterdam, London, Los Angeles, and New York to interview and photograph 36 people with diverse gender identities. They also launched a Kickstarter campaign to fund the collection's publication later this year.
Besa conducted her interviews without a preexisting agenda, and largely let the subjects' own words tell their honest stories. With the same motive, the featured individuals chose where and how they would be photographed. The images and text were combined "to encourage a multi-dimensional connection between the audience and each person in the book project," Besa told Bustle.
She added that she was inspired to undertake the project through conversations with gender-nonconforming people, who made her realize that gender expression isn't always overt. She wanted to make previously invisible identities visible in a way that stayed true to her subjects:
The seeds for the project came out of conversations I had with a few very dear friends. Because of what they shared privately, I started to realize that our gender expression and identities are not always outwardly shown, and often gender is pretty nuanced, complex, fluid, and most of all individual.
Indeed, the photos stand in stark contrast to Caitlyn Jenner's Vanity Fair cover and other hyperbolic depictions of genderqueer people in the media, reminding readers that identity is about more than how someone dresses. Contrary to what we're usually exposed to, trans women aren't necessarily hyper-feminine (they can even have beards) and trans men aren't always obviously masculine either. The only way to know someone's gender identity is to ask — and even then, nobody is obligated to provide a label at all. And even if a label is given, it's never fixed; it might change.
Ott also felt a personal connection to the book. When Besa first reached out to him, he was excited to find work "with people and an agenda I cared about," he told Bustle. "I have friends in the community, so when Emily approached me to do the project, I said yes immediately."
While all the book's subjects are gender-nonconforming in some way, its creators "tried to stay away from categorization and labeling," Besa said. "The framework for the project was anyone who identified as having a non-binary or queer or transgender identity and/or gender expression."
I don't think there's anyone out there who can say exactly what gender is, but what's certain is that it's too complicated to be captured in a label or even the proverbial thousand words an image provides. All the People reminds us of this complexity through the vivid images and voices of individuals who are impossible to pin down. Unapologetically who they are, they spill out of the tidy boxes that confine cis and even trans people. By making no effort to contain them, Besa and Ott reveal how messy and undefinable gender really is.
You can lean more about the project, support the book's creation, and secure an advance copy on All the People 's Kickstarter page. I can't wait to read the interviews, because I have a feeling they're a far cry from anything we've seen in Vanity Fair.
Images: Courtesy of Bernd Ott and Emily Besa