Target Ava & Viv Fall 2015 Lookbook Is Here, And Here Are The Best Autumnal Looks Of The Bunch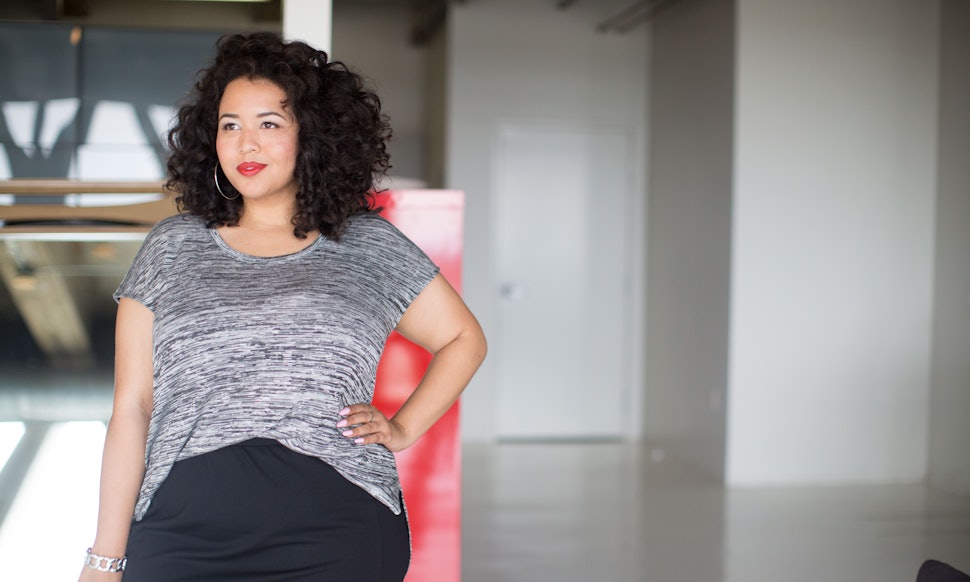 Did you happen to catch Target's first Ava & Viv collection — the ultra-chic collaboration between Target and bloggers like Nicolette Mason, Gabi Gregg, and Chastity Garner-Valentine? The announcement of the collection was the body-positive phoenix to rise from the ashes of the Lilly Pulitzer controversy — and with a collection boasting on-point prints, stylish basics, and adorable dresses all for under $80, it was quite the success.
Their new fall collection was announced last month, and now the lookbook is finally here. It features Nicolette, Gabi, and Chastity modeling the pieces they helped design. Let's take a look at some of the most on point ensembles!
Images: Courtesy of Target (14)
Gabi's Laidback Look
Gabi told Target that she loved "soft pant joggers," and they definitely delivered.
Gabi's Matching Separates
She also happened to share her affection for "bold prints and printed sets" (so I guess we're three for three here).
Nicolette's Weekend Wear
Nicolette, on the other hand, said she was on the hunt for work-to-weekend pieces, and this breezy ensemble fits the bill perfectly.
Chastity's Chic Wrap Dress
As with Nicolette's love affair with work-to-weekend pieces, and Gabi's taste for bold prints and relaxed pants, Chastity requested more wrap dresses — and this one's basically to die for.
Nicolette's Boho Ensemble
It doesn't get much better than fit and flare dresses paired with shearling jackets and black fedoras.
Nicolette's Ultra-Relaxed Chic
This ensemble perfectly straddles the line between stylish and leisurewear.
Chastity's Laid-Back Plaid
Perfect for everything from a walk on the quad to shopping with the gals.
Gabi's Jewel Tones
"I think the color palette all over the collection is amazing," said Gabi of the collection, expressing a specific fondness for the deep tones for the autumnal vibe.
Nicolette's Dog-Walking Glam
By her own admission, Nicolette's not much of a jeans girl — but that didn't stop her from waxing poetic about Ava & Viv's denim offerings: "They're SO comfortable, you can wear them for 16 hours straight and feel awesome about it."
Chastity's Printed Blouse
Now that is a bold print…
Chastity's Statement Skirt
… And that's an even bolder print.
Gabi's Asymmetrical Blouse
Asymmetrical-hemmed T-shirts are one of the easiest ways to bump up your personal style.
Nicolette's Graphic T-Shirt
Ditto with graphic T-shirts.
Nicolette's Printed Dress/Moto Jacket Combo
Nicolette named the above jacket as her favorite from the whole collection. As she puts it, "You can wear it with jeans, you can wear it with a wrap dress and edge it up a little… it just goes with everything."