The 8 Most Awesome Gingerbread Houses In Existence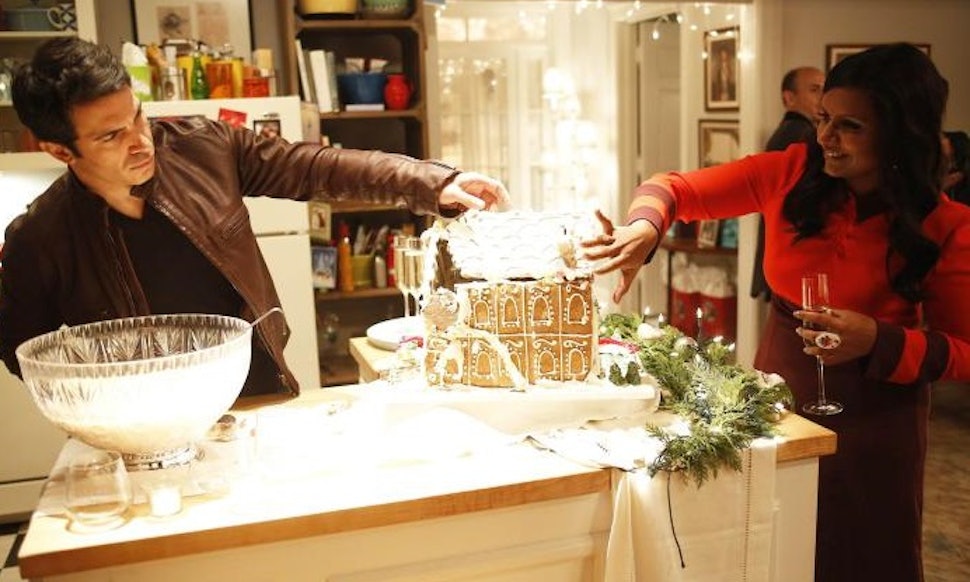 In this week's episode of The Mindy Project , Danny once again goes all out with his annual gingerbread creation — this time, he built an edible Monticello. Not to diss our favorite fictional OB-GYN-Gingerbread builder, but the eight amazing Christmas-y creations we've compiled here kind of put his historical house to shame. Click on through (and, if you're feeling inspired, check out some gingerbread recipes).
The Winchester Mystery Gingerbread House
In 1990, Pam Sheridan (unsurprisingly!) won a San Jose, CA gingerbread house competition with this replica of her hometown's Winchester Mystery House. The real mystery is Sheridan's patience!
Image: eringuin/Flickr
Snoopy's Gingerbread Dog House
The detail and accuracy are key here! Complete with a little white chocolate pretzel fence and all the trimmings Snoopy used in A Charlie Brown Christmas, as well as a 1st place ribbon. "Even my dog's gone commercial!"
Image: tsayrate/Flickr
The Gingerbread Globe Theater
It's such sweet sorrow that this house is for decoration only. Cathy Christiansen of Gainesville, VA submitted this amazing replica to the 2010 Grove Park Inn National Gingerbread House Competition.
Image: fsamuels/Flickr
The Gingerbread White House
Fashioned from more than 1200 Spingerle cookies, the 2013 Gingerbread White House weighs more than 300 pounds — all of it edible. Built by White House staff and entirely eaten (presumably) by Sunny and Bo, who are featured in dark chocolate, this masterpiece is a real beaut.
This Reindeer Spa
Put your hoofs up and chill out, reindeers! This gingerbread spa shows Rudolph getting a pedi with little cucumber slices over his eyes. A-deer-able.
Image: moonlightbulb/Flickr
Gingerbread Hogwarts Castle
Britta's creation is straight-up magical. I'd like to alohomora the door to this amazing edible castle. The detail is out of this realm.
Gingerbread At-At (from Star Wars)
This All Terrain Armed Transport is delicious and defensive! Look closely and see the little Luke Skywalker hanging off the back in his orange jumpsuit. May the festive force be with you!
Image: AngryJulyMonday/Flickr
This Gingerbread Replica of the 'UP' House
Carl Fredriksen never looked so sweet! In this masterpiece, fondant and icing add the color to the house and characters, and gumballs act as the balloons.
Image: tsayrate/Flickr