21 Graphic Tees That Book-Lovers Will Adore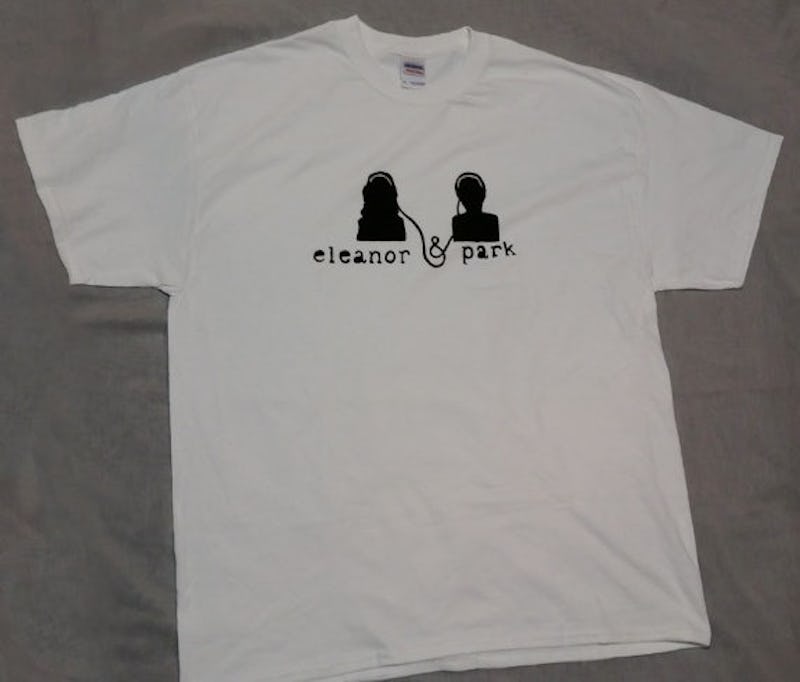 So much shopping to do, so little time. Especially if you're a book-lover, and you need to reserve plenty of hours for reading. After all, how else will you make a dent in your TBR pile? Luckily, with online shopping, you can find time to stay stylish and read all the latest bestsellers (and, of course, all the best books about shopping).
Naturally, as a book-lover, you also have to ensure that you display your love of books in all aspects of your life. From your actual collection of books, to lit-inspired school supplies, it's essential to let literature seep into everything. And don't forget the most important: literature-themed graphic tees.
The best thing about sporting a graphic tee with your favorite book on it is that you can see who picks up the reference, and then become her best friend forever. It's like wearing an inside joke that can instantly create a bond between you and your future BFF. Because literature graphic tees are basically magnets that draw out all the other book nerds. From obvious book cover shirts, to obscure references from your favorite classics, there are about a million options for every book-lover to dress in literature from head to toe.
Pride and Prejudice Tee
Featuring the peacock edition of Pride and Prejudice, this shirt is a classic for any Janeite. It's purple, it's pretty, and basically, you will ardently admire and love it. Buy it here.
Pemberley House Country Estate Tee
For Mr. Darcy fans looking for a shirt with a more intricate reference, this tee featuring Pemberley is the perfect choice. Buy it here.
Sherlock Holmes Tee
It won't take too much sleuthing to find fellow Sherlock fans when you're sporting this 221B. tee. Buy it here.
Library Tee
Check out this amazing throwback shirt, featuring old library stamps. The best part is, after you order it, you don't have to give it back! Buy it here.
Alice in Wonderland Tee
This German Alice in Wonderland tee captures all the whimsy of your favorite childhood story, and the dark navy color won't show dirt if you happen to fall down any rabbit holes. Buy it here.
The Little Prince Tee
Ponder philosophy and social criticism in this perfect prince tee. Featuring the French cover of The Little Prince, it's great for fans of Saint-Exupéry's novella. Buy it here.
Mark Twain Tee
According to Mark Twain, the "ideal life" consisted of "good friends, good books and a sleepy conscience." If you're on board with that philosophy, this T-shirt is the one for you — buy it here.
The Raven Tee
This tee features Edgar Allan Poe's The Raven in French. Très lovely. Quoth the raven, "Buy it here."
The Hitchhiker's Guide To The Galaxy Tee
Don't panic. A T-shirt is the most useful thing an interstellar hitchhiker can have, and this one is perfect if you are in fact an interstellar hitchhiker (or, at least, a fan of them). Buy it here.
The Great Gatsby Tee
If you're looking for something to wear to large parties, look no further — this vintage-inspired Great Gatsy tee is perfect for Fitzgerald fans. Buy it here.
The Age of Innocence Tee
"We can't behave like people in novels, though, can we?" asks May Welland in The Age of Innocence, but of COURSE you can – especially with this Edith Wharton tee. Buy it here.
Hogwarts Grad Tee
J.K. Rowling says that we "all went to Hogwarts" and that "we were all there together," and I'm 100 percent on board with that. Show your school pride with this awesome Hogwarts Alumni tee. Buy it here.
Luna Lovegood Tee
Keep the nargles away with this amazing Luna Lovegood tee — buy it here.
Les Misérables Tee
Made up of the entire text of Victor Hugo's Les Misérables, this shirt is a masterpiece just like the book it's based on. Buy it here.
George Orwell Tee
When all the clocks are striking thirteen and you need to assure everyone of your respect for Big Brother (because obviously, he's watching), look no further than this hilarious shirt. Buy it here.
A Midsummer Night's Dream Tee
Show your support for the rude mechanicals of Shakespeare's A Midsummer Night's Dream with this hilarious amateur theatre troupe T-shirt. Buy it here and make Bottom super-happy.
The Catcher in the Rye Tee
Pencey Prep claims that "since 1888 we have been molding boys into splendid, clear-thinking young men." Holden Caulfield's not buying it. Even if you don't either, you can still buy the T-shirt here.
The Lord of the Rings Tee
There can be only one who wears this shirt... just kidding, you can buy one for you AND all your LOTR-loving friends. Buy it here.
The Hunger Games Tee
May the odds be ever in your favor when you show off your support of Peeta's bakery while sporting this Hunger Games tee. Buy it here.
Eleanor & Park Tee
They're perfect for each other, and this tee is perfect for you. Wear it on the bus, while you're reading comic books, or on any other adventures you go on. Buy it here.
The Perks of Being A Wallflower Tee
We accept the T-shirts we think we deserve, and if you're a Stephen Chbosky fan, maybe this is the T-shirt YOU deserve. Feel infinite in this V-neck — buy it here.
Images: Modcloth (6), Redbubble (2), Out of Print (4), ThinkGeek, thefellowco, MerchMilk, Gooder Gifts, Bleach Boys Tees/Etsy, Litographs, Meanfellas (2), Skreened