The Other Consequence Of Stewart's Exit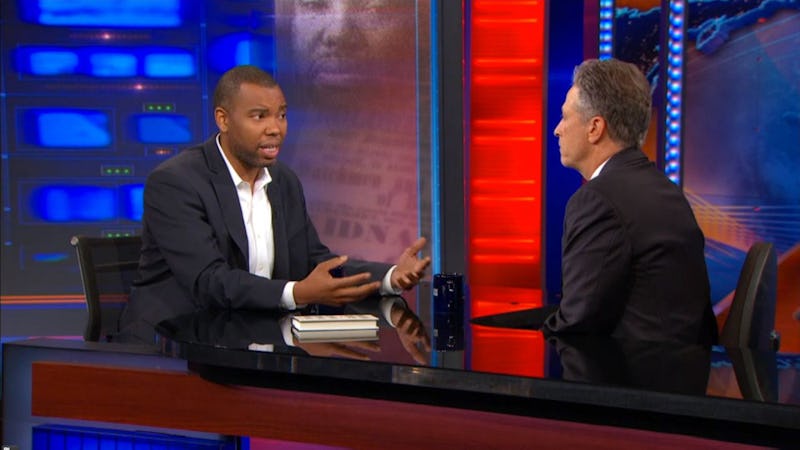 We already know that Jon Stewart leaving The Daily Show this Thursday will be a huge blow to the pop culture, comedy, and news worlds — but it could also have a huge effect on the literary world. During his nearly two-decade run on The Daily Show, Stewart was dedicated to spotlighting books, both fiction and nonfiction, that contributed to the larger cultural and political conversation. Will Trevor Noah or any other late night host be able to take up the torch?
We've had this type of conversation before. If you think about TV book "clubs" that lead directly to a boost in sales, you're most likely to think about Oprah. Oprah's Book Club was the golden ticket for authors, who were likely to see their book skyrocket to the top of the bestsellers after being chosen. But as much as we adore Oprah, her 2.0 book club hasn't seen that same level of influence, and moreover, she was always more likely to spotlight fiction, spiritual books, and celebrity memoirs. Stewart stepped in as the knight in shining armor for lesser known nonfiction authors — and their publicists.
Back in 2008, author David Sedaris saw the Jon Stewart Effect after his book When You Are Engulfed in Flames was his first book to hit No. 1 on USA Today's Best-Selling Books list less than a week after his appearance on The Daily Show. Sedaris said afterward:
I didn't realize going on Jon Stewart really sells books. He was a delightful person and wants to make you feel comfortable. If you're comfortable, you can talk about anything, and I guess I did.
In 2013, author Helaine Olen told Slate that Stewart saved her book Pound Foolish: Exposing the Dark Side of the Personal Finance Industry from "fading fast."
The book had been published almost two months earlier. The notices and placements had been respectable — positive reviews from the New York Times and the Economist, a C-SPAN After Words appearance — but like many books, it was fading fast. Then a Daily Show producer got in touch.
Blogger Greg Mitchell charted Pound Foolish going from No. 4,600 to No. 22 on Amazon in the days after I went on the show. I watched my book sales surge by several hundred percent on BookScan in the immediate weeks following the show's airing. Producers for Frontline almost immediately asked me to be on a documentary they were filming on the retirement industry.
In the past two weeks alone, Stewart has had author David McCullough discussing The Wright Brothers and Ta-Nehisi Coates talking about Between the World and Me, among other authors. What's more, Stewart doesn't seem to prioritize between famous authors and debut or lesser known writers. His focus always seems to be on enhancing the current cultural and political conversation via the titles and authors he chooses. In an era of quick takes and 15-second news segments, Stewart's emphasis on reading not just as an entertainment too, but also as a crucial source of information, was unparalleled.
"You don't need to be a household name to get on the show," Kathleen Zrelak, director of publicity at Goldberg McDuffie Communications told The Washington Post, "just someone who has a book that advances an argument, a journalist who exposes corruption, a whistleblower, an academic with a fresh thesis."
Clearly, Stewart's departure from The Daily Show will be a blow to the literary community. But, hopefully, we can have faith that another worthy candidate will step in to fill the gap. Stephen Colbert will have an even bigger platform taking over for David Letterman. Seth Meyers has shown that he is willing to have smaller-name authors on his show for discussion. And Trevor Noah may be able to step up and put his own unique taste into The Daily Show book segments. Here's hoping he still makes books a priority on The Daily Show.
Image: Comedy Central (1)