Beauty Products To Transition From Summer To Fall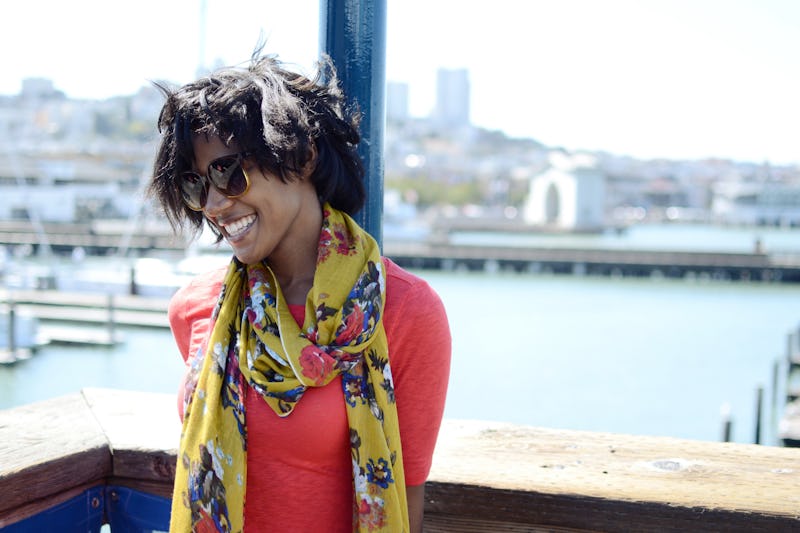 If you're lucky enough to live in a place where you experience all the seasons, you know how beautiful it can be. From jumping in the waves to cuddling up by the fire, the change in weather can be pretty extreme. But there's nothing quite as harsh as transitioning your hair, skin, and lips between seasons. The coming of a new season might be beyond exciting with the prospect of holidays and new beginnings ahead of you, but getting your body to catch up to the change can take some time. If you don't ease your way from beach gear to fall fashion, you'll feel the wrath of cracked skin, split ends, and a tan that vanishes by Labor Day. The result is what I like to call A Beauty Nightmare — an interesting Halloween concept, but not an ideal look for fall.
While plenty of beauty looks transition nicely from summer to fall (braids, beachy waves, glowing cheeks, and a bold eye for evening), sometimes it's hard to know what works for you and what doesn't. If you dig your makeup look, that's really all that matters, but having a fundamental beauty base is helpful for everyone. Healthy skin, hair, lips, and nails, are key in changing your look from season to season.
Make sure to make the switch as quick and easy as possible with these six products.
1. Treat Sun-Damaged Hair
Chlorine, salt, and sun have probably seen more of your hair than a deep conditioning treatment this summer. That means your hair is probably fried and your split ends plentiful, so it's time to convert your locks to a healthy state — especially if you plan on going darker for fall. And if you needed any more convincing to give your hair some room to recover, you should know that the sun's rays affect your hair much like bleach does, according to the Cleveland Clinic.
Keep the beach waves but hold off the sun damage with a treatment like Sachajuan's Hair After The Sun that deep conditions and fights off dullness after prolonged sun exposure. Follow bottle instructions and wash it out after 10 to 15 minutes, or leave it on the ends of your hair for prolonged moisture. Approach the new season with hair that looks freshly manicured, despite months of fun in the sun.
Sachajuan Hair After The Sun, $32, barneys.com
2. Prep For Bold Fall Lip Color
The start of fall means brushing the dust off your lipstick collection, because deep plums and reds don't usually cooperate with sweaty summer conditions. However, during the summer your lips are incredibly susceptible to sun damage (who remembers to invest in a chapstick with SPF?), so by the time September rolls around, it's time for a little damage control. Try out a lip treatment like Grown Alchemist's Watermelon and Vanilla Balm, which provides vitamins and antioxidants to soothe and moisturize damaged lips. That way, when it comes to revive your lippy obsession, it will glide on flawlessly.
Grown Alchemist Lip Balm: Watermelon and Vanilla, $17.50, grownalchemist.com
3. Soothe Your Sunburns
Fall means the return of brisk days and chillier evenings, meaning sunburns are a thing of the past. As you catch the last few rays of summer, make sure you're fully lathered up with sunscreen — but even if you still find yourself with a pesky sunburn, a multi-purpose skin cream like The Beauty Chef's Beauty Fix Bomb can help soothe your skin before it has to painfully rub against your fall flannel. The balm contains transretionic acid and vitamin C from rosehip oil that helps to repair skin and reduce side effects of sun damage. It also has fermented coconut, which rebalances skin texture and has protective properties. Apply generously to soothe your skin for the fall, while still smelling like a tropical island.
The Beauty Chef Beauty Fix Bomb, $24.95, thebeautychef.com
4. ...But Prolong Your Tan
Just because the summer is fading doesn't mean your tan has to. The best way to keep your glow for as long as humanly possible is to exfoliate before you spend your last final days in the sun, which will lead to softer skin and reduced dryness — the perfect combo for long-lasting color. After that: moisturize, moisturize, moisturize! Give Osmia Organics' Himalayan Body Buff a try to buff away dead skin and get the most out of your moisturizer with the help of organic essential oils like Bulgarian lavender and Canadian fir.
Osmia Organics Himalayan Body Buff, $42, osmiaorganics.com
5. Hydrate Dried-Out Cuticles
Your nail beds need a little love after a hectic summer. Hands are probably the last place you'd think to apply sunscreen or protect from the sun's rays, and because of that your cuticles can suffer from severe dryness and damage. Get your nails manicure-ready by applying a tea tree oil-based cuticle oil, like Arch Sole Saviour Nail Oil, so your hands can be soft and healthy in anticipation of the coming cold weather!
Arch Sole Saviour Nail Oil, $30, shen-beauty.com
6. Get Rid Of Rough Skin Before The Cold Makes It Worst
After plenty of late summer nights by the bonfire or at seaside bars, the last thing you want to do when you get home late is wash your face. Skipping this step sometimes leaves your pores dirty and full of summer pollutants, which makes your skin rougher than it might be during other months. To keep your skin glowing for as long as possible before chapped skin and wind burn are a thing again, add a weekly facial into your beauty routine. With ingredients like sea kelp and rose clay in Aenon's Purifying Face Mask, your skin will be stimulated and exfoliated back to health in no time. Keep it up throughout the fall, and everyone will continue to ask if you just got back from a cruise.
Aenon's Sea Kelp + Rose Clay Purifying Face Mask, $4.50, formulary55.com
Images: Drew Harron/Flickr; Courtesy Brands (2); sachajuan, grownalchemist, anna_rocket, aenons/Instagram