The 16 Best YA Novels of November 2015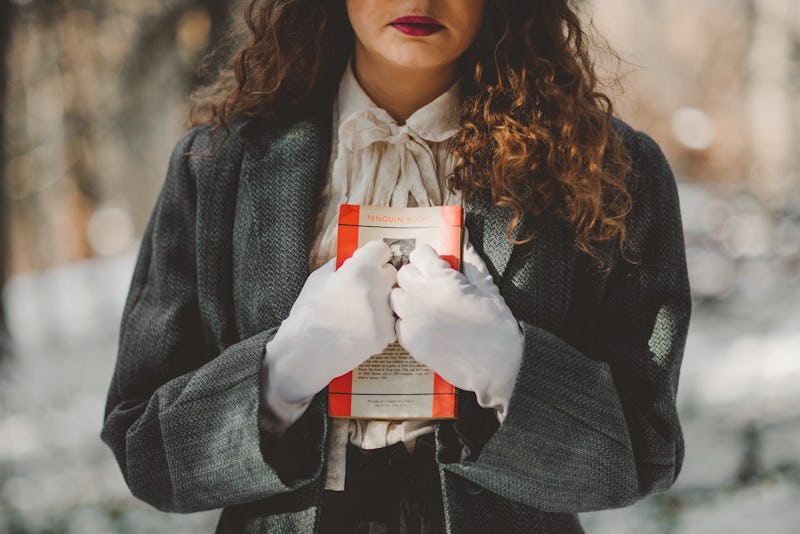 It's finally happening: The weather is going from slightly crisp to downright cold. Though you may have to bundle up in your parka, hat, and mittens just to wait for the bus, and your nose will give off that Rudolph vibe when you get to class or your office, you will always have a great young adult novel to come home and cozy up to. So just keep that in mind.
And guys, it's a pretty great month for YA fans. Do I even have to mention that Marissa Meyer is ending her insanely popular and total girl-power series The Lunar Chronicles this November? The Snow White-helmed Winter is just the book to take with you as we move into, well, winter weather. But there are loads of excellent, more under-the-radar books you're going to want to keep in a pile next to your blanket and pumpkin spice latte, too.
Young adult literature will let you be a groupie — or a "band-aid" — on tour with a popular indie band, travel across time to witness the first sparks of a true love story, sit in the bleachers and watch one woman show off her baseball skills, witness a scarred girl figure out a mystery in her past, travel to China to hear an ancient folk story, go in search of Calvin and Hobbes cartoonist Bill Watterson, and help a teenager overcome the grief of losing her mother. And really, that's just the beginning.
These are 16 of the best YA novels of November 2015, and they'll definitely be making your time indoors away from the cold a lot more enjoyable.
See No Color by Shannon Gibney (Nov. 1; Carolrhoda Lab)
Alex, aka "Little Kirtridge," is at home on the baseball field. She takes after her adoptive father, who is a former pro baseball star. But as she starts to grow into a 16-year-old woman, she's starting to question everything she knows — what it means to be adopted, what it means to be biracial in a white household, and what it means to be a growing woman playing baseball. She feels like an outsider to both the black and white students at her school, but a blossoming relationship with Reggie, who she believes is the first black man who has truly wanted to get to know her, alters her perception on who she is and where she can find a home. Even if you don't like baseball (but especially if you do), you'll fall in love with Alex and find so much common ground in her identity struggles.
Until We Meet Again by Renee Collins (Nov. 3; Sourcebooks Fire)
Cassandra just wants a little adventure in her stuffy summer vacation on a coastal Massachusetts town. But she gets way more than she bargained for when she meets Lawrence, who claims that he's from 1925 and the house she is staying in his his own. Until We Meet Again is a time-travel romance, and it's just as epic swoony as you'd hope, while still being able to feel poignant and realistic. (Yes, I said realistic.) The emotions feel so real and present, and the novel will put a spark into the darkening days.
The Lies About Truth by Courtney C. Stevens (Nov. 3; HarperTeen)
Sadie Kingston survived an accident that killed her best friend Trent, but she lives with the physical and psychological scars every day. In the aftermath, she feels that no one can understand her and the pain she is going through — except for Trent's brother Max, who lives in El Salvador. But Sadie isn't sure she's emotionally ready to go on, so she makes a list of things she must do to pick up the pieces and move forward. Faking Normal 's Courtney C. Stevens definitely knows how to give her characters weight and depth, and the book is a moving story about how the past can haunt us every day.
The Anatomical Shape of a Heart is a modern star-crossed lover story set in San Francisco between two eccentric artists: a medical illustrator and a graffiti artist. Beatrix Adams is spending her summer trying to win a museum-sponsored scholarship by using her killer artistic skills to draw actual human cadavers. On her way home one night she meets Jack, a notorious, police-wanted graffiti artist, and the blossoming relationship causes each to think deeper about how art can express pain, anger, and love. Oh, and bonus: It's totally sex-positive.
The Girl with the Wrong Name is going to twist your brain around in circles, in the best way. Theo Lane has been hiding her face ever since an incident that left her with a disfiguring scar. It's the oddest thing, though; Theo can't remember how she got the scar. She retreats from participating in the world, and instead the inspiring filmmaker uses a hidden button camera to document the people she sees one summer in a NYC cafe. When her camera captures Andy, she becomes practically obsessed with learning who he is, and readers will fall down the rabbit hole with her.
How to Be Brave by E. Katherine Kottaras (Nov. 3; St. Martin's Press)
Georgia is drowning in grief after the death of her mother, but she makes a plan to pull herself above water and push forward. Aka, she makes a plan for how to be brave. Her list includes everything from learn to draw to smoke pot to kiss her crush. Do I even have to tell you that Georgia's story is going to make you cry and inspire you to start your bucket list now?
Need by Joelle Charbonneau (Nov. 3; HMH Books for Young Readers)
Joelle Charbonneau's The Testing series was a standout in the crowded dystopian YA market, and now she's back with Need , a thriller about the dark side of social media. At one high school, students become hooked on a website that seems to grant your every need — an iPad, sports gear, or even a kidney to save a brother's life. But as we all know, nothing is ever truly free. Soon the site starts asking students for favors in exchange for delivering these favors, and things get darker and darker and the body count only rises.
Oh The Moon by Charlyne Yi (Nov. 3; Harper Perennial)
You know actress, comedian, and writer Charlyne Yi from the faux-Michael Cera documentary Paper Heart and Knocked Up. But now, you get a glimpse into her self-proclaimed "tortured mind" with Oh The Moon . It's an adorably illustrated collection of Yi's short stories that has been compared to the same type of whimsy as Shel Silverstein. That should be all you need to hit the bookstore.
Winter by Marissa Meyer (Nov. 10; Feiwel and Friends)
You'd have to be ostrich burying yourself in the sand to not know that Marissa Meyer is ending her Lunar Chronicles series this November. I'd be busy making my sad faces, but I'm just far too excited to tell you that Winter is epic awesome — just as you'd expect. Cinder, Scarlet, Cress and the boys are still there, but Winter focuses on the Snow White-styled princess of Luna, named duh, Winter. There's so much action, romance, kickbutt lady characters, and magical powers that you'll fly through the more-than-800 page (seriously) novel in no time and then be sad it's all over.
Consent by Nancy Ohlin (Nov. 10; Simon Pulse)
I'm not sure I even have to move past the title, because we definitely need a YA book that considers the term "consent." Nancy Ohlin sets up a story of a Julliard-hopeful high school girl who begins a relationship with her music teacher. Some readers will follow Ohlin down into thinking that the passionate relationship, born out of a love of music, is consensual and even positive, but then she flips it on you. It makes everyone deeply consider what it means to consent and what that looks like in our society and culture.
Soundless by Richelle Mead (Nov. 10; Razorbill)
Vampire Academy 's Richelle Mead centers Soundless on a Chinese folktale about a remote cliff-edge village that has no sound. Fei and her fellow villagers only receive food and supplies via a mysterious zipline from a central city, but suddenly that supply stops. Soon after, locals start to go blind, and the remote village is plunged into chaos and panic. That is, until one night, Fei hears a sound. What happens next is all the fantastical adventure, folklore, and romance you could dream up as Fei ventures to save her home.
All the Major Constellations by Pratima Cranse (Nov. 10; Viking Books for Young Readers)
Not to sound too much like Stefon from SNL, but All The Major Constellations has everything: explorations about identity, spirituality, sexuality, friendship, and so much more. Andrew is crushing hard on Laura Lettel, and he's pushed into her life after a tragic accident claimed his two best friends. Laura is a member of a fundamentalist Christian church, and Andrew finds himself consumed with both the church's beliefs and Laura in the wake of the tragedy. Readers are left questioning Laura's true intentions (is she trying to support him or convert him) as well as Andrew's (is he a believer of a high school boy with a crush?) as Pratima Cranse beautifully weaves the story of grief, loss, and hope amid a sexual and spiritual awakening.
For the Record by Charlotte Huang (Nov. 10; Delacorte Books for Young Readers)
If you watched Almost Famous and thought, "I want that," Charlotte Huang's For the Record is for you. High schooler Chelsea is the lead singer of the band Melbourne, playing a summer tour of sold-out shows. But being the Gwen Stefani — the only girl in an all male band—means her indie music snob band mates disrespect her musical and songwriting abilities, especially when teen dream music heartthrob Lucas Rivers takes an interest in her. Despite the strenuous schedule, the annoying tour mates, and the paparazzi, For the Record is going to make you want to hit the road and play your heart out, even if you have no musical abilities like me.
Calvin by Martine Leavitt (Nov. 17; Farrar, Straus and Giroux)
Calvin and Hobbes fans, just prepare space on your bookshelf right now. National Book Award finalist Martine Leavitt tells a unique story of a schizophrenic teenager Calvin who grew up adoring his namesake comic strip. As part of his delusions, Calvin believes that Bill Watterson can save him from his mental illness if he can just write one more comic. So Calvin, his BFF Susie (yes, same as the comic) and his stuffed tiger Hobbes make a dangerous expedition to find the cartoonist. The result is an insanely smart, clever, funny, and moving story even non-comic fans can fall in love with.
Just Visiting by Dahlia Adler (Nov. 17; Spencer Hill Contemporary)
Anyone who remembers (or is living) the time on the cusp of college, when you and your BFFs are seeing the future for the first time and it's not exactly what you were expecting. Reagan and Victoria are sometimes-polar opposite best friends who go on a college visit tour and peek into their futures. Reagan wants to escape her small town and destructive mother; Victoria wants to run to college with its promise of sorority life, a fashion program, and not being an outcast because of her Mexican heritage. You'll laugh, cry, and totally identify with this tricky time for all friendships.
Rules for 50/50 Chances by Kate McGovern (Nov. 24; Farrar, Straus and Giroux)
Rules for 50/50 Changes is your next-generation of meditations on the scary powers of technology. Teenager Rose Levenson is watching her mother slowly and tragically die of Huntington's disease. And with new medical technology, Rose can now decide whether she wants to take the genetic test to see if she, too, carries the gene for the rare degenerative disease — which basically would determine her life or her early death. Just try to read this thoughtful book without treating it like a Choose Your Own Adventure of what the heck you would do.
Image: Ermin Celikovic/Unsplash