Stefon Is Back On 'SNL' And Has Big News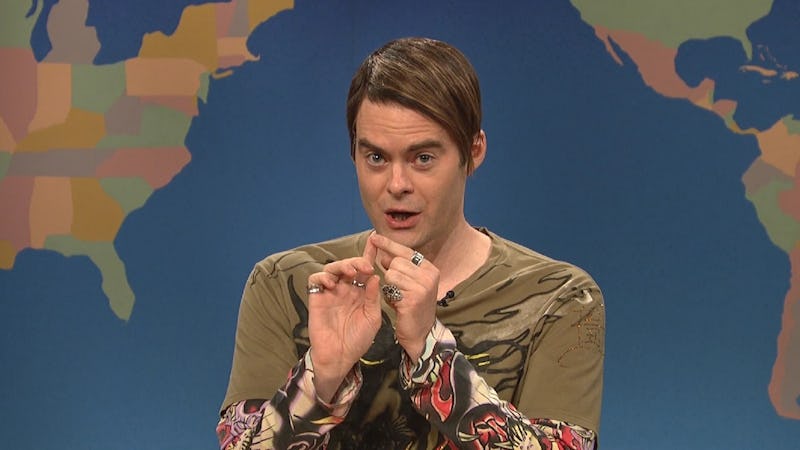 When I got word that Bill Hader would be hosting Saturday Night Live, my entire world stopped, and revolved around one question. Would Bill Hader bring back Stefon, SNL's resident New York City guide? How could they not bring Stefon back, he is one of Hader's best-known characters, right? Well, the SNL gods were listening to our prayers when new Weekend Update cohost, Michael Che, welcomed back Stefon to the desk to talk about the "new" New York.
It had everything you could ever want in a Stefon return. I'd even go as far to say this was one of his best/ worst Stefon sketches he's ever had (worst because he couldn't stop laughing). All of the places Stefon suggested were more outrageous than ever, one being located "where Donald Trump's chin should have been," because I've always wanted to go there. There was a running joke that each place featured Dan Cortese, which got Hader laughing — and not even trying to hide it with his hands — each and every time he said it.
And while it was great to learn about some cool and dangerous places to go in the new New York, the real question we all have for Stefon is how he and his new husband, Seth Meyers, are doing. First, Stefon said that Meyers was at home "practicing how to sit behind a desk," and at the end of the sketch, he said they were house hunting. Because a growing family needs a bigger house. That's right, Stefon is pregnant!
Congrats to the happy couple, and congrats to Hader for making the dreams of many SNL fans' come true by bringing Stefon back into our lives.
Images: NBC