5 Things We Need From the 'Revenge' Wedding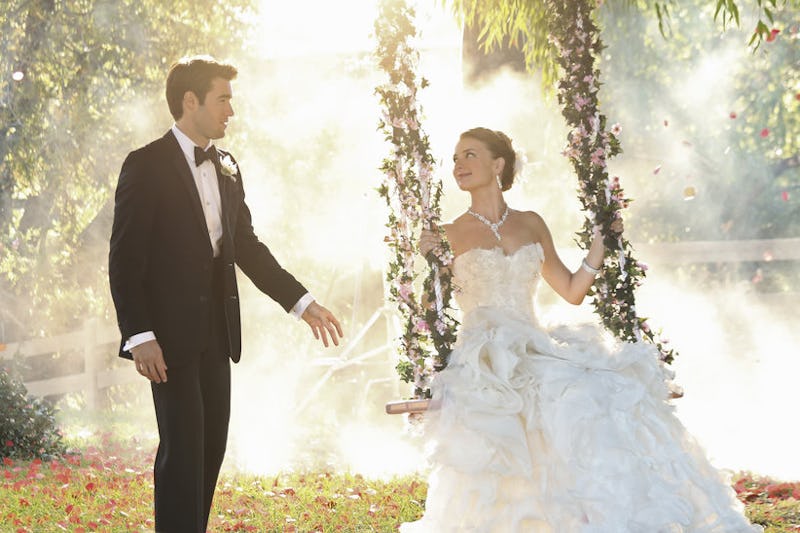 The moment we've all been waiting for since Revenge 's third season premiered and teased that Emily Thorne would be getting shot on her wedding day is finally almost here. After a seemingly excruciating amount of time full of Grayson's whining and boy troubles, we've made it to the season's first shocking reveal. Next Sunday night, after three week hiatus, ABC will air the Thorne-Grayson nuptials episode in all of its shocking and glamorous glory. If it goes off without a hitch and Victoria and Charlotte Grayson don't succeed in getting it called off before it even begins, that is...
When the show's third season premiered in late September, we made our preliminary guesses on who pulled the trigger on Emily Thorne and in a few short hours, we'll find out if we were even close to the target or if ABC's most vengeful show has a huge surprise in store for us. The wedding that almost wasn't (twice) between Daniel Grayson and Emily Thorne is sure to inspire nearly as much envy (it's happening on the boat for Christ's sake) as Madeleine Stowe's sure to be drop-dead gorgeous wardrobe will, thus leading us to the top five things we can't wait to see as the Hamptons wedding of the year goes down.
1) Victoria Grayson's Creepy Smile
It's no secret that the Grayson matriarch is less than pleased that her son's engagement to Emily even made it to this point. She was also in top-scheming form leading up to the show's pre-Thanksgiving hiatus when she dragged Daniel's ex-girlfriend Sarah into the picture in an attempt to get Daniel to call off his engagement. And it almost worked until Emily outsmarted her again. Now, judging by the preview gallery for the upcoming episode, "Surrender", her son and his fiancée are going to make it down the aisle which means there will plenty of this face happening and we can't wait:
2) Nolan Ross
According to some of the photos in ABC.com 's wedding album, Nolan will be walking Emily down aisle. Which is really too perfect considering they're the best of best friends. It looks like he left his nautical-inspired wear at home in favor of a more traditional tuxedo (we're really sad about this) so we don't have a grand fashion statement to look forward to (wah). But we can definitely assume that Nolan will give Emily a really great pre-wedding pep talk full of some great one-liners like this one:
3) Charlotte Grayson's Creepy Smile-Stare
Charlotte and Victoria have been two peas in a pod without even knowing it in terms of trying to break up Daniel and Emily, so of course she's developed her own version of her mother's creepy smile. The apple doesn't fall far from the Grayson money tree, I suppose. It was actually Charlotte and schemed Sarah back into Daniel's life just in time for Victoria to use her as a pawn — neither of their plans worked to break up the engagement, so I guess that's another thing that makes them alike. Charlotte is still the snottiest brat in the Hamptons so we can't wait to see her "I hate you and everything about this" fake smiling stare. (This will probably happen during or after her speech at the reception.)
4) Emily And Daniel Posing For Wedding Photos
ABC already posted a gallery of promotional "wedding photos" but it also looks like the newlyweds-to-be will pose for photos during the episode. Yay! It'll be fun to watch Daniel, who apparently loves Emily again now that she's "pregnant" but just stepped out of a hotel room where he told his ex that he was still in love with her, pose for photos and pretend he's actually in love with the woman he just cheated on and is set to marry. It'll be equally as fun to watch Emily who doesn't even like Daniel, let alone love him, pretend to be in love with someone whose life she wants to ruin with every fiber of her being. A match made in authentic picture heaven. (Apparently they're really good actors.)
5) Victoria Grayson's Mother-Of-The-Groom Dress
We saw a preview of it when Emily took her mother-in-law-to-be and Charlotte wedding dress shopping earlier in the season. Let's be honest, Madeleine Stowe has the most rocking bod on the whole show, she might actually be in better shape than her onscreen daughter, so what she's wearing is what we're most excited to see every week. Emily's gown isn't even close to upstaging this mermaid style number even if it's not Hervé — and we can't even see the front in this picture.