'Empire' Season 2 Theories From The New Trailer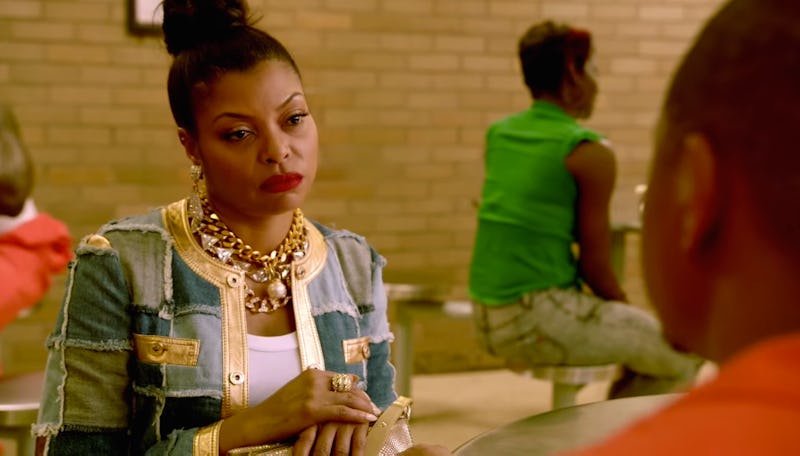 It's a whole new season of Empire, and Cookie Lyon is still not taking any of Lucious Lyon's sh*t. That much is clear in the Empire Season 2 trailer that hit the Internet on Thursday, a full-length one minute smorgasbord of messed up family dynamics that would make any soap opera proud. The trailer opens with Cookie visiting Lucious in prison, looking amazingly fashionable as always, and features her making the most deadpan face in response to Lucious' declaration that he missed her, his "ride or die" chick. As we all know from Empire Season 1, Cookie has been more die than ride for Lucious lately, and it's clear that her feelings toward him have not warmed in the break between seasons.
But Cookie's not the only person with some scores to settle. Jamal, who spent all of Season 1 desperate for his father's love and approval, seems to be the only person who is working with Lucious rather than against him. In fact, it appears that Jamal has taken over Lucious' place as the new villain of Empire Season 2, as he slams the door in his mother's face, visits his father in prison in a clip that clearly reads as receiving orders, and threatens his brother's musical career. The trailer basically gives us a lot to think about when it comes to the upcoming season, and I've rounded up all the theories about the juicy drama to come for you below.
1. Anika & Andre Are Co-Conspirators
In a move that pretty much everyone should have seen coming, the two most devious people on Empire are now a team. It appears that Andre and Anika are working together to get Lucious removed as CEO of the company, but the real question is: which one of them is trying to take his place?
2. Hakeem Is Busy Being Ironic
This isn't a new shot, but it could take on a new meaning thanks to context from the rest of the trailer. Hakeem is performing at a #FREELUCIOUS concert, but Jamal makes it clear in the trailer that he plans to completely bury Hakeem's album, and Hakeem's defiant statement that he is going to blow up is overlaid with the #FREELUCIOUS concert. Is this charity concert sanctioned by Empire, or is Hakeem trying to send a message?
3. Lucious Is Making A Comeback
Recording a single in prison? Well, he wouldn't be the first or the last celebrity to do that.
4. Jamal Is Loyal To Lucious
The things we do for love. It's clear that Empire Season 2 features Lucious grooming Jamal to be the new, well, him, as Jamal continues to be at odds with the rest of his family in favor of following his father with more loyalty than Lucious deserves. Is Lucious running his empire from behind bars through Jamal? Well, obviously.
5. Cookie Takes Center Stage
Cookie might be a producer, but she was also robbed of her chance to be the face of Empire alongside Lucious. It's clear with this shot that she is making up for lost time, come hell or high water.
6. Jamal Still Hates Cookie
How long can Jamal remain in denial about Lucious killing Bunkie? It hurts my soul to see Jamal and Cookie on opposite sides when she is the one who believed in him, took care of him, protected him, and got him to where he is today — not for his thanks, but because she loves him. This look on Jamal's face just crushes me.
7. Andre Is Managing Hakeem
This is a huge theory on my part, but I reason that if Jamal is mishandling Hakeem's album then it makes sense that Hakeem wouldn't want to record at Empire. In fact, I think he's the one who is here in what looks like the same studio where Jamal recorded his big single "Keep Your Money," and Andre in this shot is either there to visit, tell him bad news, or help Cookie with Hakeem's album.
8. The Guest Star Game Is On Fleek
Both Chris Brown and Marisa Tomei make an appearance in this trailer, and, brief though those appearances are, they still tease enough of their mysterious arcs to make us intrigued.
9. It's Going To Be A Bloodbath
Look at that power walk line-up. Well, except Hakeem. Lucious (and all of Empire) should be very, very afraid.
Check out the trailer below.
Image: YouTube (11)