Meghan & Jim Edmonds Reveal A Lot On Instagram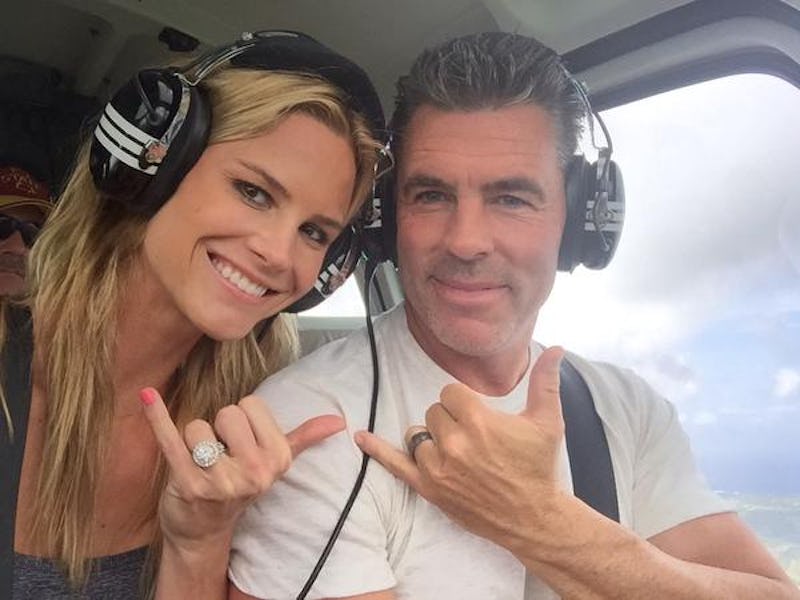 Season 10 of Real Housewives of Orange County was supposed to be all about how these original ladies can make a season of reality TV better than anyone else. But, of course, instead Season 10 has been all about brand new RHOC star Meghan King Edmonds and her relationship with Jim Edmonds, her brand new husband. But even though they're pretty open about their relationship on the show, you can find out even more about Meghan and Jim's relationship on Instagram. There's something about that medium in particular that is perfect for sharing revelations about a relationship. Everything from the angle of the photo, to the stuff in the background, to the filter can tell you useful information about the posters in question.
Meghan and Jim have revealed a lot of personal information on the show, too, and they don't seem very shy, even though their relationship is pretty new. They've talked about how their long-distance relationship isn't necessarily working, that their constant moving is a pain, and that they still don't know everything about one another yet. But, the show was filmed months ago, and to look at their Instagram is like a more recent window into their relationship. Some things they've worked through and some things are still a challenge, but Meghan and Jim are trying to figure it out.
1. They Give One Another Fitness Tips
I look at Meghan, and I don't see a thing that she could possibly need to change. But, she shared on IG that Jim (who is, after all, a professional athlete) actually had a heart to heart with her about about getting into even better shape. I guess that's why they found love together, because they both love to work out.
2. Their Family Time Is Super Important
That's not too much of a surprise, right? Of course spending time with the kids is important to both of them. They're excited about doing things together as a family rather than always looking for time alone.
3. They're Not Afraid Of A Little Social Media PDA
Some couples hesitate to show any affection online, but not the Edmonds. They love to document their romantic moments — like this one.
4. They Love The Happiest Place On Earth
What the picture doesn't show is the incredible patience these two must have to take on Disneyland with two of its target customers in one day.
5. They Love A Good Boat Trip
I don't know who wouldn't, but I guess this is confirmation that neither of the Edmonds are prone to seasickness.
6. They Bond While Getting Their Nails Done
I love that Jim isn't too much of a stereotypical dude to reap the benefits of a nice pedi.
7. They're Down For An Old-Fashioned Night Out
Old-fashioned because of the Polaroid shot, and night out because this definitely looks like a post-12AM picture. "Old married couple" does not apply to these two — they're not about to use their relationship status as an excuse to miss out.
8. Junk Food Isn't Out Of The Question
Lest you assume that the super-fit Edmonds don't make time for some fast food, you'd be dead wrong.
9. They Forgave Shannon Together
Even though Jim was supportive when Meghan decided to exclude Shannon from her event and during her ongoing feud throughout the season, it looks like both Edmonds have moved on and are now tight with the Beadors. Nothing could make me happier.
10. Travel Is Just An Everyday Thing
On RHOC, you'd think that every time the ladies needed to get on a plane it was a huge deal, but Meghan and Jim, with their two hometowns (the OC and St. Louis), do it so often that they don't even have to sit in the same row or wear something more exciting than a plain T-shirt when they're traveling together.
11. They're Just A Couple Of Goofs
I know they look and seem like the coolest couple in the room, but the reason these two might actually make it is because they have the same sense of humor. Seeing those awkward and silly moments documented on Instagram is pretty much the only place to find them, and shows a different side to Meghan and Jim Edmonds than Real Housewives of Orange County ever does. Would you like to know more? It's as easy as clicking "follow."
Image: Meghan King Edmonds/Twitter