Reebok x FACE Stockholm Have Inspirational Soles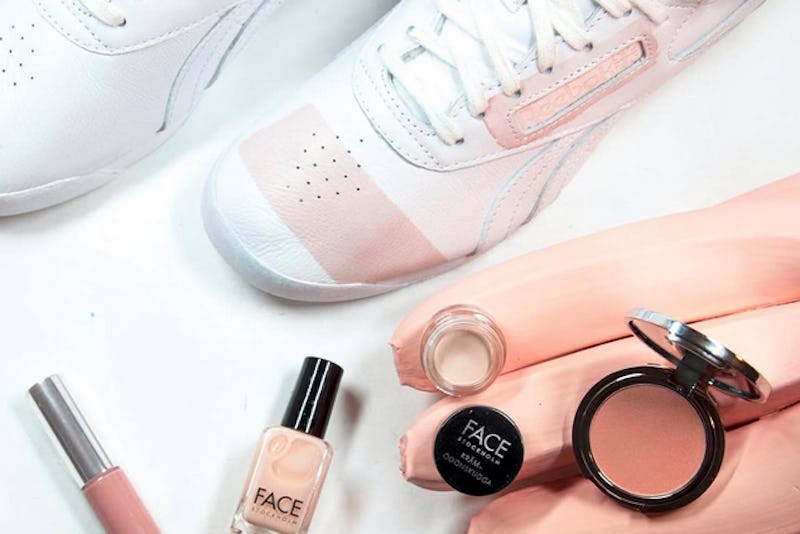 Attention all my "sole sisters," Reebok and FACE Stockholm have secret messages to tell you. In their #BoldFinishes campaign, each Reebok sneaker has a hidden message printed on the soles of shoes. These messages were inspired by the FACE Stockholm founders, Gun Nowak and Martina Arfwidson. Some messages are short-and-sweet such as, "Life is a white canvas. Color away!" while others are more profound, like, "There is nothing more exciting than the freedom to be who you want to be. Let it out—inspiration comes from within."
This awesome collaboration between Reebok and FACE Stockholm started back in June with their Lips and Kicks campaign. Ashley Madekwe was the perfect spokesperson for Lips and Kicks and now it looks like Swedish blogger, Lisa Olsson is taking part in the #BoldFinishes campaign. Olsson took over Reebok Women's Instagram account for a bit and posted some great looks where she matched her silver Reebok Classics with different beauty looks. My favorite was where she matched her silver Reeboks with a nude nail polish, topped with silver specks of glitter.
FACE Stockholm added a variety of new cosmetics with shades that beautifully compliment the latest bold editions to Reebok's sneakers. The sneakers come in six different shades and with each color FACE Stockholm matched nail polishes, eyeshadows, lip glosses, and so much more.
Real talk, the potential color combinations seem endless, which is definitely a good thing. Who doesn't like having choices? Reebok released new colors for their iconic Classic Freestyle Hi, Classic Leather, and Princess Spirit kicks.
It's great how this campaign is international because that means Reebok and FACE Stockholm are just making our world a brighter and bolder place!
Love the timeless silhouette of the Classics.
Can't forget the hidden messages!
Images: reebokwomen, reebokfr, facestockholm (3), reebokitaly, reebok.com