11 'Gremlins' Fashions For Horror Flick Fangirls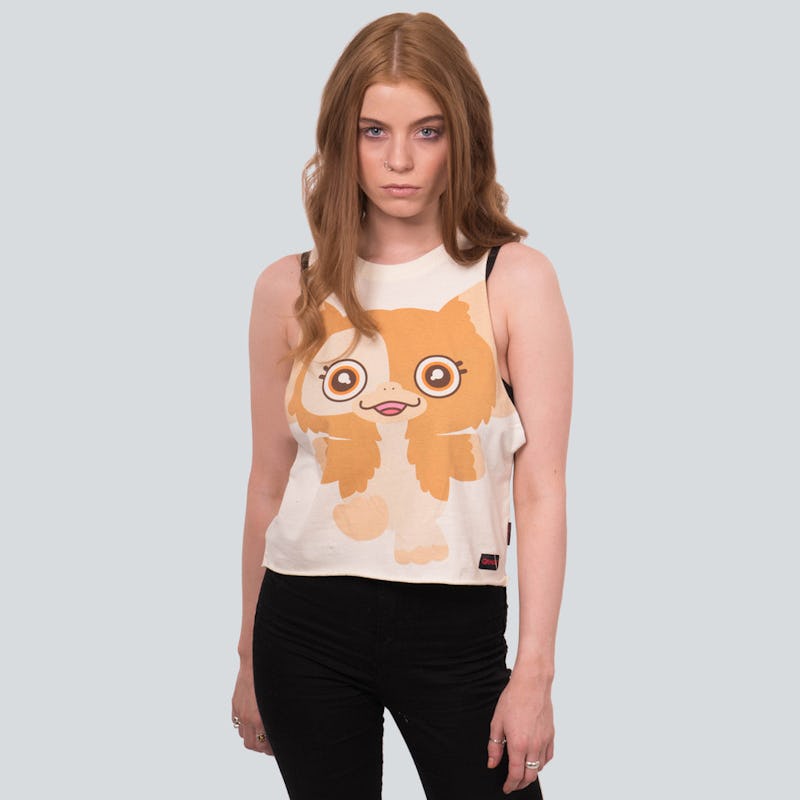 I am a sucker for retro 1980s movies that contained awesome props, elaborate handmade sets, and puppetry. Some of my favorite '80s films are from the Gremlins series, so I wanted to find a way in which I could unleash my inner fangirl: Cue Gremlins inspired fashion. Little did I know that the fashion industry was embracing the Gremlins movies and taking direct inspiration from some of their most beloved characters, including the precious Mogwai Gizmo.
Japanese brand Milk, a Harajuku street fashion brand, even dedicated an entire section of its autumn/winter 2015 show to these mischievous critters with its menswear line Milkboy. The Milkboy x Gremlins collection showed oversized fluffy parkas complete with Mogwai style ears, varsity style socks featuring Gremlins, and tees featuring Gizmo cowering amongst some popcorn. A selection of the hats were created by British designer Stephen Jones, and they are just adorable. The first model out even had a Mogwai ear hairstyle. But my favorite part had to be when a model plucked out what appeared to be a plush Gizmo from his pocket and held it to his ear, showcasing that he was actually holding a Gizmo phone case. Luckily for us, though, this isn't the only designer embracing the wonders of Gremlins.
So prepare yourself for an infestation of Gremlins-inspired fashion, because these critters are back with a vengeance.
1. The Mogwai Crop Top
Bright Light Crop Top, approx. $46.17, dropdead.co
This crop top may be the cutest thing you've ever seen and it'll make a great piece for transitioning from summer to fall. But remember: When in contact with a real life Mogwai, make sure you keep it away from the light.
2. The Gremlin Earrings
Handmade OOAK Gremlins Earrings, $10, etsy.com
I love how gorgeously grotesque these decapitated gremlin head earrings are. They'd make a perfect addition to a ghoulish gal's jewelry box.
3. The Mogwai Handbook Hoodie
Gremlins Mogwai Womens Hoodie Warning, $44.95-49.95, amazon.com
If only Billy had heeded the advice of his father and the antique store owner, then poor Gizmo wouldn't have had to go through all that trauma and the residents of Kingston Falls would have been safe from the Gremlins. Make sure you never forget the rules in this awesome hoodie, which is available in sizes S to 3XL.
4. The Greta Pendant
Gremlins Cameo Pendant, $6.89, etsy.com
Greta the gremlin makes her first appearance in Gremlins 2: The New Batch after a gremlin drinks a serum that transforms her old asexual self (all of the Gremlins are asexual) into what we can only presume is a female gremlin. Rather interestingly, she is the only gremlin who is thought to have survived, so wear this cameo in honor of Greta and the possibility of a Gremlins 3 .
5. The Gizmo Swimsuit
Women's Sexy One Piece, $12.90, amazon.com
Have fun by the pool this summer, but don't forget: Just because this Mogwai print swimsuit can get wet doesn't mean all Mogwai can. Remember that scene in the first movie involving the swimming pool? I rest my case.
6. The After Midnight Shirt
After Midnight Shirt, approx. $92.35, dropdead.co
You can be the queen of smart casual in this super cool gremlin and Gizmo print shirt. Just heed the warning behind the name and don't feed your Mogwai after midnight.
7. The Cute Gizmo Dress
Made To Order '80s Gizmo Gremlins Movie Ruffled Mini Dress, $195, etsy.com
This sweet dress is a match for Gizmo's endearing personality. The vintage material features Gizmo partaking in a range of activities, including playing the keyboard and racing around in his little pink car. You can see the last days of summer out in this gorgeous Gizmo dress that can be made to your exact measurements.
8. The Gremlins Holdall
Peltzer Holdall Bag, approx. $46.17, dropdead.co
Show off your love of the Gremlins movies with this awesome, spearmint green holdall featuring Gizmo. It's cool and functional.
9. The My Neighbor Totoro Versus Gremlins Tee
My Mogwai Gizmoro Women's T-Shirt, $25.84, redbubble.com
Fuse your love of the Studio Ghibli classic My Neighbor Totoro and Gremlins with this epic tee that will earn you major pop culture points. This particular style is available in sizes S to 2XL, but you can choose from a variety of garments to host this design from organic tees to hoodies.
10. The Flasher Bracelet
Gremlins Flasher Gremlin Rubber Bracelet, $7, hottopic.com
Does anyone remember this gross gremlin who had an interest in leading lady Kate? Well, now you can commemorate these grotesque little guys with a comedic rubber bracelet.
11. The Gremlin Joggers
Mogwai Joggers, approx. $61.57, dropdead.co
Relax and unwind in these stylishly retro joggers. You'll also be ready to make a run for it if there's an outbreak of Gremlins.
The Gremlins didn't obey the rules, but you can make sure you do in Gremlins-inspired fashion.
Images: Courtesy Brands; Giphy