7 DIY Crown Tutorials To Make You Feel Regal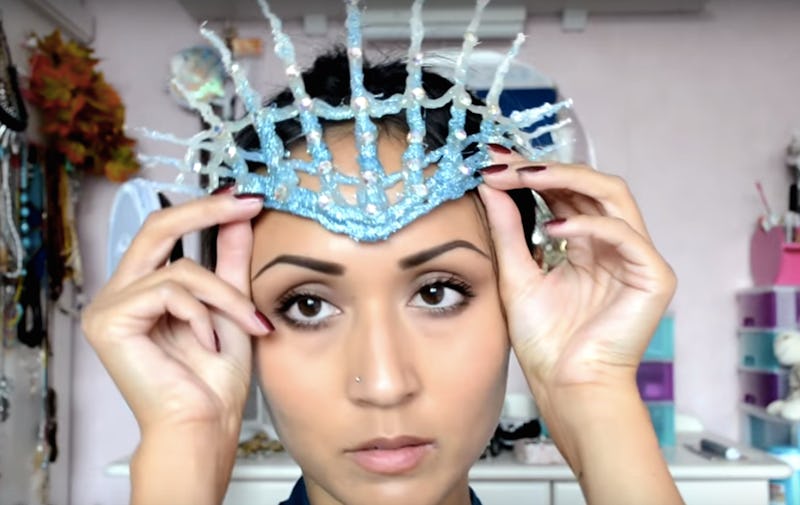 Who says you need to be royalty to wear a crown? With the plethora of stunning, unique DIY crown tutorials on YouTube, anyone can rock statement headwear. Thanks to the direction of these talented vloggers and a few special tools, wearing a crown like a queen has never been easier.
Personally, I have always dreamed of being a princess. So much so that whenever I got asked what I wanted to do with my life in elementary school, my default answer was "become a princess." As I grew up, I realized that was less than likely (unless Prince Harry and I were actually to tie the knot), yet I still wonder what it would be like to have a crown on my own head in the day to day. Even if it did incite some rude comments or negative behavior from passerby, I wouldn't care. Frankly, I'm a queen and I deserve some bling — even if it is made with dollar store glue and acrylic paint instead of diamonds and rubies.
Whether you're interested in being a princess for a day or two, a queen for your birthday, or a duchess for life (wassup Kate), here are seven DIY crown video tutorials that are beyond easy to follow and will lead to majorly pretty results. You'll be decked out in your new favorite accessory, feeling mere (metaphorical) steps away from the royal palace. After all, everyone deserves to feel regal after a successful DIY project.
1. Lace Crown
If lace and sparkles sound like something you could get into, this tutorial is for you. Using just a few inches of lace with glue, loose glitter, and a few additional tools, Emilie Lefler shows you how to make a stunning, eye-catching crown perfect for special occasions (or, you know, your day-to-day life). With added info on how to make it your own — from expanding the size to choosing your own color of paint and glitter — Lefler gives you the basic rundown with step-by-step instructions on how to make this crown and also personalize it. Talk about the royal treatment.
2. Flower Crown
There's no denying how pretty a flower crown really is, and I think Lana Del Rey would agree with me. There are so many different kinds of flower crown tutorials out there that there's a style for everyone. Personally, this boho version by BirdsNestBridal really caught my eye because of how specific the placement of the artificial flowers is. This bridesmaid/bridal inspired flower crown is a perfect accessory for such events, or even just for a fun DIY activity with friends.
3. Ice Queen Crown
If the Ice Queen from Chronicles of Narnia scared you like she scared me, you might not be very inclined to try this tutorial out for yourself. That being said, Shaling Beauty's version of the crown is beyond easy with gorgeous results, and isn't scary at all. Using limited products and almost completely making the crown out of hot glue, the tips and tricks in this tutorial can be used for any kind of crown you're wanting to make. Because of the hot glue's flexible dried material, it's beyond easy to shape and accessorize once the bones are finished.
4. Quartz Crystal Crown
Probably the closest thing you'll get to real diamonds and rubies (unless you actually are royalty) are crystal quartz rocks. Using wire, crystal rocks, extra beads, and ribbon, Evelina creates a beautiful, unique crown from unexpected materials. With her extra attention to detail and clever tricks to hide any imperfections, this crown could seriously be a statement accessory for nights out or even for special occasions. Honestly, I wouldn't mind wearing it to the grocery store.
5. Elsa Crown
There's no shame in liking Frozen just as much as your seven-year-old niece does. In fact, you should embrace it and make this crown as a fun activity to do with them. Using your basic hot glue gun, sparkles, and some paint, you can create a crown that looks identical to the one Elsa wears in the film. You then stick it on a headband and voila! There's no doubt that kids will stop you in public and ask you to sing "Let It Go" for them.
6. Seashell Tiara
If all these glues and rhinestones are scaring you, you might want to opt for this DIY tutorial from Debi's Design Diary. Instead of making a crown from scratch, she embellishes one she bought from a shop with inexpensive decorations and trims from her local dollar store. By using the bones of one of those classic tiaras, she adds on extras with a hot glue gun and pipe cleaners, creating something completely unrecognizable from that starting crown.
7. Snow Fairy Crown
After watching this video, all I wanted was a peppermint latte from Starbucks and all the tools to make this gorgeous crown. With some store-bought accessories and homemade icicles, TiffyQuake shows her viewers how to make a snow fairy/ice queen crown in minutes, featuring beautiful detail and eye-catching sparkle. Can I be a snow fairy forever?
Get ready to make all your princess dreams finally come true, y'all.
Images: ShelingBeauty/YouTube