'Frozen' Is Officially the New 'Lion King'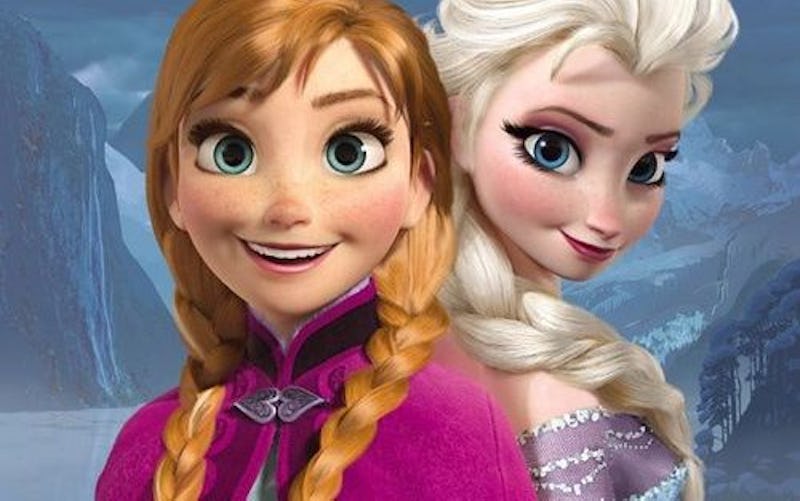 Everyone loves The Lion King, and if you don't, then you can leave. Run away, and never return. Yet despite the fact that this animated movie will forever be a fan favorite, Disney's most recent hit, Frozen, is continuing to rule the box office globally, not only surpassing The Lion King, but also becoming the second highest-grossing original animated movie after Finding Nemo. Moviegoers are no longer settling for those Nala types who take a backseat in male dominated films, and they're taking a larger interest in movies that focus on truly empowered female characters.
This weekend, the movie passed the $800 million mark at the global box office, according to The Wrap. The blockbuster, which illustrates the story of princess Anna, who teams up with Kristoff and a snowman, Olaf, to find her sister Elsa, has made a steady climb in the box office ever since its release Thanksgiving weekend. First, the movie's soundtrack reached number one on the Billboard 200 list (beating out Queen Bey by the way) and now it has made a major name for itself in the world of princess movies.
Frozen earned an extra $9.02 million this weekend, according to Forbes, and has brought in $347.82 million domestically. The movie has been a huge success worldwide and has yet to be released in both China and Japan, leaving even more room for box office glory. It looks like a change has already been made to these animated films, showing children (and adults too, because you don't have to deny it) that having a female lead whose focus isn't on a relationship with a man but with the bond to her sister proves to be more valuable than we may have thought.
Sure, everyone loved Cinderella, The Little Mermaid and Sleeping Beauty, but we're living in a different world now. The Disney women's movement really seemed to make waves with Mulan, making its way through Princess and the Frog and Tangled, until it finally met that line of perfection with Frozen. We've seen powerful women take the world by storm, "leaning in" as Sheryl Sandberg might say, because… men drool and women rule, right? Yeah, even since kindergarten we've all known that's true.
Women fought for gender equality by driving in Saudi Arabia, Texas Sen. Wendy Davis (D) had an 11-hour filibuster to voice her support for pro-choice rights, and Malala Yousafzai actually made Jon Stewart speechless on The Daily Show for her strength and selflessness despite the horrors she endured. The past few years have been huge for women, 2013 especially, and it only makes sense that a movie with two complex and courageous female characters would be receiving so much attention.
If they aren't already, Disney (and all animation studios for that matter) should definitely take note of this if they want to continue their future victories in the box office. Remember when Disney wanted to take the axe to fairy tale and princess movies? Yeah… interesting how that worked out. So long for now, boys, Frozen will see you at the Oscars.
Images: Disney, Tumblr, rebloggy.com