Why Is Tiger Lily White? Director Wright Explains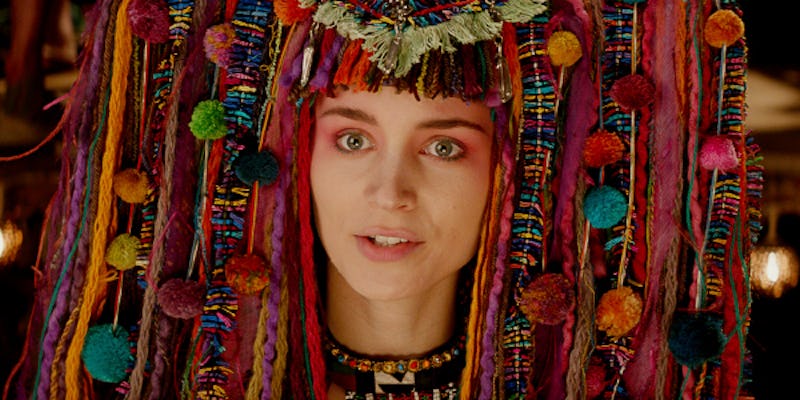 The first iteration of Peter Pan was in J.M. Barrie's 1902 novel, The Little White Bird, where Pan appeared as a baby, a mere seven days old, to be exact. But ironically, the boy who refused to grow up grew with his creator, and Barrie incorporated the character into his works for the next ten years, eventually writing Peter and Wendy in 1911, the novel most audiences attribute to Pan's origin story. Since 1924's silent film Peter Pan, the beloved fable has been adapted for screen in a multitude of versions, showing iterations of Pan that range from a young child (Disney's 1953 animated film) to a teenager (2003's Peter Pan starring Jeremy Sumpter) and even as a middle-aged man (1991's Hook starring Robin Williams). But when it comes to Tiger Lily, the princess of Neverland, her image has remained fairly static.
Known by most audiences as the Native American daughter of Great Big Little Panther, the resident royal of Neverland, Tiger Lily's presence in many live-action iterations added a small amount of diversity to a usually predominantly white cast. But in 2015's Peter Pan offering, Pan, Tiger Lily is portrayed by the lily-white Rooney Mara. Of course, when her casting was announced in 2014, fans were outraged; there was even an online petition launched to re-cast the role. Because, not only is she a non-Native American actor, but this new Peter Pan boasted an origin story, a chance to paint Neverland with whatever colors its creators desired. But according to the film's director Joe Wright (Pride & Prejudice, Atonement), J. M. Barrie never said Tiger Lily was Native American.
"When we were first thinking about what Tiger Lily's community should be like — Barrie is quite unclear about their nationality in the book — subsequently they've been cast as Native Americans, but Barrie's quite unclear about it," Wright says. "So I wasn't quite sure where they were from."
While I can surely understand the monetary appeal of hiring an A-list actress like Mara for the job, it's a shame Wright decided to cast a white woman — the type of human that appears most often in film second to a white man — as the ruler of Neverland. What a rare opportunity he possessed, the ability to redefine a story so many of us have known our entire lives, a chance to inject a 100-year-old tale with more diversity. But instead, we have Mara, a tremendous actress who has appeared in a handful of applause-worthy roles, from The Girl With The Dragon Tattoo to an oh-so memorable appearance in The Social Network. She is without a doubt a talented and worthy woman for the job, but because she is white, fictional Tiger Lily is also white, and an entire generation of children who have yet to be introduced to Peter and his shadow will categorize Tiger Lily as such.
However, Wright assures that Neverland does possess diversity.
"In the end I decided that they were the indigenous people of the globe, so therefore we could pick from all over the world. It was kind of like a world village," Wright says of Tiger Lily's tribe. "We looked at every kind of culture. We looked at Indian and Mongolian — a lot of Indian in there — and Native American, and African, and Chinese, and so on and so forth. It was a bringing together of all these different cultures into one big melting pot."
Yet at the helm of it all is a white woman in a Mongolian headdress. "We reduced the size of the headdress. It's a Mongolian headdress, and it started larger but it got smaller," Wright says of Mara's costume. "The bare midriff is because my son, he's four and a half, but he's got a thing about ladies' belly buttons, so that's for him. She liked it. She's a fairly stylish woman, she knows a good costume when she sees one."
Mara herself defended a white Tiger Lily in 2014, saying: "I feel like there really hasn't been a proper interpretation of the character." She added: "They are natives of Neverland, a completely made-up place... it made sense to me."
With Native Americans being underrepresented in films as it is — making up less than one percent of all film roles — Wright missed a unique opportunity to showcase diverse talent in leading roles. I have seen clips from the film, and can assure that the supporting cast and background actors are indeed diverse. But Hook (Garrett Hedlund), Blackbeard (Hugh Jackman), Mary (Amanda Seyfried), Peter (Levi Miller), and Mermaid (Cara Delevingne) are all white.
Images: Warner Bros.; Getty