'PLL's Already Got Its First New Mystery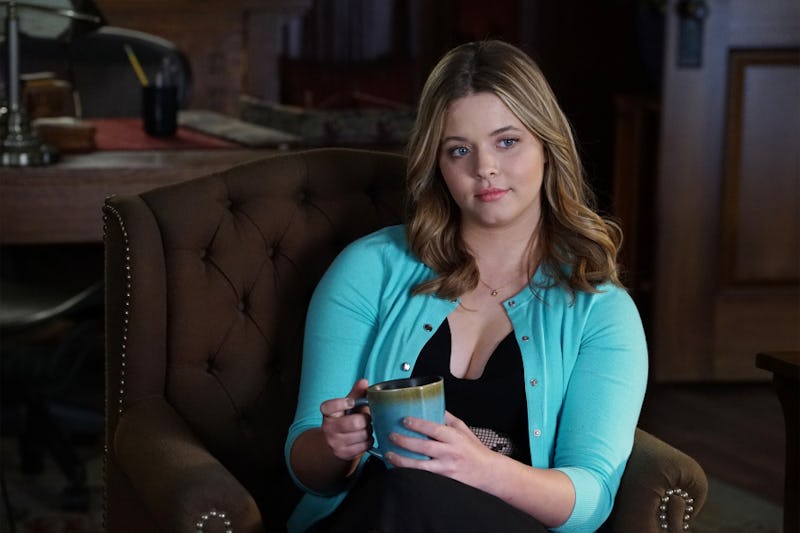 On the one hand, we finally know the identity of A. On the other hand, Pretty Little Liars has already started us on a brand-new mystery. In the final moments of "Game Over, Charles," the episode flashes forward five years into the future, where we find all of the Liars back together – but probably not under the circumstances they want. They rush into a classroom and find Ali writing "Mrs. Rollins" on the classroom board. But who is Mr. Rollins? Could Lorenzo be Mr. Rollins, or does Ali already have a new man in her life?
As much as I'd like to see Ali end up with a guy like Lorenzo, it doesn't look like that's the new man in her life. A quick look at PLL 's IMDb page shows that Lorenzo's last name is "Calderon." So unless he changes his name, and then Ali changes her name ... then there's no way it could be him.
So who is Mr. Rollins? He'll be a brand-new character, whoever he is, and E! managed to get a quick scoop on him. Apparently, Dr. Rollins is going to be a "handsome psychologist ... [who will] be sticking around for a little bit."
Well yeah, he's probably going to stick around for a little while longer than just a "bit," seeing as how Ali appears to be MARRIED to him five years in the future.
That's all we know about this new character, so it's safe to assume we haven't seen him yet on the show anywhere. Also, the last name "Rollins" has never come up before, so he's totally new to Rosewood. Also, seeing as how he's a psychologist, he start out as someone who helps Ali cope with all this A aftermath. While it might be a little bit weird for a doctor to date a patient... well, stranger things have already happened on this show.
For more theories on Mr. Rollins and the time jump, check out Bustle's podcast, Taking This One To the Grave:
Need a laugh after that finale? Watch PLL virgins try to explain who "A" is (and subscribe to Bustle's YouTube channel for more great videos!):
Image: Eric McCandless/ABC Family