So When Is 'PLL' Season 7 Starting?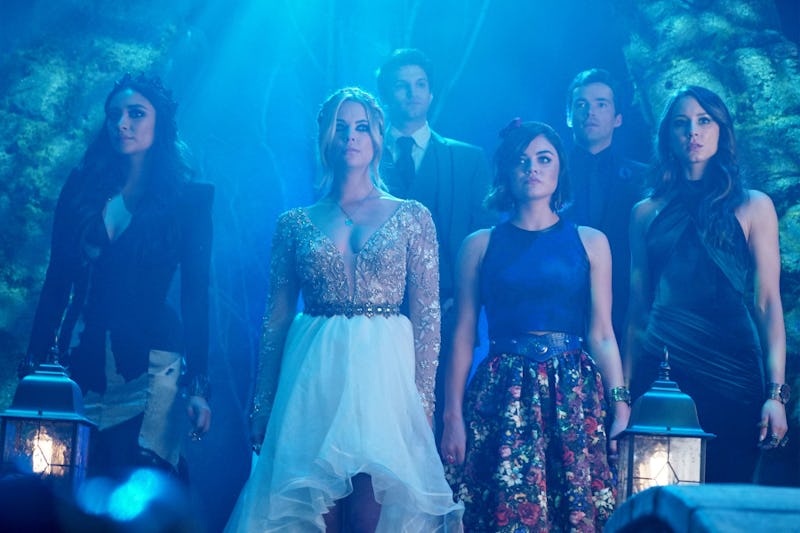 It pretty much goes without saying that Tuesday night's Pretty Little Liars Season 6 summer finale is going to be insane. Like there's a fairly good chance we might all need to do a stint in Radley immediately afterwards due to all of the information we're about to process. Yes, this Summer of Answer will prove to be quite the game-changer, not just for the residents of Rosewood, but for the entire series as a whole. I mean, if we're not spending our days obsessing over A's identity, then what the heck are we doing? (Will there be a B that comes into the picture?) Basically, we're about to enter uncharted territory, folks, which is something I'm very eager to explore. So eager, in fact, that I'm already wondering when Pretty Little Liars Season 7 will premiere. Update: ABC Family announced at New York Comic Con that PLL Season 6B will premiere on Jan. 12 and that a special flash forward episode will air on Nov. 24.
I know, I know, Season 6B hasn't even started yet, so why am I even thinking about something so far ahead in the future? Well, unfortunately, I don't have a very logical response for you on that one. I'm proud to say that this is just sheer PLL obsession and impatience driving me on this. (And you and I both know you've been guilty of doing the exact same thing.) So let's go back to the question at hand: when can we expect Season 7 to grace our television screens? The best I can narrow it down thus far is June 2016.
Now given how far away that is, it's really no wonder why the series has yet to announce a specific premiere date. I mean, I don't even know what I'm going to eat for dinner tomorrow, so I can't in good conscience expect I. Marlene King to have something mapped out that's almost a full year away. Especially when she has way more important things to do — like writing the actual episodes, for instance. But based on former seasons, I think we can safely assume that the show will continue to follow with its traditional schedule. Season 6B should air sometime in early January of next year, while Season 7 will likely kick off a few months later in early June. One thing that might help you get through those many, many months is Bustle's PLL podcast, Taking This One To The Grave.
I'm not gonna lie, the wait already feels excruciating, which is added on by the fact that PLL won't be airing a holiday episode this year. (Seriously, ABC Family, you're killing me over here!) So our patience is going to be tried more than it's ever been before. However, I can't help but feel a little bittersweet about the whole thing. On the one hand, I'm desperate for new episodes to get here ASAP. But at the same time, I have absolutely no desire to see the series come to an end.
If Season 7 really is the show's last, as many people suspect is the case, then there's a big part of me that wants time to slow down as much as possible. Though, given what King and Shay Mitchell (who plays Emily) teased at the TCA summer press tour earlier this month, there could be a potential Season 8 or even a movie well on its way, so really anything is possible!
All I know for sure is that a world without our beloved Liars in it, sounds like a dark and dreadful place, indeed — more so than even Charles' dollhouse, which, as we all know by now, is really saying something. And if you're worried about forgetting the details of Season 6 before PLL returns, check out the (drunk) recap video below.
So hurry up and get here Season 7… just not too quickly, OK?
Images: Eric McCandless/ABC Family; Giphy (3)