Bethenny & Ramona Have One Final Fight This Season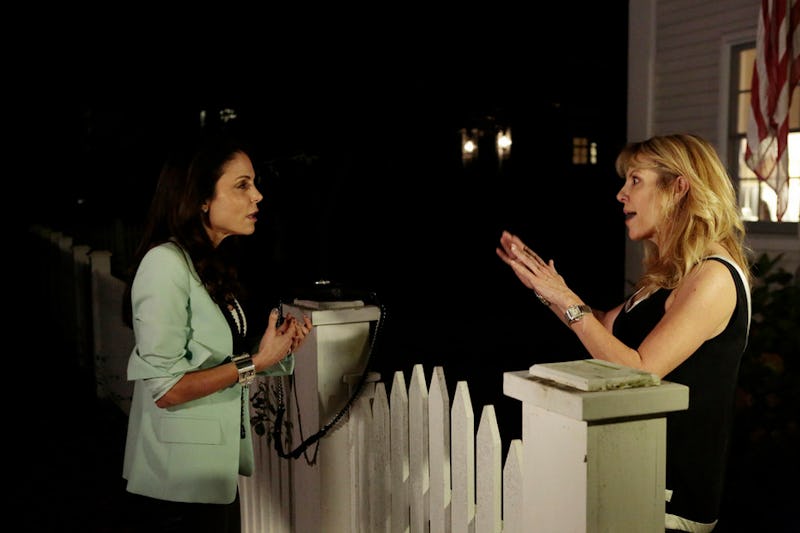 Is anyone else having a crazy amount of deja vu right about now? Bethenny Frankel and Ramona Singer kicked off this season of The Real Housewives of New York City brawling over brunch in the Hamptons, and now they're at it again, arguing over the meaning of new beginnings, of all things. But it is the Season 7 finale of RHONY, after all. We need one more Bethenny and Ramona fight for the road.
The feud between Bethenny and Ramona during Tuesday night's episode of RHONY was a continuation of the argument they had during Sonja Morgan's fashion show in last week's installment. Bethenny was fuming that night because she had recently found out that Ramona told Heather Thomson that Bethenny had cheated on her first husband. Since spreading rumors isn't really the nicest or most enlightened behavior, it makes sense that Bethenny found the fact that Ramona was throwing a New Beginnings Party completely hypocritical.
And Bethenny let Ramona know that once again at said new Beginnings Party. Unsurprisingly, Bethenny wanted nothing to do with the party, but she went because she didn't want to be accused of not joining in enough, with the ladies, which has also been a constant source of conflict this season as well. Bethenny really should've adopted Dorinda's attitude of being glad to just have an excuse to buy a new dress and drink a martini, which should be everyone's life mantra, really.
But still, Bethenny — rather foolishly — thought she could avoid the Ramona drama that night, but we all know the exact opposite of that was bound to happen. Right when Bethenny got to the party, Ramona confronted her about the fashion showdown. Shockingly, Ramona started to apologize to Bethenny, but the Skinnygirl wanted specifics, which flustered the Singer Stinger. Ramona usually guilts her fellow Housewives into accepting her apologies, but clearly that wasn't going to work with Bethenny.
The two went back-and-forth for a bit with Bethenny continuously telling Ramona how much of a phony she thinks she is and Ramona saying she's being too harsh on her. Clearly frustrated, Ramona walked away for a bit, but Bethenny soon came back for more. But then something odd happened. Ramona actually apologized to Bethenny, and the two were seemingly good. They even hugged. It wasn't as heartfelt as in Turks and Caicos, but I'm thankful just for the fact that it happened.
Of course, this fight was actually a continuation of the bickering that has gone on between Bethenny and Ramona all season and even since they've both been on RHONY together. Bethenny constantly thinks Ramona acts like she's entitled and wants to get away with her bad behavior unscathed, and Ramona constantly thinks Bethenny just needs to lighten up. There's just things about the other that they both love and hate.
But all of that is what also makes these two so much fun to watch. Never change, Bethenny and Ramona. Never change.
Images: Giovanni Rufino/Bravo; Giphy (2)