Ramona & Bethenny Have A Rematch On 'RHONY'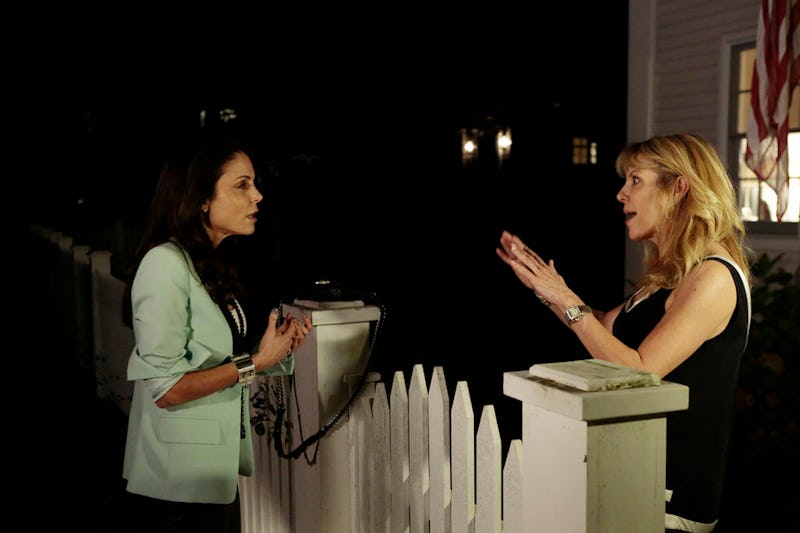 Remember at the beginning of Tuesday night's episode of The Real Housewives of New York City when Ramona Singer seemed chill and apologized to Luann de Lesseps for ridiculing her marriage in the past? Well, it looks like someone raked up that new leaf Ramona turned over, because by the end of the episode, she was up to her old shenanigans. And thank the reality TV gods, because her old sparring partner Bethenny Frankel was ready for a rematch.
Ramona and Bethenny didn't appear together in last week's Season 7 premiere, so Tuesday night was the night when the two ladies would meet on RHONY turf once again. And boy, was it worth the wait. I mean, when Ramona greets Bethenny by saying, "Let the games begin," you know you're in a for a grand old time, am I right?
You would think that Ramona and Bethenny would be able to catch up like normal people and make small talk. They actually have a lot in common these days, with each going through rough divorces in the public eye. They could have compared notes and talked about legal fees, single motherhood, navigating the dating world again, or stuff like that.
To be fair, they did start off acting like normal people and not Real Housewives, with Bethenny asking Ramona about her "keeping the company of men," i.e. her sex life. But you know Ramona. She's not usually one to open up to others too much. In fact, she was pretty offended that Bethenny would ask about this at all, even though she was jokingly caressing some dude behind her the whole time. See? Not a great start.
But then everyone started talking about a very controversial subject, one that has caused civilizations to crumble, brought countries to war, and made many a roommate move out: brunch. The ladies couldn't decide whether to eat brunch at a restaurant, someone's house, go on a boat, or some other nonsense like that.
Somewhere in there, Bethenny ended up inviting Sonja Morgan over to her home in the morning, and Ramona lost it. She couldn't believe Bethenny's audacity in inviting her house guest over and not the host. Ramona went so far as to ask the authority on all manners of manners Countess Luann about what the proper protocol would have been in this situation. For the record, she thought it was Sonja's responsibility to ask Ramona for permission, not Bethenny's.
Ain't nobody got time for this, especially Bethenny. Once it looked like the Ramona coaster was pulling into the station, she all but high-tailed it out of Luann's home.
This would have been a smart move, except Ramona came running after her with the intention of apologizing and starting fresh after their fresh start had already begun. Even after Bethenny said she straight up did not want to hang out with Ramona, the always tenacious Housewife kept Bethenny there, saying she was the one acting weird and brushing off Bethenny's comment that she was going through a rough time. It's just like Ramona to pretend everything is perfect, isn't it? Ramona even made it seem like Bethenny was the one with the problem, and she told her to calm down and breathe like it was a therapy session or something.
Bethenny was finally saved by her car arriving to pick her up. "Bethenny made a line in the sand," Ramona said as she walked away from Bethenny. Ooooh, yes. That's all we can ask from a Real Housewives feud. I can't wait to see what implications #Brunchgate has on the rest of the season.
Images: Giovanni Rufino/Bravo; perezhilton, realitytvgifs/Tumblr