How Modern Will The 'Fresh Prince' Reboot Be?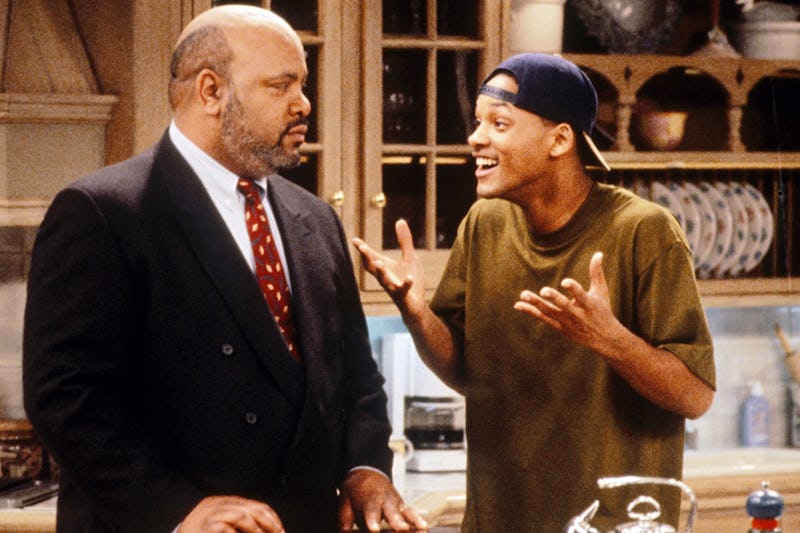 I can hardly believe it, but it look like the rumors have finally been confirmed. Will Smith and his company Overbrook Entertainment are reportedly giving The Fresh Prince of Bel-Air a reboot for a 21st century audience. The classic television show followed Will Smith, a teenager from West Philadelphia who is sent to Bel-Air, California to live with his affluent family for better opportunities. According to TV Line, Will Smith and Overbrook are finalizing a pitch for the reboot now, and will begin shopping it around in the coming weeks. Bustle reached out to Will Smith for comment, but have yet to hear back.I'm always a bit wary when reboots of my most beloved films and television shows are announced. However, since Will Smith will be directly involved in the Fresh Prince reboot as a producer, I know that the series will be done well while paying homage to the original sitcom. Still, I hope that the new series is a complete reboot, and not a revival or continuation like Netflix's Fuller House. After all, the Banks household would not be the same without the late James Avery as Uncle Phil.
Since the series is still in its very early stages of development, it could be quite some time before we get to see how it turns out. Until then, here are eight things that could be different with the 21st century Fresh Prince update.
1.The Lead Character Could Be A Woman
Don't get me wrong, I absolutely adored Will Smith in Fresh Prince. His one-liners, physical comedy, and perfect fashion choices made the show legendary. However, I've always wondered what it would be like if Will was a woman. The fish out of water scenario worked really well for Julia Stiles in Save the Last Dance, so I'm not sure why it wouldn't work on television. After all, The Fresh Princess of Bel-Air still has a fantastic ring to it.
2. Modern Icons Could Guest Star
One of the best things about Fresh Prince was its long list of amazing guest stars. The guest stars in Fresh Prince were always perfectly incorporated into the storylines, especially if they were playing themselves. Who can forget when Boyz II Men sang at baby Nicky's christening, or when Carlton rented out the mansion for Bell Biv Devoe's music video. This ingenuity made these episodes classic. This could work just as well with modern celebrities, especially if social media was somehow incorporated.
3. The Series Could Have Deep Ties To the Real World
I've always felt that Fresh Prince did a wonderful job when it came to discussing issues that were affecting the real world. Everything from racism, police harassment, and body shaming were themes on the show. The world has become even more educated since Fresh Prince went off the air nearly 20 years ago, and it would be incredible if the new series incorporated modern day concerns in its episodes.
4. Hilary Could Be A Guy
Though she was rather self-centered and bratty, Hilary Banks is still one of my favorite characters on Fresh Prince. She spent time trying to figure out what she wanted in life instead of just settling for anything. Her style will also always remain iconic. Still, in an effort to shatter gender norms, it would be amazing if the 21st century Hilary was a guy; he could definitely have some of the same characteristics as Schmidt from New Girl.
5. No More Come-Ons
Though I can admit they were often hilarious, Will learned by the end of Fresh Prince that his ridiculous come-ons to women were neither welcomed nor appreciated. The next Will, whether they are male or female, will have to have another quirk that they're known for, because the come-ons aren't going to go over well with a 21st century audience.
6. A Consistent Aunt Viv
One of the only gripes I have with the original series is that they switched the actresses who played Aunt Viv halfway through the series. The the second actress did a fine job in the role, but she was no Janet Hubert. Everything can't be controlled in television production, but a consistent Aunt Viv would be fantastic in the Fresh Prince reboot.
7. Uncle Phil's Character Could Be A Tech Executive
The original Uncle Phil was a Supreme Court judge, which is a really huge and important career. However, I would love to see the 21st century Uncle Phil as a tech executive. How dope would it be for the Banks family to live in some kind of tricked out smart house? It would be just another thing for Will to try and acclimate him or herself to.
8. Geoffrey Should Be An Uncle, Not A Butler
If this Fresh Prince reboot is going to work, then Geoffrey must be a part of it. However, for a new audience I hope that he's Uncle Phil's brother instead of the Banks' butler. He was already such a major part of the Banks' household; why not make him an actual member of the family? A lot can change in the Fresh Prince of Bel-Air reboot. I just hope that the theme song remains the same. Images:NBC (1); Giphy (8)