'Straight Outta Compton' Sticks Close To The Truth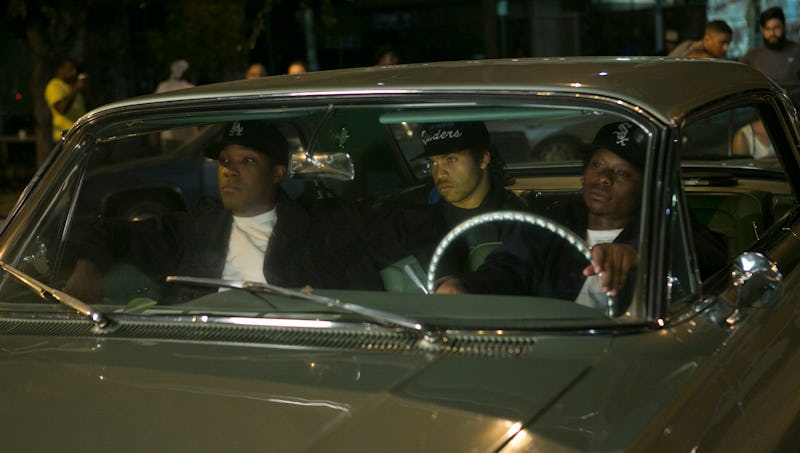 There's a scene in Straight Outta Compton when Ice Cube (O'Shea Jackson Jr.) kicks a girl out of a party after she causes some trouble. He shoves her out the door and dismisses her by saying "Bye Felicia!" It's definitely a memorable scene that audiences will certainly laugh at, but at the same time, they'll ask, did that really happen? Is it the real origin story of the popular catchphrase, "Bye Felicia"? Unfortunately, it's totally fake — but on the bright side, it's probably one of the few scenes used to enhance the N.W.A biopic for cinematic purposes. For those wondering how accurate Straight Outta Compton is, the happy answer is that despite injecting some "Hollywood flair" into the movie (which happens in nearly all biopics), the movie is a true-to-life portrayal of the trailblazing group that redefined the rap game.
As the "Bye Felicia" scene shows, the movie isn't an exact depiction of the lives of Ice Cube, Dr. Dre (Corey Hawkins), Eazy-E (Jason Micthell) and the rest of N.W.A. The movie is on point when it comes to the casting and the main bullet points of the story hold true to reality. But when it comes down to it, it's a movie made for entertainment. As with many films that are "based on a true story," cinematic and creative license are needed just as long as it doesn't interfere with the movie's core story. Still, the tale of N.W.A's groundbreaking music and eventual split rings true. Even so, there have been a couple of naysayers who have complained about the movie's accuracy.
In an Associated Press interview, director F. Gary Gray said, "Obviously you can only do so much when you have two hours and 10 years and five guys in one movie but I'm very happy with the accuracy especially given that I got it from the members of N.W.A."
The initial cut of the movie was three hours and 30 minutes. It was eventually whittled down to a little under two and a half hours, and it still managed to capture a strong enough story. (For the record, I would totally see the three and a half hour version.) With Dre. Dre, Ice Cube and Eazy-E's widow Tomica Woods Wright on board as producers and MC Ren and DJ Yella as consultants on the movie, skeptics should put all their doubts aside. Straight Outta Compton is as accurate as a Hollywood music biopic can be. Here are some moments in the movie that stay true (for the most part) to what happened in the real story of N.W.A.
Eazy-E Couldn't Rap
In the beginning stages of Ruthless Records and N.W.A., Ice Cube wrote a rap called "Boyz N The Hood" for a New York-based rap group called H.B.O. (Home Boys Only). After they refused to record it and faded into obscurity, Dre and Cube thought it would be a good idea for Eazy-E to record it instead. Not having rapped ever before, he didn't want to do it. After some convincing, he went into the recording booth and started rapping — and was terrible at it. Eventually he honed his chops and became one of the best rappers in history. The movie stays pretty close to this story.
Jerry Heller's Story
N.W.A.'s former (shady) manager Jerry Heller (played by Paul Giamatti in the movie) wrote a memoir titled Ruthless in which he said that Eazy-E approached him for a record deal. In the movie, Heller approaches E. Either way, their relationship does not end well.
Police Harassment In Torrance
In the film, while recording their iconic album Straight Outta Compton in Torrance, California with Heller, the group steps outside only to be harassed by police because of the way they look. It not only happened to them in real life, but it sadly happens to young black men and women to this very day.
N.W.A. Gets Arrested For Performing "F*ck Tha Police"
In the movie, N.W.A. performs their controversial anthem "F*ck Tha Police" at their show in Detroit in 1989 after being told not to. After a shooting in the audience, chaos ensues and the groups run to their tour busses only to be handcuffed for performing the song. In reality (according to Heller's memoir), they were escorted to their hotels after the concert, but were arrested later that night when they came down to the lobby to meet some girls.
Ice Cube Smashes Up The Priority Records Office
The scene where Ice Cube smashes up the Priority Records office with a bat because they haven't paid him almost didn't make the final cut of the movie. Luckily it did, because it happened in real life.
Dr. Dre's Death Row Departure
After Dr. Dre split from N.W.A., he partnered with Suge Knight and Death Row Records. Many people know that Knight wasn't exactly the nicest guy. In one scene of the movie, while Dre is recording with Tupac at the Death Row offices, he sees Knight and his buddies humiliating a guy in his underwear. He gets fed up with Knight and speeds off in his car which leads to a high-speed chase and then an arrest. Dre told The Hollywood Reporter that the WTF-worthy scene with the guy in his underwear really happened. The high speed chase is also based on a true story. Dre was arrested for drunk driving when he was racing through Beverly Hills at 90 mph in his Ferrari.
Ice Cube Vs. N.W.A.
The feud that happened between Ice Cube and N.W.A. after he left was 100 percent real. When he released his solo debut, AmeriKKKa's Most Wanted, there wasn't a single diss about N.W.A. But the group decided to throw some shade towards Cube in their albums 100 Miles and Runnin' and Efil4zaggin. "No Vaseline" was Ice Cube's brilliant way of shutting it down. Take note, Meek Mill — this is how you handle a feud.
Bottom line: Straight Outta Compton probably left out some major benchmarks in N.W.A.'s history, but for the things that mattered the most, the movie went out of its way to get it right.
Images: Universal Pictures/Jaimie Trueblood (5)