Louboutin Heel Halts Condé Nast Elevators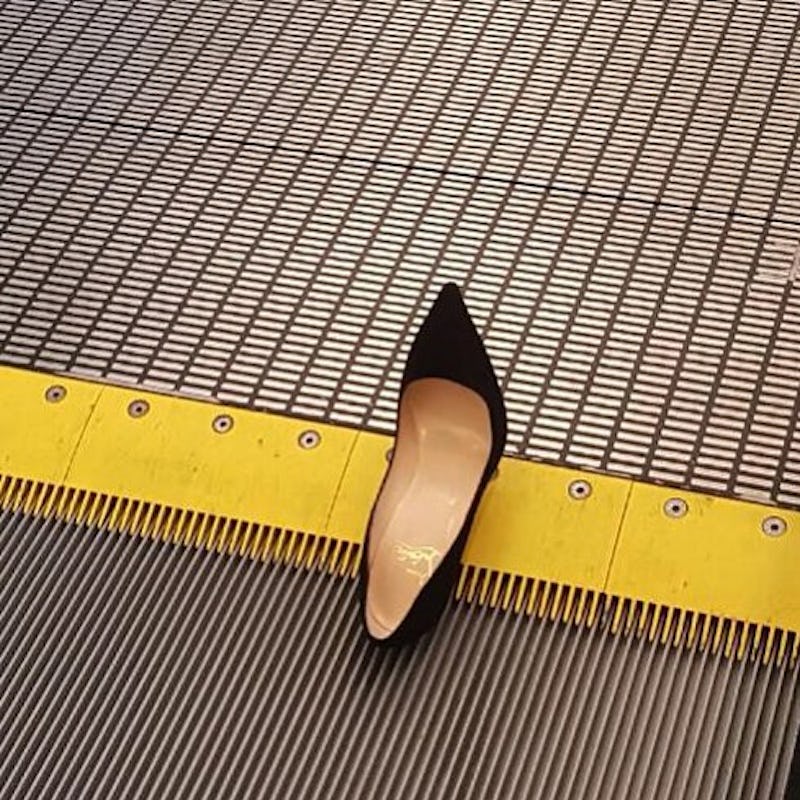 In the most LOL story of the day, a Louboutin heel got stuck on one of Condé Nast's escalators, halting the machinery's operations. It pains me to see such a beautiful shoe get eaten alive by the machinery, but hey, at least no one was hurt. But I bet someone is hobbling and struggling to get by with just one heel on.
Katie Turrel, director of talent acquisition at Condé Nast, Instagrammed a hilarious collage of the poor shoe—not from one angle, but from three. Her caption reads, "louboutin breaks the Condé escalator!! #onlyatcondenast #loubigate. That hashtag? Brilliant. Could it get more Devil Wears Prada than this? These beauties, the So Kate pumps, have been ripped away from its owner, and I can't help but feel sad about it! I know I would've been furious.
So who's the mystery shoe-owner? Turns out it belongs to shoe designer Nareesha McCaffrey, who posted a photo of the accident on Instagram, with a caption "Great meeting at @TeenVogue...I left you guys a souvenir. RIP my @louboutinworld it just died at the Condé Nast." I feel your pain, Nareesha. But this is probably why I tread extra carefully whenever I ride the escalator in heels.
The irony of it all. This little incident has been taking Twitter and Instagram by storm, adding a nice little chuckle to people's day. As a former Condé Nast employee and work resident of One World Trade, this just really kills me. Only at Condé Nast is right—I had never seen so many women in sky-high stilettos and strappy heels. Looks like my days of wearing chunkier heels and boots truly paid off.
Rest In Peace, Nareesha's beautiful Loub. You were loved and admired, but more importantly, you're giving people the gift of laughter now.
Images: @nare_esha/Instagram