How To Clean Your Beauty Blender Sponge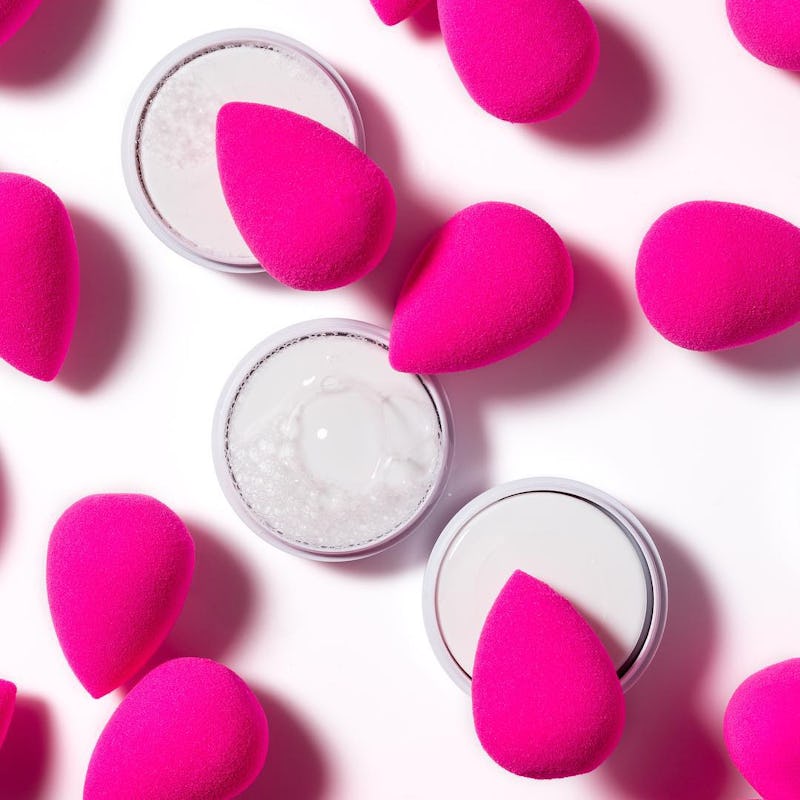 To prevent unwanted breakouts, cleaning your make up brushes and sponges is essential. But if you're stuck on how to clean your beauty blender sponge, don't even worry. Though beauty blender's cleanser works great, it's expensive. Luckily, there are plenty of other ways to make it happen.
If you're reading this and thinking, "what the heck is a beauty blender sponge?" let me catch you up to speed. These nifty little sponges are shaped like eggs, and are pretty much essential for successful foundation contouring. Certain drag queens swear by them, and other Bustle writers are already fans of the beauty blender. Though not the cheapest sponge on the block, the cost is worth it.
beautyblender Original Makeup Sponge, $20, Amazon
Since this isn't a regular sponge though, you don't just throw it away after using. To clean it without spending quite a bit on beauty blender's blender cleanser, bloggers and beauty writers all over have risen to the task of finding a more cost-effective way. Fortunately, because bloggers and beauty writers are obviously brilliant, they've figured out two main strategies to clean the sponge perfectly and mimic the blender's cleanser! Try out both to figure out which is your favorite.
1. Baby Wash And Warm Water
Beauty blogger Sarah is a fan of baby wash and warm water to clean her sponge. Based on her glowing skin, I'm confident she's come up with a solid strategy!
Try: Aveeno Baby Wash with Natural Oat Extract, $7, Amazon
2. Extra Virgin Olive Oil And Dish Washing Detergent
BreezyNFAB is a hardcore fan of mixing olive oil and dish washing detergent to create the perfect cleansing concoction for her sponges. Sounds legit to me.
Try: Zoe Extra Virgin Olive Oil, $11.99, Amazon; Mrs. Meyer's Clean Day Dish Soap, $3, Amazon
Also, for scrubbing methods (and if you just want to go ahead and pay for the blender cleanser), check out their great beauty blender cleaning guide!
Want more beauty tips? Check out the videos below and subscribe to Bustle on YouTube!
Image Credit: BeautyBlender/Instagram