8 Drag Queen Makeup Hacks To Change Your Life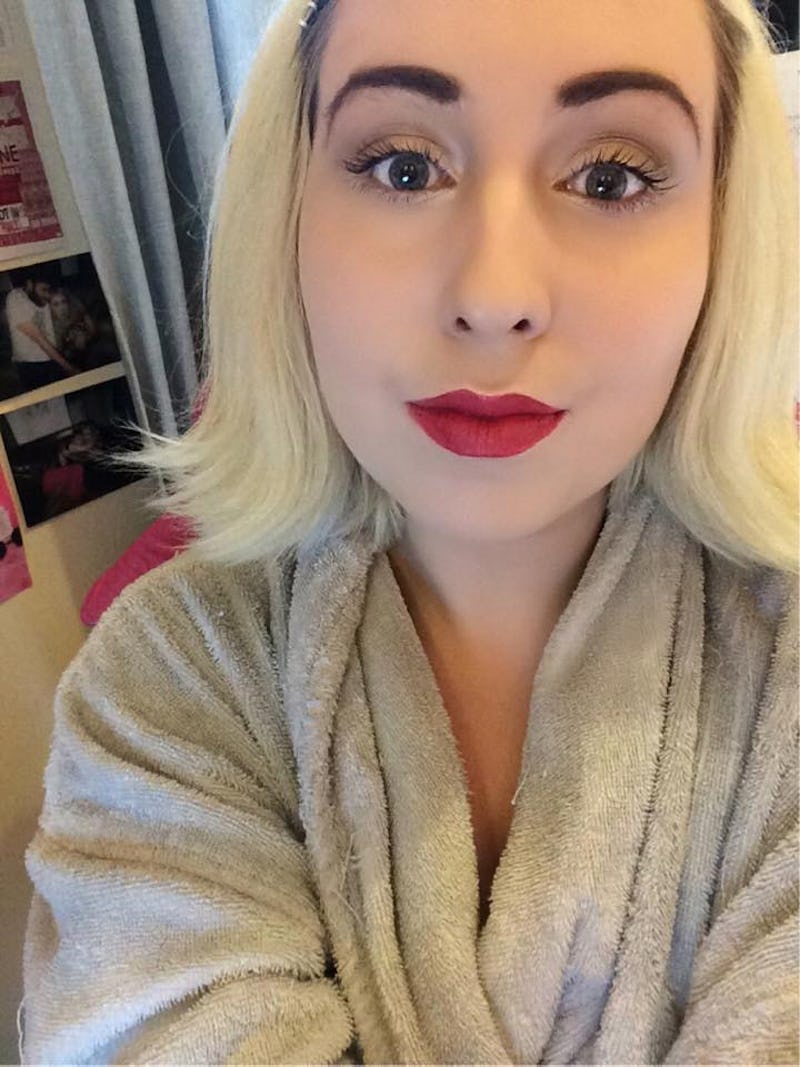 Makeup has always possessed a magical allure for me, as have drag queens — so you can imaging the appeal that makeup tips from drag queens would have on my heart! It's not just about "fixing my face," either. I see makeup as an art form. As a child, I was always stealing Mary-Kate and Ashley makeup from supermarkets and my mam — being makeup obsessed, too — allowed me my glittery blue eyeshadow long before most of my mates' parents allowed them mascara. Although my foundation now feels like war paint against the world, my obsession with it still comes down to self-expression.
Similarly, I've always noticed that the same is true for my friends and family. Although we're comfortable around each other makeup-less and braless — a lazy Sunday marathoning session of old Queer Eye for the Straight Guy wouldn't be any fun if we were fully clothed — there's a marked difference when some people put on their makeup for the day. For me, it's like putting on an armor: It's enhancing the strength I already have and making me confident to head off to war (read: work).
Growing up, I always avoided the "natural" look and I still can't say I'm a fan yet. Now, as an avid club goer and RuPaul's Drag Race watcher, I've learned that the true beauty that makeup can afford us can be found in the unnatural, the unusual, and the outrageous! When I was younger, I took my makeup cues from teen magazines and Disney shows. Recently, I've been more like that Sabrina episode of RuPaul , where he gives her blue hair — because everyone can benefit from the beauty lessons of the world of drag.
If you use any cream/liquid products on your face, then let them heat up to the rest of your face before blending it all together! This is called cooking. If you're a contour queen, this tip especially helps to stop you looking like Trixie Mattel. I usually mess around with my hair or my nails or miming to Madonna in the mirror whilst I let my foundation settle; then my beauty blender glides over my face like magic. It may seem like a time waster, especially early in the morning, but there's a kind of science behind the cooking art, and you can't argue with science.
Try: Jane Iredale Liquid Minerals A Foundation, $50, Amazon
2. If You Wear Lipstick, Leave Foundation On Your Lips
When I put on my foundation, I literally cover my whole face with it, then wipe off where it's not needed — it makes better blending around my brows and eyes, for instance. For my lips, however, I let it dry there! This isn't some weird 2006 throwback, but when you put lipstick on over your foundation-covered lips, it lasts so much longer!
I'm not a fan of contouring, but you know what I am a fan of? Being a glittery little bitch! Invest in a highlighter — I use one from H&M and it's so much better than any expensive one I've ever used — and place it on your cheekbones and under your eyebrows. When your face catches the light, you'll look like the dewy, shimmery goddess you are.
Try: Jouer Highlighter, $22, Amazon
Do you know who was drawing on pouts long before Kylie Jenner trademarked her big lips? The drag community! I don't go in for the fad of making my cupid's bow touch my nostrils, but lip liner is perfect for long-lasting lipstick wear. It'll stop your perfect lipsticked pout from bleeding onto your skin and you can even up the side of your mouth that just isn't as cute as the other one!
Try: BareMinerals 100% Natural Lipliner, $6, Amazon
5. Less Is Not More, More Is More
You know when you have a few beers before heading out, before even doing your makeup, and then as you get ready you somehow end up with five types of glitter on your face and the most intense eyebrows the world has ever seen? Embrace it! Make it your day look! Throw on some added white eyeliner for effect! My everyday makeup routine involves three different types of gold eyeshadow and it has never made me feel overdressed (over make-up-ed?)
6. Hairspray As Makeup Fixer
True story: My mom once got a job because she'd covered her perfect face of makeup with a coat of hairspray. It was the depths of summer, sweat was pouring from every orifice, and she had a very important job interview. My mother was my first makeup idol — she basically invented drawing on your eyebrows. She knew this drag queen tip and utilized it!
The hairspray makes your makeup last, no matter what, and you don't have to splash out on an expensive fixing spray either. Be warned: This isn't something that you can do everyday unless you have a magnificent moisturizing routine. But it is a great one to use when you're heading to a club night and you're on the prowl to get laid and you want to wake up looking like you did when your head hit the sheets.
Try: Moroccanoil Luminous Hairspray Strong, $20, Amazon
This is more of a self-confidence one, but when my nails are perfect and not chipped (long, short, acrylics, gel, glitter polish, whatever), then I feel one step closer to being a functioning adult type person. It also makes Instagram pics of your Starbucks look so much better.
8. And When You're Done, Take It All Off (Properly)
One of my many New Year's resolutions, alongside getting my tits out and making my bed each morning, was to take off my makeup before I go to sleep, no matter what. Sometimes it's hard, like when I've been getting stoned in bed for four hours after work and my baby wipes are all the way over on the other side of the room (although one of the perks of being single is getting to keep all sorts of miscellaneous shit tucked into bed next to you; and if I'm clever, I sometimes keep a pack under my pillow).
Try: Vichy Pureté Thermale 3-in-1 Cleanser, $15, Amazon
Even though makeup is amazing for covering bad skin, it looks so much better on clear skin! I pride myself on being the blemish-free twenty something that teenage me had always dreamed of. It's all about routines; now I can't go to sleep knowing I haven't wiped and moisturized my skin.
Try: Jack Black Double-Duty Face Moisturizer SPF 20, $28, Amazon
Images: Georgina Jones