9 Songs That Will Help You Focus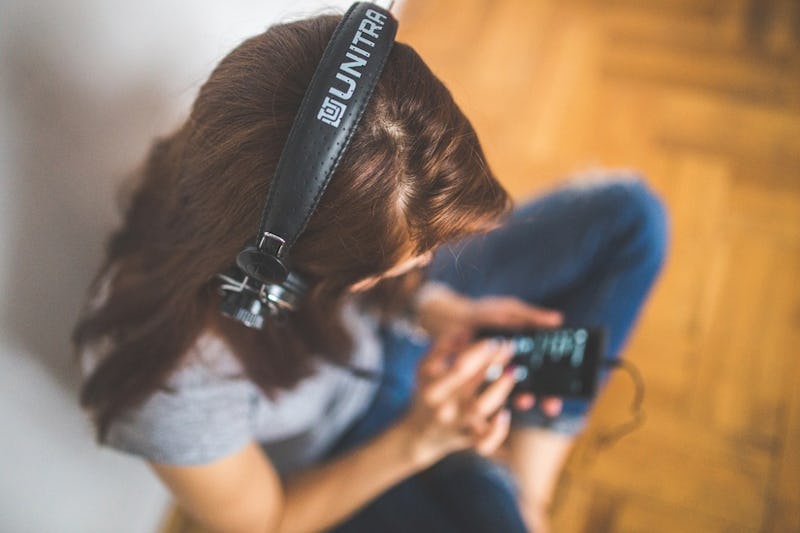 Is it just me a completely silent room almost unbearable? I can't be the only one whose stomach seems to grumble only when in a crowded, silent room. My solution? Tune everything out. And finding songs to help you study, focus, and write are perfect for drowning out loud talkers, that person who will not stop coughing, and everything in between. Many of us struggle with finding ways to keep from getting distracted at home, the office, or school. Even if you're the type of person who swears by working in complete and total silence, it's worth at least trying out listening to music during a work session to see if it does the trick.
After all, according to The New York Times, there are multiple studies linking music to a boost in productivity and creativity. Dr. Teresa Lesiuk, who is quoted in the NYT article, is an assistant professor in the music therapy program at the University of Miami and has conducted research on how music affects work and productivity. "Narrative responses revealed the value of music listening for positive mood change and enhanced perception on design while working," Lesiuk says of the research published in her article, The Psychology Of Music.
So what music is best to listen to? Well, it depends. And according to research conducted by Dr. Emma Gray of The British CBT and Counseling Service for Spotify, it's not just classical music that can help you study. According to an article on Digital Trends, which highlighted Gray's findings,"when studying subjects that require logical thinking and problem solving, it is better to choose songs that have a calming effect on the mind to aid concentration; for right-brain subjects, creativity is fostered more by tracks that reflect the feelings the student is trying to convey."
Here are a few options that aren't from stereotypical "study music" classic playlists that can help you put together that ultimate productive playlist. No hard feelings, Vivaldi.
1."Awake" by Tycho
It's a laidback, ambient tune that croons the perfect balance of tempo if you're looking for something that's energizing and won't totally put you to sleep (the song is called "Awake," after all), but also keeps it low-key so you're not bouncing off the walls and ready to rage. Its consistency will help keep your focus, while the subtlety interwoven human elements such as light talking or breathing make for a soothing contrast to the electronic synthesizers.
2. "Black Sands" by Bonobo
This is such a beautiful instrumental that's very characteristic of Bonobo's linear style. It gradually builds from what begins as a few quiet electronic notes and morphs into a jazzy vintage French tune that'll definitely get you in the zone and maybe craving a baguette. Actually while you're at it, why don't you also listen to that rumbling tummy and treat yo'self to a little snack? You deserve it.
3. "Paper Trails" by DARKSIDE
So here's another slightly bluesier track reminiscent of a less sinister True Detective theme song. The nostalgic vocals work their way in sneakily without any risk of distraction, if lyrics make it difficult for you to concentrate. Feel free to channel your inner Rust Cohle to ensure you really get stuff done.
4. "Change In Time" by Sleep Party People
Too much electronic? Here's another downtempo song from this list that bursts surprising energy and light vocals. This tune carries mores of a dreamy and ambient vibe if you want something a little less in-your-face with the electronica.
5. "Caffeinated Consciousness" by TV On The Radio
Was that song a little too downbeat for you? Noted. Tune your ears to this song to perk up a bit. It'll make you feel like a professional, productive badass and like you just took a shot of only the finest locally brewed coffee.
6. "Take Me Somewhere Nice" by Mogwai
Hopefully this song will take you to a nice place of getting your work done. This is one of the more tranquil and peaceful tracks from the Scottish post-punk band. The slightly bleak, but beautiful vocals will definitely get you in that pensive, centered mode that can ease the stress of meeting deadlines.
7. "Empty Thoughts Over A Shallow Ocean" by Ryan Hemsworth
Contrary to its title, you won't be having any empty thoughts with this song. Like the first track on this list, the fueling electronic elements work nicely in a way that both gets you lightly amped, but keeps it tame enough so you have space to think.
8. "Wolf" by First Aid Kit
Are folky tunes more of what get you going? I've got you covered. This is a great upbeat song that'll definitely kick up any lull you may find yourself trapped in. The haunting vocals of this Swedish folk duo work their way in nostalgically and assertively in a way that'll help you get those creative juices flowing.
9. "Your Hand In Mine" by Explosions In The Sky
Of course, no study playlist is complete without this band. Prepare yourself for some beautiful instrumentals, with some encouraging drum beats that will help you keep a consistent rhythm with your work. In fact, you can't really go wrong if you just listen to the entire album for the rest of your work-stretch.
Image: Pexels