'Paradise' Filming Is Much Shorter Than You Think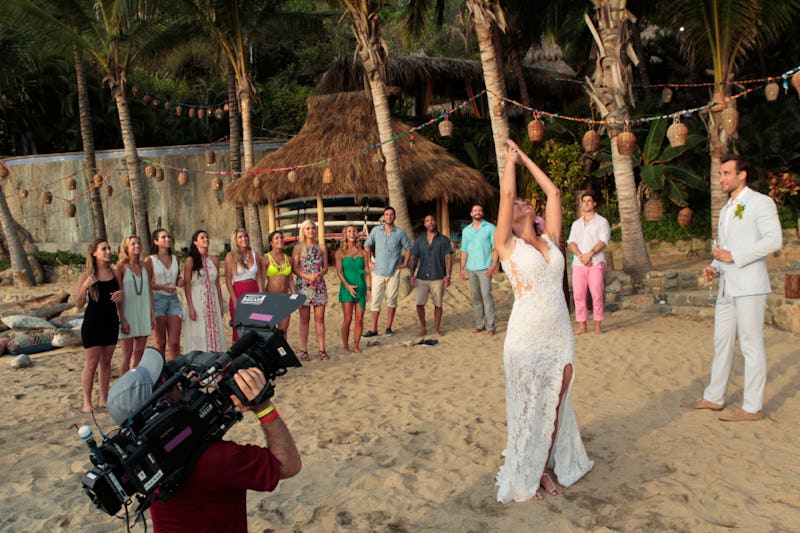 I've always wondered how people who film reality shows are able to get so much time off of work so they can win a hundred grand or find love. But, how long does it take to film Bachelor in Paradise ? Are the Bachelor alumni just sitting around for months at a time, doing bicep curls and occasionally cracking an airport novel? The answer, as it usually is for Bachelor franchise related matters, is that reality TV magic deeply impacts what winds up being shown. Even though each episode has all of the talking heads saying "last week" every few seconds, in reality, Bachelor in Paradise tapes on location in Mexico for only about three weeks, then edits all their juicy footage into six weeks of four-hour episodes. I know, it seems short for all of those "connections" to happen, but three weeks is corroborated by Reality Steve, the spoiler king of The Bachelor. He has sources who work on the show, and is able to confirm from them things like how long they're filming and even who goes home on what episode.
But, it's not just spoiler blogs that confirm the three week timeline. You can also look at the Instagram and Twitter presences of the stars of the show. Most of the Bachelor and Bachelorette contestants have very active social media accounts. Blackouts are rare from this crew, but there's telltale gaps that show who's heading to Mexico for a few weeks of filming. According to Reality Steve's Bachelor in Paradise Season 2 spoilers, "The show started filming Thursday, June 4th and ended Wednesday, June 24," so those are the dark days. Keep that in mind.
Clare: Three Week Gap
Clare, who posts regularly, disappeared for three weeks on her Instagram in June. Doesn't seem like a coincidence — maybe that means she lasted for the whole length of the show.
Joe: Three Week Gap
And, just like Clare, Joe also had a three week break between throwing it back to his time on Bachelorette and posting a video of him hanging out with a horse, presumably back home. Looks like he may have made it until the end, which prompts the question...
Samantha: Eight Week Gap
Did his true love, Sam, make it that far too? Well, now that it's confirmed that she made it to Paradise, looks like she decided to stay for quite a while... or just didn't feel the need to speak up again until it came time to promote Paradise.
Tanner: Four Week Gap
Tanner got a little cute with his posts, choosing to make his last one a throwback to a visit to Mexico, while his first one back is a throwback to his days on Bachelorette. Very clever, Mr. Tolbert.
Jade: Four Week Gap
Looks like Jade didn't manage to work in any hints to her Instagram posts, but did have a big gap during June, proving she must have stayed fairly long on Paradise.
Mikey: Four Week Gap
Looks like becoming "Joe's bitch" doesn't always mean heading home right away.
Jonathan: Three Week Gap
Though Jonathan, who got completely screwed by Joe's shenanigans, wound up having a shorter trip of just three weeks.
Juelia: Four Week Gap
Juelia's "goodbye" post is kind of sad in retrospect, seeing that so far her Paradise experience has been one big swing and a miss.
Tenley: Four Week Gap
It's no surprise that Tenley, the most popular woman in Paradise, would stick around to the end, and maybe even bask in the afterglow for a little bit. And, she even posted about flying home to Oregon right after the show finished up. If anything, it's surprising that Tenley was only away from home for a month — that's on the short side. I guess early trips home aren't an option when filming Bachelor in Paradise, and wi-fi must be restricted even once eliminated, because the massive majority of competitors filming Bachelor in Paradise stuck it out for at least three weeks, while some chose to stick out their social media exile for even longer.
Given the short three week time frame to fall in love, it's a miracle any couples survive the show intact. Lacy and Marcus' marriage is truly a miracle.
Images: Rick Rowell/ABC