Why This Ala. Sorority Is Facing Public Backlash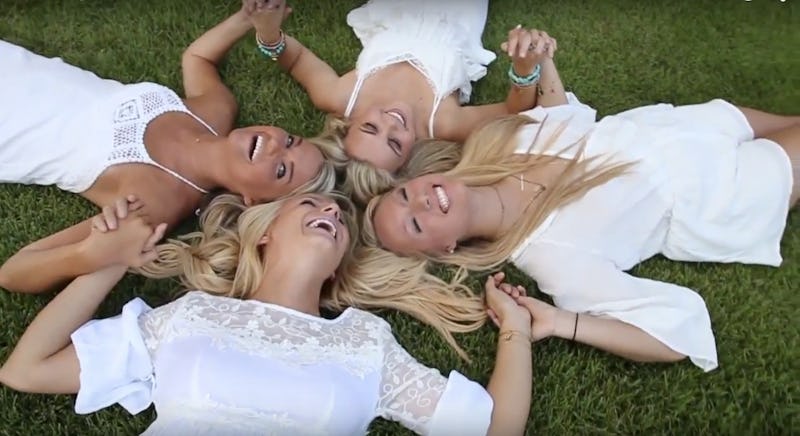 As college campuses across the nation brace themselves for the return of undergrads, sorority houses are gearing up for the most important back-to-school event: Rush Week. For most sororities, that means upping your chapter's PR game to recruit the best-of-the-best incoming female freshmen. Yet some sorority sisters in Alabama, not wanting to be outdone by their perfectly primped competition, may have gone a little overboard on their PR pitch. The University of Alabama's Alpha Phi sorority is facing widespread backlash following the release of a video parading the chapter's diversity, or lack thereof.
The four-minute-long video initially garnered more than 500,000 views when it was posted last week on Alpha Phi's official YouTube account, which has since been deleted. The Alabama Alpha Phi chapter has also deleted its Twitter and Tumblr accounts, and made its official Facebook page private.
According to AL.com, the video, created for the university's Bid Day, was removed from the chapter's YouTube account following an editorial by Alabama writer A.L. Bailey lambasting the video and the ideals it put on display.
Bailey wrote for AL.com:
It's a parade of white girls and blonde hair dye, coordinated clothing, bikinis and daisy dukes, glitter and kisses, bouncing bodies, euphoric hand-holding and hugging, gratuitous booty shots, and matching aviator sunglasses. It's all so racially and aesthetically homogeneous and forced, so hyper-feminine, so reductive and objectifying, so Stepford Wives: College Edition. It's all so ... unempowering.
"Are they recruiting a diverse and talented group of young women embarking on a college education?" Bailey asked. She continued to pick apart the video, saying it "lacks substance but boasts bodies" and only works to perpetuate the role of college-age women as accessories to a young man's education. "It's the kind of thing that subconsciously educates young men on how to perceive, and subsequently treat, women in their lives," Bailey wrote.
The University of Alabama seemed to agree with Bailey. Deborah Lane, associate vice president of University Relations, released this statement on Monday:
This [Alpha Phi] video is not reflective of UA's expectations for student organizations to be responsible digital citizens. It is important for student organizations to remember what is posted on social media makes a difference, today and tomorrow, on how they are viewed and perceived.
While many feminist complaints could be leveraged at the University of Alabama's Alpha Phi video, the lack of racial diversity has also triggered much of the backlash — and confirmed the suspicions of those who remain skeptical frats and sororities promising more inclusion. (I mean, Sigma Alpha Epsilon's "hang him from a tree" song, anyone?)
Let's be real: A video produced by the Alpha Phi chapter at my alma mater, the University of Southern California, or any big-name school wouldn't look that much different from the one made by the University of Alabama chapter. But several sorority scandals at the Alabama university have attracted negative attention over the last few years for its discriminatory views and practices.
In 2013, the school's student-run paper, The Crimson White, published an investigative piece revealing the systemic segregation of the university's historically white sororities. The newspaper alleged that four all-white sororities refused to hold a vote on two black students looking to pledge with a sorority; the black students were eventually denied a bid at all 16 sororities.
While Alpha Phi was not one of the sororities singled out in the report, The Crimson White stated at the time:
With each passing year, the University falls further behind other universities in terms of Greek integration. The Crimson White reported in 2012 that other large Southern universities, such as Auburn and Ole Miss, have integrated their Greek systems to a further extent than the University.
While the sororities denied any discrimination in their rushing practices or sisterhood policies, the university has been trying to improve the racial and ethnic diversity of its Greek life. Following Saturday's Bid Day, the university even released a press statement touting an increase in the number of minority women accepted into the school's lily-white sororities.
"We are very proud of our sororities and their commitment to providing a positive and enthusiastic welcome to our newest students," Dr. David Grady, vice president of Student Affairs, said in a statement. "The fraternity and sorority community at UA provides multiple opportunities for students to become leaders and engaged members of their communities, now and for a lifetime."
Of the 2,261 women who received bids over the weekend, 214 were minority students — representing a 13 percent over the last year, according to the university statement. However, just 25 of those women were African-American.
The University of Alabama may be sincere about fostering inclusion, but the Alpha Phi video seemed to take the university two steps back. If the university wants progress, this video surely isn't it.