17 Sweatpants You Can Wear In Public That Are Equally Comfortable & Chic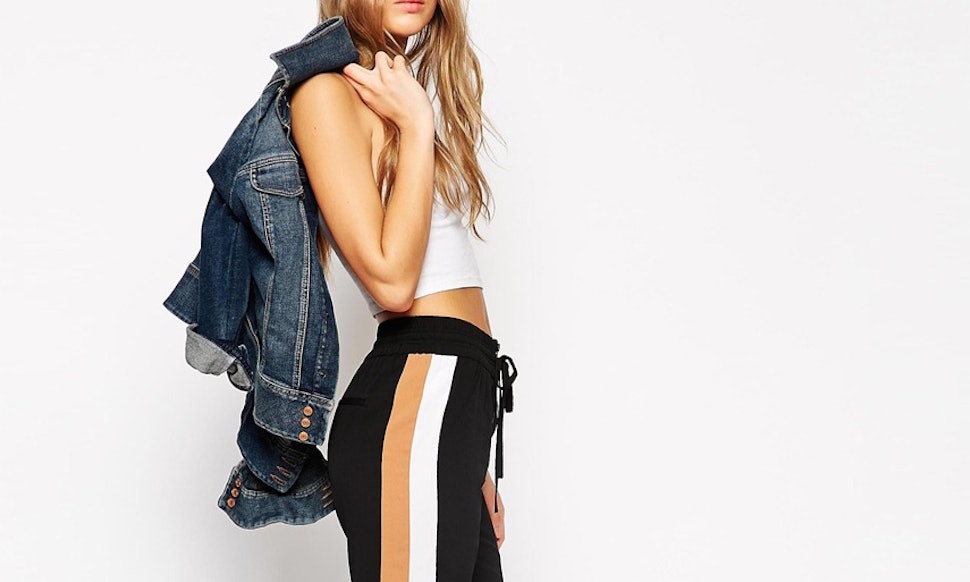 I love the comfort and ease of sweatpants, but there's one thing that would make me love them more: If I could wear sweatpants in public and not feel totally ridiculous or under-dressed. Thanks to the sartorial values instilled in me by my mother from childhood and onwards (values that meant I couldn't participate in pajama day at school, but I'm not bitter), I never wear sweats outside of the confines of my private space.
With the rise of the athleisure trend, however, sweatpants are thankfully becoming rather chic. Many designers and brands have embraced the casual silhouette and even maintained its casual vibe and ease. Here are just 17 comfortable yet stylish sweatpants that you won't feel bad about wearing outside of the house. I mean, is there really anything better than fashionable comfort?
Images: Courtesy Brands
Graphic
Everyone loves a good motivational quote. So why not put one on your sweatpants? These might encourage you to finish that book you've been meaning to pick up, or that cupcake you already took a bite of.
Sammy Slogan Slim Sports Jogger, $24, boohoo.com
Leather-Trimmed
The leather trim on these sweatpants is quite subtle, but makes them infinitely more cool and on trend.
Faux Leather-Trimmed Sweatpants, $20, Forever21
Marled
Your favorite pair of sweatpants is likely one you've had since high school, which may or may not be ripped in a few places. We all love the broken-in look, but this marled version does that without the years of wear.
Marled Drawstring Sweatpants, $20, Forever21
Floral Print
Summer may be coming to a close, but a good floral print lasts forever — especially a black and white one. Paired with heels and a leather jacket, these joggers will look like they walked straight off a runway.
New Look Inspire Jersey Jogger, $33, ASOS
Skull Print
If floral really isn't your thing, opt for an edgy, cool print instead. These skull-printed sweatpants give off just enough attitude to say, "Yes, I know I'm wearing sweatpants. And yes, I know I look fabulous in them."
Skull Print Jogger Pants, $49, Torrid
High-Waisted
If you thought sweatpants could never be fancy, think again. The high-waisted, lean silhouette of these babies proves itself comfortable and easy, but also semi-formal and very fancy.
Floral Print Tie Waist Joggers Black, $50, missguidedus.com
Velvet
Let me introduce you to velvet sweatpants. Need I say more?
Velvet Vivacity Pants In Burgundy, $40, Modcloth
Professional
When it comes to wearing sweatpants and being office-appropriate, there often couldn't be a worse pairing. That being said, with a drawstring, baggy pant like this one, you could kind of get away with it.
Saturday Challis Pants, $30, Fashion to Figure
Striped
I love a good stripe, so it's no surprise that these sweatpants speak to me. With big pockets, a fitted silhouette, and cuffs at the ankle, they should speak to you, too.
Striped French Terry Jogger Pants, $20, Charlotte Russe
Destroyed
If you like your trousers a little distressed, these sweatpants are for you. They're cool and comfy: What more could you ask for?
Nollie Destructed Jogger Pants, $40, Pac Sun
Cropped
These cropped sweatpants would blend in great with a button-down or even a loungy T-shirt. Either way, the dark shade will give you the chance to wear 'em however you want.
Women's Plus Cropped Terry-Fleece Pants, $18, Old Navy
Camo
Camo is quite a statement. With these sweatpants on, everyone will be able to spot you.
Ruched Camo Print Pant, $28, Ashley Stewart
Cheetah Print
Since animal prints are usually neutral, you can basically wear these babies with anything.
Animal Print Trousers, $40, Zara
Athletic
It's easy to think of those classic Adidas pants when you think of sweats. Years later, their influence on the casual-wear industry still lingers. These sweats are inarguably inspired by that look, but they're a little more stylish and a little less soccer mom.
ASOS Petite Woven Cuffed Pants With Side Stripe, $63, ASOS
Detailed
Sweatpants can be embellished with zippers, patchwork, big pockets, and even seam design, and this pair offers the best of two worlds: Design and comfort.
Slim Jim Jogger, $30, Free People
Boho
If you originally thought your boho, '70s-inspired taste was going to cut sweatpants out of the equation, you can now change that.
Cropped Ornate Folk Print Woven Joggers, $33, Simply Be
Classic
If you're just looking for a classic sweatpant, here it is. There really is nothing better than the familiar drawstring waist, fleece-lined, fitted cuff dream that is a classic pair.
ASOS Joggers In Neppy, $14, ASOS