7 +Size Athleisure Looks For Sporty Sensibilities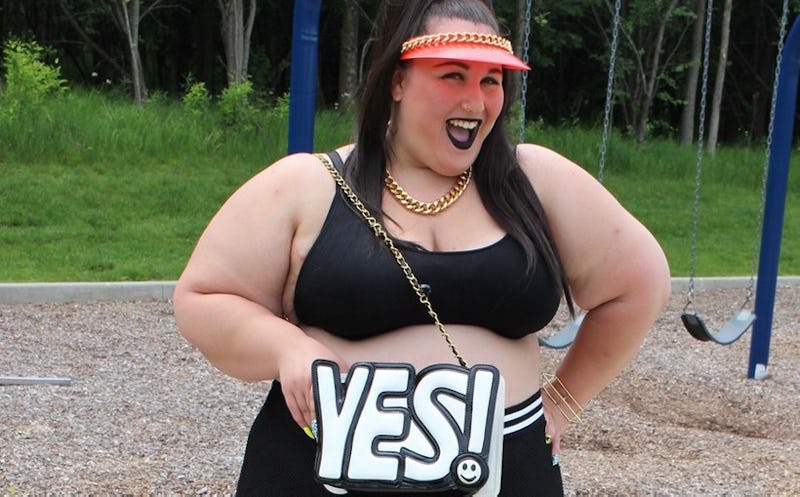 When it comes to fashion, I am usually one who gravitates towards staying true to personal style over jumping at the chance to be a part of the next big thing. But when I first heard that athleisure was summer's biggest trend, I had a feeling that the look might fit right in with my plus size athleisure, streetwear sensibilities.
While athleisure sounds like something straight out of Kanye West's fashion lexicon, my understanding is that it essentially means wearing fabrics and styles typically associated with activewear, but styling them for leisurely, everyday wear. As someone who uses her gym membership exclusively for the aquarobics classes, I knew this was something I could get behind.
Plus size brands like Fashion to Figure are a great resource for putting together these looks, as they often have an entire athleisure section on site that includes everything from mesh tanks to side-striped leggings. It's clear plus size brands didn't waste any time getting into this trend.
As plus size minimalist fashion continues to gain momentum, athleisure seems like a trend that could lend itself to a minimal look. But since my personal style leans more maximalist, the looks that I put together are more gaudy than laid back. I pulled a lot of garments from my existing wardrobe and prioritized looking for fabrics like mesh and jersey. And while sweat and chub rub will try to make your summertime miserable, the only thing that will be on fire with these looks is YOU. These breathable fabrics are a perfect eff you to the heat.
1. The Zip Up Blazer
As you may already know, I love raiding my mom's closet and when I found this Chico's zip up jacket in her trunk, I knew it had to be mine. Chico's is certainly geared towards an older crowd (and budget for that matter) but it has some really cute athleisure pieces as part of its casual and activewear line Zenergy.
This zip up is made from a really lightweight combination of cotton and rayon, which makes it super breathable. I paired it with Nike Dunk wedge sneakers, an American Apparel scrunchie, and a mesh dress I got in store at Fashion to Figure.
2. The Slides
As a kid, those spiky Adidas sandals were a summer staple in my wardrobe and much like jelly sandals, athletic sandals are making a comeback in my life. These Nike slides are my go-to because they are über comfortable and the fact that they are black and white means they go with pretty much everything (at least in my mind they do).
I paired these with acid wash joggers that were gifted to me by a friend, a Charlotte Russe basic crop top, a Dorothy cape, and a white fur fanny pack from my own line, Ready to Stare.
3. The Jersey
Wearing jerseys was my thing before athleisure ever came out of the mouths of fashion forecasters. I have an entire jersey section in my closet. It's that serious. Most thrift stores have entire sections dedicated to old football practice jerseys and that's what most of mine are.
I paired this with a pair of shorts that I got at a plus size blogger closet sale last year but never wore for fear that they didn't suit me. But since I am making a conscious effort to wear what I like and stop the thought process right there, I wore them here and am totally loving the way the pink pops against the black.
4. The Not-Actually-Working-Out Workout Top
This Adidas top is another thrift store find. Since most thrift stores still don't have dressing rooms, I tried this right on in the aisle because I always have to see how men's cut clothing translates to my shape. I'm sure this was likely intended to be loose, but I love how fitted it is on me. I paired it with a sold out skirt from my 2014 fall line and cat-eye shades.
5. The Skort
I swear I was already working on this post before the "Feeling Myself" video came out and blew my fashion mind, but it's clear that I am always just subconsciously channeling Nicki and Bey. When I ordered this mesh skirt from Fashion to Figure, I actually didn't realize there were shorts under the mesh — but it was a pleasant surprise.
I paired it with men's knee-high socks (the fact they are men's is an important distinction here) from American Apparel, a basic black sports bra, and a gold chain necklace. I also had this vision for a visor lined with gold chain detail, and since that didn't actually exist, I made it!
6. The Beach Cover-Up
Much like the jersey, the mesh beach coverup is a summer wardrobe staple. This one happens to be my mom's from the '90s, but again, it is an easy piece to find at the thrift store.
Something about this look makes me feel ready to get in the boxing ring even though I would totally not want to break a nail. I paired this with a leather dress from the amazing but now defunct indie plus brand One One Three and a pair of Nike Air Force 1 sneakers.
7. The Leggings
I think if I told someone out loud that I was wearing a Chico's jacket with Adidas leggings, they would look at me cross-eyed; but from the photos, it's clear the pairing totally works. This is another Chico's Zenergy jacket, but one that I thrifted rather than took from my mom's closet. I've had these leggings for ages and they are actually a size XL because Adidas does not make plus size women's apparel. As a solid 3X on the bottom, almost anything in XL doesn't usually fit — but that's why trying things of varied sizes on can be so valuable!
As with any trend, athleisure may come and go — but if it fits your personal style like it does mine, it's a good idea to keep that jersey section of your closet stocked!
Images: Alysse Dalessandro