Behold: Kelly Clarkson Singing Tinder Profiles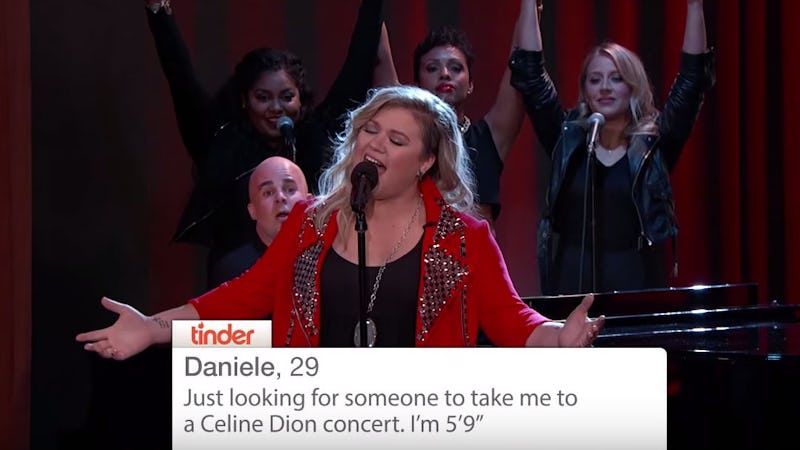 Is there anything that Kelly Clarkson can't sing? The American Idol winner has been making headlines for her flawless takes on pop songs, including her "Blank Space" cover and cover of Bryan Adams' "Heaven." The singer outdid herself when Clarkson sang Tinder profiles for Jimmy Kimmel. Yep, she managed to make the most awkward of dating introductions sound incredible. Wearing an embellished red blazer, Clarkson set the tone by belting out the first profile: "Just looking for someone to take me to a Celine Dion concert. I'm 5'9"." The jazzy music behind her totally added to the overall mood of the performance. (Also, can we address how Clarkson literally kept belting note after note because she can?)
Things got even funnier as Clarkson took on the next profile, singing, "I have a foot fetish and willing to pay for your mani pedi nails and worship your feet." See, I told you she can make anything sound incredible!
Clarkson's performance proves that maybe some of us can use a little help with our Tinder game. Who better to look to for inspiration that the singer herself, who can make anything — and I mean anything — sound amazing? Here are seven Kelly Clarkson lyrics you can use as pickup lines, but first, Clarkson's Tinder intervention:
1. "My World Was Tumblin' Down / You Turned It Around, Baby." — "Some Kind Of Miracle"
What better way to compliment someone than to tell him or her that they improve your life?
2. "You Found Me / When No One Else Was Lookin.'" — "You Found Me."
You happened to find this person and everything got better.
3. "You Got A Piece Of Me / And Honestly, My Life Would Suck Without You." — "My Life Would Suck Without You."
There's a reason Clarkson made this phrase iconic. It's the perfect way of telling someone you care.
4. "We Can Break These Rules / If You Wanna Have Some Fun." — "If I Can't Have You"
This is a playful way to say you're really into someone.
5. "So Now I'll Take A Chance On / This Thing We May Have Started." — "Long Shot"
Get ready to take the plunge.
6. "You Count On Me Just Like I Count On You." — "I Want You"
It's a little cheesy, but 100 percent perfect.
7. "Your Hands On My Hips / And My Kiss On Your Lips / Oh, I Could Do This For A Lifetime." — "Heartbeat Song"
In it for the long haul? This pickup line is for you.
See, guys? Kelly Clarkson has your back.
Images: Screenshot/ABC