Here's Why We Can't Expect Addyi To Be Perfect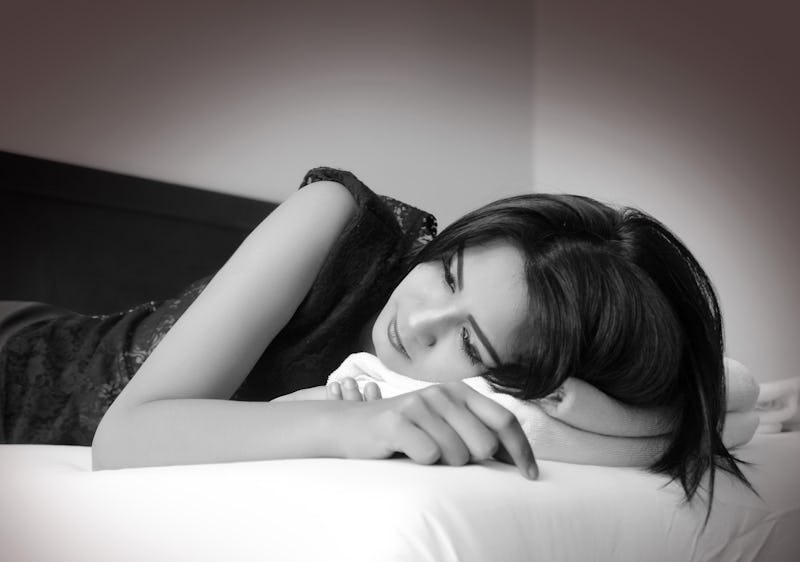 On Tuesday the FDA approved the use of Addyi, marketed as "the first and only treatment for premenopausal women with acquired, generalized Hypoactive Sexual Desire Disorder (HSDD), low sexual desire that causes distress." It's the first pharmaceutical aphrodisiac ever. But what are the implications?
First, the basics: Addyi (pronounced add-ee) is "a serotonin 1A receptor agonist and a serotonin 2A receptor antagonist," according to the FDA. Basically, it's a non-hormonal pill, to be taken once daily at bedtime, says a press release from Sprout, the company releasing the pills, which are, of course, pink. A study of 11,000 women found an improvement in women's "desire for sex, reducing distress from the loss of sexual desire and increasing the number of satisfying sexual events," says Sprout. Oddly, the FDA notes that "the mechanism by which the drug improves sexual desire and related distress is not known."
The most common side effects are dizziness, somnolence, nausea, fatigue, insomnia, and dry mouth. The use of alcohol is contraindicated, and when I say contraindicated, I mean seriously contraindicated: "Addyi can cause severely low blood pressure and loss of consciousness," says the FDA. "These risks are increased and more severe when patients drink alcohol or take Addyi with certain medicines ... that interfere with the breakdown of Addyi in the body." Yikes.
According to a statement released by Sprout, here's what HSDD is:
HSDD is defined as a persistent absence of sexual thoughts, fantasies, responsiveness and willingness to engage in sexual activity that causes personal or relationship distress and cannot be accounted for by another medical condition or substance.
Some studies say that as many as 40 percent of women experience HSDD at some point, according to the Mayo Clinic. Basically, in layman's terms, HSDD is a low sex drive. "If you have a persistent or recurrent lack of interest in sex that causes you personal distress, you may have HSDD," says the Mayo Clinic. However, they also note that "there are lifestyle changes and sex techniques that may put you in the mood more often." Might be wise to go that route rather than ingesting a pill.
Look, if you have HSDD and you want to try Addyi, more power to you. I would never knock a drug that promises to offer women more pleasure in sex. Women deserve to love sex and have a ball while doing it. I'm just concerned that Addyi may be a Pandora's box of sorts, just another vehicle through which men can objectify women and expect certain things from them. To be more perfect, for starters, but something deeper — namely, to enjoy sex no matter what — e.g., "Tired? Too bad, baby, pop an Addyi."
This worries me. Basically, if you're totally healthy and just not that into sex, then as of yesterday, you should start taking a drug, according to some doctors. What about other methods? Or what if you aren't interested in sex, period? This sounds suspiciously like something a man would suggest to a woman to take if she's not interested in having sex with him.
Also, across three trials, "about 10 percent more Addyi-treated patients than placebo-treated patients reported meaningful improvements in satisfying sexual events, sexual desire or distress," says the FDA. Such a small percentage seems significantly low to me. The FDA adds, "Addyi has not been shown to enhance sexual performance." So if, on the off chance Addyi actually works for you, don't expect to become any more of a sex goddess than you were in the first place. Duly noted.
Here's the thing: HSDD can be caused by a number of different things — some of which include sexual or physical abuse. If a woman has been traumatized by rape, incest, domestic violence, and the like, she should not be taking a pill to combat her lack of libido. That's like putting a band-aid on a puncture wound, and it can only lead to a world of trouble, as far as I'm concerned. If a woman isn't interested in sex because of past trauma, she needs a good counselor — not a drug.
The world expects very different things from women than it does for men, and I worry that the advent of Addyi is just one more chance for this phenomenon to manifest itself.
This should go without saying, but if a woman doesn't feel like having sex, then she shouldn't have to have sex. Case closed. No one should be traipsing around suggesting a woman try Addyi just because she's not down and her partner is horny. Don't get me wrong — I think sex is a vital part of every romantic relationship, and it would truly suck if my partner was not interested in having sex. But I would never suggest that he pop a Viagra and f*ck the pain away either.
There are high stakes here. People are expecting Addyi to be "perfect." This sounds familiar. Oh yeah — sounds a bit like how people expect women to be perfect.
Let's be real: Women are held to different standards than men. It's 2015, we can vote and wear pants, so things have definitely changed since, say, the 1950s, but some people, especially those in certain circles, double-standard on women hard. (Example A: Trump's recent remarks to Fox News anchor Megyn Kelly.) As such, along with the inauguration of the first pill to arouse sexual desire in women (yeah, yeah, pun intended) comes just another expectation of women to be more "perfect." If you don't feel like having sex, baby, don't worry: Sling back a pill, and then you'll find me irresistible.
In some ways, I am playing devil's advocate. I applaud Addyi, in a way, or at least that big pharma is ISO way for women to delight in sex more — sex is the best and HSDD sounds like a nightmare, and women should be able to enjoy sex just as much as men do. I've never had HSDD but there was a period in my life before I cracked the sex code in my own body that I thought I didn't like sex that much. I just wasn't that into it. I'd sleep with my boyfriend, but I was never super psyched about it. That said, I was very young and also perhaps my boyfriend wasn't that great of a lover.
A lot has changed since then, namely that I know my body and I know how amazing sex is. I was young enough that it would have been extremely appropriate for someone to have recommended Addyi to me at that time, but I'm sure lots of women go through similar slumps, and just as it's way too easy for someone to prescribe Xanax prematurely, before other avenues toward calm are exhausted (meditation, exercise, therapy, breath work, etc.), it'll be way too easy for a doctor to suggest and prescribe Addyi before other approaches are examined. For example, a woman with HSDD might try orgasmic meditation or sex toys or any number of other options before knocking back a pill and calling it a day.
Of course, the same could be said of Viagra, and both treat physical ailments (HSDD and erectile dysfunction, or ED). I'm sure plenty of men start taking Viagra when some other alternative treatments could be at least tried first. We live in an Rx-happy world. But there is a distinction between Viagra and Addyi that is worth making. When a man takes Viagra, that's it: He gets an erection and has sex. With women, it's not so cut and dried. Sex for us is highly mental, and though Addyi may stimulate a woman's libido, it works over a period of time.
The takeaway? Go slow and tread lightly, with Addyi and with any pharmaceutical. But that's only my two cents.
Want more of Bustle's Sex and Relationships coverage? Check out our new podcast, I Want It That Way, which delves into the difficult and downright dirty parts of a relationship, and find more on our Soundcloud page.
Images: Fotolia; WiffleGif (6)